Otago's win against the Southland Stags on Saturday took an exciting turn when a streaker dressed only in socks and a man dressed as Superman put on an impromptu performance.
And now the streaker's mother has spoken out about her son's nude antics, saying she encouraged her children to be proud of what they had and he had "let the whole world see his failings".
It was during the round five Mitre 10 Cup match at Invercargill's Rugby Park when the streaker broke free of security and made his way on to the field as fans cheered him on.
After making his debut on field, the streaker made a mad dash, successfully avoiding two security staff on multiple pass bys and having time to perform a headstand in front of the whole stadium.
After more than 30 seconds of foolery, the man was finally cornered by security and another pitch invader dressed as Superman who attempted to save the day.
The man donning a Superman outfit matched with Converse Chuck Taylors could be seen running into the field before he tackled a security guard and the streaker to the ground.
The pair were then both escorted out of the stadium by security.
The streaker, a 20-year-old fencer, told the Herald he attended the game after a end of season football bus trip.
"I had a few beers in me and you get a bit silly," he said.
"Someone dropped the idea and I thought why not.
"I ended up getting taken to the gate and away I went. I didn't get arrested."
Fans at the game took to social media to congratulate the streaker, saying it was "the best part of the game" and they had been in the crowd cheering for him.
However the streaker's mother said she was "lost for words".
"It is not very often I am lost for words but today I find just that has happened," she posted to Facebook.
"Like many parents I have shared proud mummy moments over the years but I have always said that there must be an age where parents cannot be held accountable for their children's actions," she wrote on Facebook.
"The naked truth of it is ... [my son] is at that age. I think I have taught my kids a few things in life. I tell my kids own your s**t. Clearly [my son] has embraced his. He has let the whole world see his failings. (Wee spot blanked out)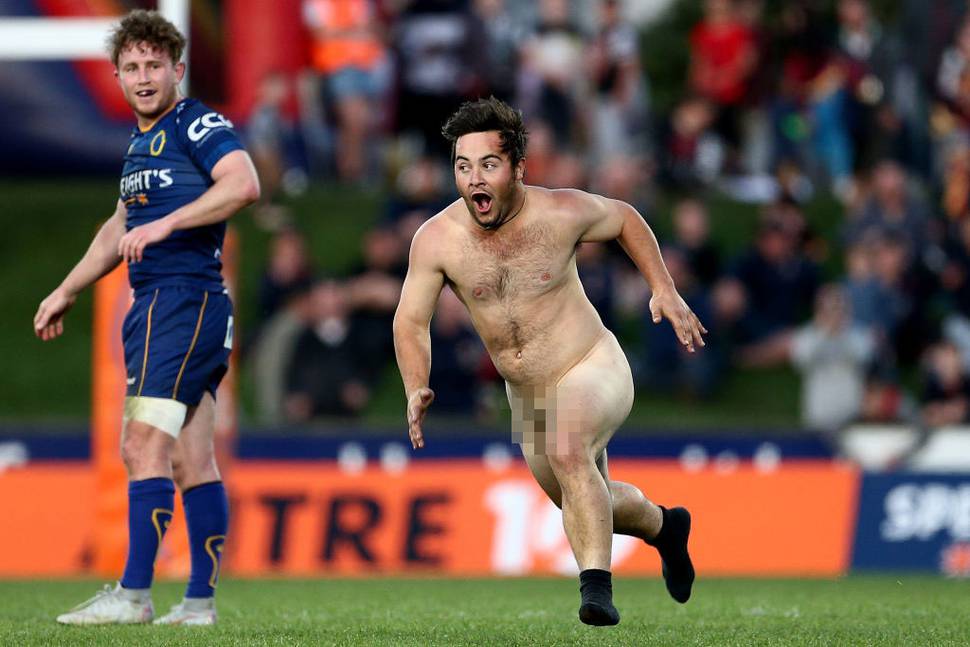 "I would like to think that I have encouraged them to be proud of what they have. (Again wee spot blanked out).
"In time everyone will move on. Someone else will take the limelight. But know this ... I will always be proud I taught my kids how to do a good headstand!"
Despite the distraction, Otago were big winners against their oldest rivals, thrashing Southland 43-24.
The two sides have played each other 242 times since their first game in 1887, with Otago winning 150 times.