In the past five-and-a-half years more than 2300 firearm-related offences have been recorded by police, with the worst affected districts being Bay of Plenty and Canterbury.
Information released to the Herald under the Official Information Act details the number of recorded offences involving a firearm, as reported by police officers. The data excludes any public reports.
Offences involving a firearm are such offences that mention a firearm, for example: Homicide with a firearm, or unlawful possession of a firearm.
Between January 1, 2013, to July 23, 2018, a total of 2306 firearm-related offences were reported by officers throughout New Zealand.
The majority of offences reported in this timeframe were arms act offences, which were reported 1689 times.
Arms act offences include things like selling a firearm to an unlicensed person, carrying a firearm without sufficient purpose, and discharging a firearm in a public place.
The second highest offence was that of using a firearm for intimidation and threats, which saw 237 offences in the five-and-a-half years analysed.
From the same timeframe, the year that had the highest number of offences nationally was 2016, with 499 total offences.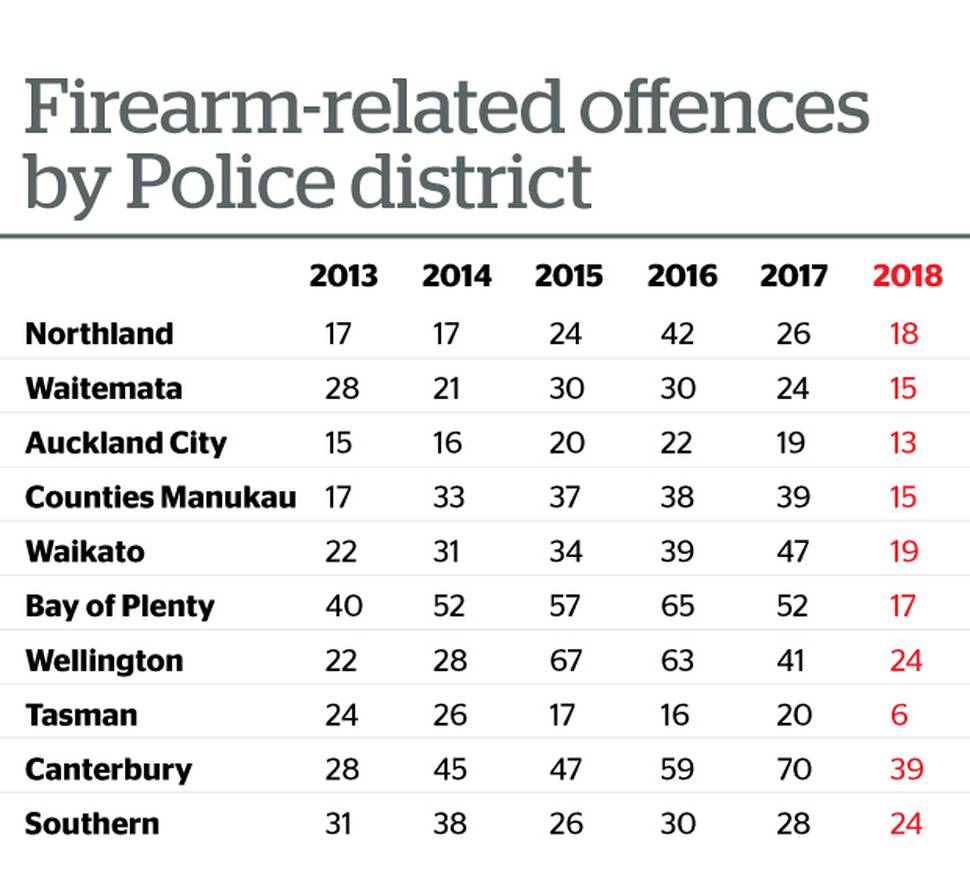 Broken down by the 12 police districts across New Zealand, the most firearms-related offences were recorded in Canterbury and Bay of Plenty.
From the five and a half year period, Bay of Plenty had the highest number of offences in 2014 and 2016, and the second highest in 2013, 2015 and 2017.
Canterbury had the highest number of offences in 2017 and for the first half of 2018, as well as the second highest in 2014.
The two districts also had the worst recordings for firearm-related or restricted weapon offences reported by officers in the same timeframe.
In comparison, Tasman and Auckland City police districts had the lowest number of recorded firearms offences. Both districts had the lowest number for three years within the five year period.
Superintendent Mike McIlraith said criminal possession of firearms is often associated with the methamphetamine trade.
He said the likely primary source of firearms for criminals comes through burglary.
"Firearms offending and burglaries where firearms are taken are obviously a concern for police irrespective of the particular district.
"There will be a number of reasons why any one district might have a higher reporting rate than another - of course, that can be at times reflective of the amount of license holders in that district," he said.
"That could have a corresponding link to the number of burglaries where firearms are taken, therefore making increased availability to the criminal element.
"And obviously police continue to focus on organised crime and adult gangs, and at times firearms can be found as a result of that work."
McIlraith said police continue to encourage the firearms community to secure their firearms appropriately - to lesson the likelihood of the opportunist burglar easily getting possession of firearms.
"We would ask that licence holders record the make, model and serial number of their firearms, so if they are taken we have further lines of investigation," he said.
"Our focus is on keeping our communities and our staff safe."
These figures come after a report was released by NZ Police earlier this year showing that less than 5 per cent of gun-related offences are being recorded correctly.
The report, published in the June issue of the Police News magazine, looked into the disparity between reporting and recording of criminal incidents involving firearms in New Zealand.
The Police Strategy Group and the National Intelligence Centre collated data on every firearms related incident reported to the National Command and Coordination Centre between December 8, 2017, and February 25, 2018.
The internal investigation led by PSG manager Catherine Petrey and NIC research analyst Lana Lankevich found there were 86 incidents reported over 79 days, but only five were correctly recorded.
In that time, police located and seized 29 firearms, but only recorded four cases properly.
In another 22 cases, despite sufficient evidence of a firearm having been used in the offending, no guns were seized or officially recorded.
At the time of the report, Petrey said the findings show that we do not know the level of risk firearms pose to the public, let alone frontline police staff.
Petrey said Police National Headquarters was now on a mission to get all firearms data correctly captured and to educate staff about how to do that.
Recent firearm-related incidents:
• Two disguised males robbed The Good Home in Birkenhead on August 25 around 9.55pm, one of whom was armed with a single-barrel shotgun.
• On August 21, Mongrel Mob member Kevin "Kastro" Ratana, 27, was shot and killed in Castlecliff, Whanganui.
• Also on August 21, one person was taken into police custody after a firearms incident in Tamahere around 5.45pm.
• On August 16, a Te Awamutu father, son and friend were shot at while surfing at Albatross Pt off the Taharoa Coast.
• Gunshots were fired at the Te Araroa Police Station, north of Gisborne, at about 10.30pm on August 2.
• Three teenagers received minor injuries in a drive-by shooting at a Papakura property on July 28.
• On July 8, Robert Nelson, 23, was shot dead at a home in Hamtilton after gunmen from a rival gang fired a series of shots in the Melville house.
• A 52-year-old man was shot in the leg on Kelvin St in Invercargill on June 30. Anthony Miles Tamaiti Watkins was later arrested and charged with wounding with intent to cause grievous bodily harm.