With a business empire, fleet of luxury cars and the mansion he delivered papers to as a boy, Ray Mills was the embodiment of the Kiwi dream.
The self-made son of the Depression became the best wheeler-dealer in town and made a fortune from surplus and salvaged goods.
He had the patter to talk the Prime Minister into opening a tiny market shop and the ability to sell almost anything.
Despite having enough money to retire 30 years ago, the so-called King of Surplus kept dealing almost until his death, from cancer, earlier this month. He was 85.
"It wasn't about the money, it was about the chase," says Sam Mills, one of five children born to Ray and his beloved wife Lucy.
Keith Mcnair, a friend and fellow trader for 40 years says Ray was "an absolute character".
"He always had something going on. I used to find things for him and he'd find things for me. We just wheeled and dealed and he was the best wheeler-dealer in town, easy."
Ray was born in Auckland in the early 1930s as unemployment circled 20 per cent. His family had little. He talked of a council flat where the toilet upstairs leaked on the kitchen.
Raised in Grey Lynn, he overcame spina bifida, a birth defect that affects the spinal cord. He had little interest in school, his entrepreneurial spirit was already stirring.
At Western Springs Speedway he sold programmes and pencils so punters could make notes.
"He used to cut the pencils into four – four times as much money," said Sam. "He was 10-12, something like that."
Inspiration came from a newspaper article about the owner of a major American retail chain.
"I think it was Walmart," says Sam. "This guy was saying, 'I realised at a very early age that you could make money out of buying and selling'. And he kept that in his wallet for years."
Ray tried dozens of jobs, making sure he got a written reference after each. But with mates more interested in boozing, he enlisted and served in South Korea in the aftermath of the Korean War.
After returning to Auckland, he met Lucy at a dance and wound up working for a roofing and damp-proofing company.
Around 1962 he sold his car to buy a bush section in the Waitakere Ranges. Two years later the couple built a cabin, using trees from the section for the footings. A year later, they sold up, bought land in Henderson and built a new home.
With money tight, Lucy encouraged Ray to go it alone. During a chance encounter a friend offered him a truck and six months of fuel up front.
Ray set up his own damp-proofing business and persuaded former workmates to jump ship. Things went well. From then on he was his own boss.
He moved into the surplus business in the mid-70s and opened his first shop in Newton.
"It was perfect timing," says Sam. "There wasn't another surplus store as such."
Then came salvaged goods – fire- and water-damaged items from commercial premises.
"That really launched us," says Sam, "because he did such a good job and there was nobody doing it. It was probably a godsend for the insurance industry because they had somewhere to dispose of their goods. In some cases they got more back than they paid out."
Sam recalls a salvage operation on a sunken container ship in Fiji. A load of banana-shaped bags of cement powder, waterlogged and hard, apparently useless.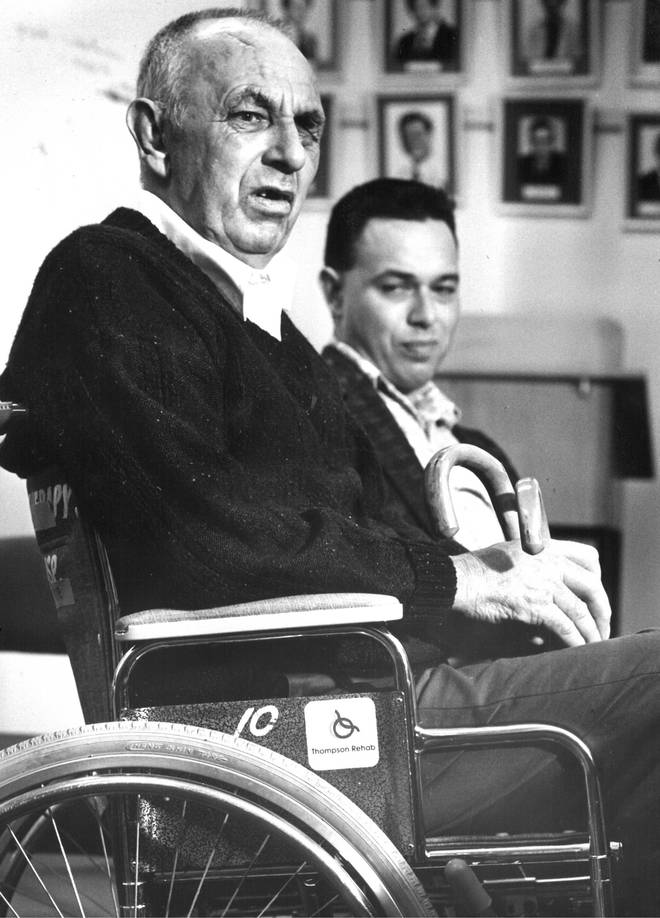 "But he noticed that vehicles were cutting over the grass, so he got a bag and peeled half of it off and painted the top white and took it to the Fijian authorities. He said, 'do you want to buy these because I've noticed everyone's running over your grass?' And they did."
Ray wasn't always sure what he was dealing with. So a mate nicknamed Forensic did the research on mystery objects, going halves on any profits.
He opened a tiny clothing shop at Victoria Park Market in central Auckland in 1984, talking Prime Minister Robert Muldoon into cutting the ribbon after leaving a message with his office.
"What guy could get the Prime Minister of New Zealand to ring him?" asks Sam. "Rob said, 'how many employees?' and Dad said, 'two, but I'm going to grow'."
The family built a chain of Goldmine surplus stores. At its peak in the 1990s the empire had 14 in Auckland and beyond.
The Herald reported on the opening of the Newmarket store in May 1991. The store was "pure retailer's fantasy – well-heeled shoppers throng the shelves, eyes glittering, cash at hand".
"We're having a ball," said Ray.
There's a picture of him in the article – grinning into a fliptop mobile phone. Sam said his dad was the second person in New Zealand to have a mobile phone. "It cost him $10,000 or $20,000 I think. He got the first two numbers issued in New Zealand."
There was a fancy car too, a dark BMW, and a valuable number plate, HK8.
Ray realised its worth when he saw the same plate sold in Hong Kong for $4 million in local currency, HK being the initials of the former British colony, 8 the luckiest number in Chinese culture.
With a burgeoning Chinese population in New Zealand, Ray saw an angle.
"I thought there must be a car with HK8 in New Zealand," he told Metro magazine in 1995. "I found one, in Masterton, on a steamroller.
"I rang this guy up and said, 'I'd like to buy that number plate'. He said, 'why?' I said, 'I've got a mate, Henry King, who's getting married. I offered him $1000. He said, 'Fine'."
Soon he turned down a $27,000 offer. It's still in the family.
That same Metro article says Ray once owned two Rolls-Royces, two BMWs and a Mercedes at the same time, not to mention the mansion in Western Springs.
But as he was at the peak of his powers, near tragedy struck.
The first reports were about a prominent businessman disappearing in "mysterious circumstances".
That was April 13, 1994. Two days later the Herald reported Ray had been found in a "blood-splattered and charred stairwell" in the old city markets building near the waterfront, his car in the basement carpark.
He'd been lured there by a series of phone calls – talk of 2000 TV sets to trade.
He was battered, stabbed through the left eye and left for dead. His injuries were critical. Police expected him to die. He fought back but lost five teeth and the eye. He wore a patch for the rest of his life.
With his first words after regaining consciousness, Ray told a cop at his bedside that he recalled being struck across the head. Few further details were forthcoming. He had memory loss.
Despite a media blitz, the carrot of a big reward and the use of a hypnotist, there were no leads. With Ray's death, the case will likely remain unsolved.
The lead officer in the investigation was George Wood, then a detective inspector based at Auckland Central police station, four years before leaving the force and forging a new career in local politics.
Wood says Ray stayed in touch but rarely mentioned the attack.
"[The media] could see that there were hidden mysteries in the case which no one had kind of been able to get to the bottom of and I would have to say that the police found it pretty much the same. It was a very baffling case."
There were theories – a business deal gone wrong, even the involvement of an Asian triad gang.
Sam says the truth is more prosaic.
"It was just the wrong guy in the wrong place. Police said another guy owned a company with a similar name. He drove the same car as Dad, the same model. They said, 'look the only way we can think is that they got the wrong guy because [Ray] hasn't done anything wrong'."
Ray bounced back.
"I think it threw him in another gear," says Sam. "Like he said, after his accident, every day's a bonus."
His family remains grateful to medical staff. In a hand-written note to the Herald this week, Lucy Mills wrote on their behalf: "We thank doctors and nurses at Auckland hospital, especially critical care, for giving dad 24 years of his life. You can't put a price on saving lives. God bless you all."
Bizarrely, Ray's Rolex watch, thought to have been taken in the attack, was found, encrusted in barnacles, in a creek in Whitford, four years later. Like the HK8 plate, it's still in the family, still working.
Ray continued to trade, to do good deeds. He donated so many books to Grey Lynn Primary, the library was named after him. "He never read a book," laughs Sam.
He continued to help mates, setting up a stall in a container in Avondale a couple of years ago so one could sell smoked fish.
"Sure there was a time when he didn't have to do anything but it's just that driving force," says Sam. "He just loved what he did."
There have been comparisons to Arthur Daley and Derek 'Del Boy' Trotter, Cockney wheeler-dealers in the hit TVs shows Minder and Only Fools and Horses. Sam doesn't mind that: "But not in a cheating way, definitely in the selling sense, of course."
Not every deal went to plan. An auction of America's Cup-related personalised vehicle plates in 1995 ended without a single sale in 90 minutes.
The auctioneer was Michelle Maitland. Now the owner of George Walker's office furniture store in Avondale, she was inspired to pick up the gavel after seeing Ray in action when she was about 20.
"He was a bit of a showman. He turned up in a Rolls Royce, parked on the footpath, walked in, did the auction, was a showman and then left. So he made a show-stopping entrance and a show-stopping exit."
The America's Cup sale, one of her first as auctioneer, was little more than a year after Ray's attack.
"He didn't want to be the front for it, so I was. It didn't go well. I think it was quite lucky that I was a young woman. If there had been blokes in charge it would have been a lot more aggro."
There was more misfortune the following month, when fire destroyed about $150,000 worth of furniture at Ray's new showroom.
"Usually I am going to the scene because there has been a fire and I'm taking the stock away," he noted.
In December 1998, he raced to Hastings Hall, his historic homestead, after the high-tech alarm system alerted him to a break-in. He arrived to see a burglar disappearing over a fence. The house had been ransacked.
Ray and Lucy sold that house at the turn of the century. They stayed in Western Springs, many of their children and grandchildren living in neighbouring properties.
After a mild stroke in April, Ray succumbed to an aggressive stomach cancer. He died on July 1 and was farewelled at a private family service at his request.
"I'm sad he's gone but I'm glad he's out of pain. I miss him dearly but I'm happy for him," says Sam.
"The success of our family and businesses has been unity, working as one, with the love and devotion of our parents completing that bond."
Ray is survived by Lucy, children Vikki, Eric, Clark, Sam and Lydia and many grandchildren and great-grandchildren.