Shocking footage has emerged of an Auckland mother driving home with her young baby on her lap.
On Tuesday at 5.35pm a motorist caught the mother driving with a baby on her lap, sitting between her chest and the steering wheel during peak-hour traffic.
The incident, which occurred on State Highway 1 northbound between Penrose and Greenlane, was shared on Facebook leaving social media users shocked.
Danny de Hek, the man who created Shocking Auckland Drivers Facebook page, told the Herald he was alarmed at the mother's dangerous behaviour.
"I thought it was a disrespect for everything really. It's arrogant thinking that's okay. What planet is she on?" he said.
"It's really shocking. And people have a go at foreign drivers when they come to New Zealand. How about we look at ourselves!"
According to NZ Transport Agency, it is the driver's responsibility make sure that any child under seven years of age is properly restrained by an approved child restraint that is appropriate for the age and size of the child.
"They must not travel in the vehicle if you can't put them in an approved child restraint. The vehicle's safety belt on its own is not an approved child restraint," the NZTA website says.
Others took to social media to slam the mother, with some calling her actions a "death sentence" for her baby.
"Oh my goodness me! If that airbag went off that kid is dead," one person said.
"I'd rather my kid cry for a car ride and remain safe than be quiet and dead."
Another commented saying: "Unfortunately, I have seen a few young kids being held by a passenger in the front seat when doing daycare drop off. I certainly know how hard and frustrating getting a child into a car seat can be, but the risk of an accident and what could happen surely outweighs that."
Last month an Auckland man was slammed for driving while a toddler was sat on his lap.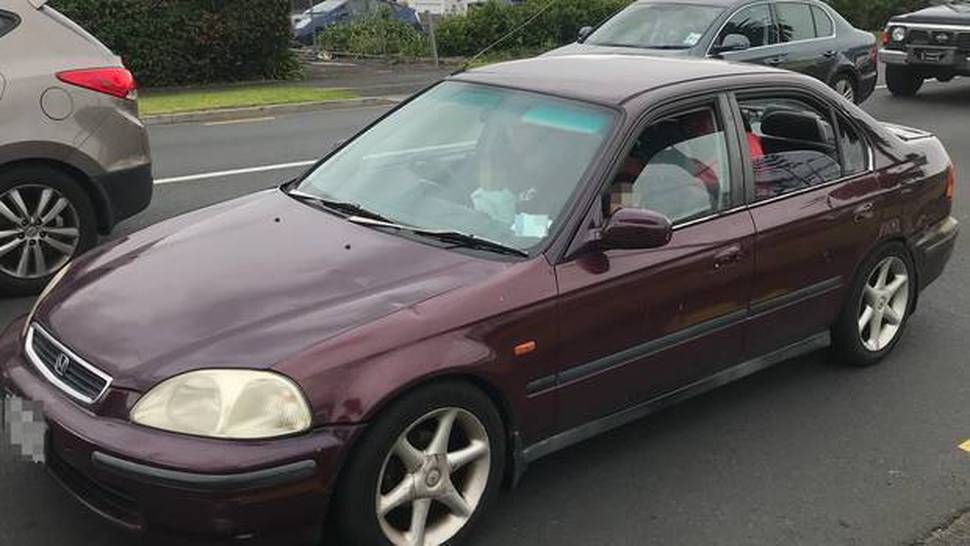 A member of the public snapped the driver on the intersection of Veronica St and Great North Rd, near the LynnMall Shopping Centre in West Auckland in June.
The man who took the photo, said he and his partner were walking past the vehicle when they spotted the family shortly before 1pm.
A woman was in the back of the vehicle with another young child.
"I could see a child on the driver's lap. My partner told the woman in the back: 'You can't do this, it's so dangerous'.
"She kept saying it was okay, but my partner was telling her it was not okay."
The man said the driver then wound down the passenger window - where another child was seated - and yelled at them.
"After he told me to f*** off, that's when I got my phone out and took a photo.''
Superintendent Steve Greally, National Manager Road Policing, discusses seatbelts.
The couple, who took the vehicle's number plate down, went to the Henderson Police Station to report the incident, in the hopes the driver would be called up for his actions.
"It was just crazy," the man said.
"It was just the toddler in between him and the wheel. If something had happened, that would've been it.
"He was putting that child's life at risk.''