She's seen some of the world's greatest humanitarian crises from the front lines with Tearfund.
Now 33-year-old Aucklander Helen Manson wants her photographs to do the storytelling for her.
Today is World Refugee Day, and the world is witnessing an unprecedented 65.6 million people being forced out of their homes due to conflict and disasters.
Among them are 22.5 million refugees.
The images from the biggest refugee crises - Cox's Bazar in Bangladesh (Rohingya), South Sudan and Syria, aim to take people behind the headlines and into the homes of these refugees.
They include mothers longing to return home, children searching for a childhood and fathers yearning to work again.
"We are witnessing a massive shift of humanity unlike any seen before," Manson said.
She said the images commemorates the strength, courage and perseverance of millions of refugees of the biggest refugee crises on the planet.
Marwa, Syria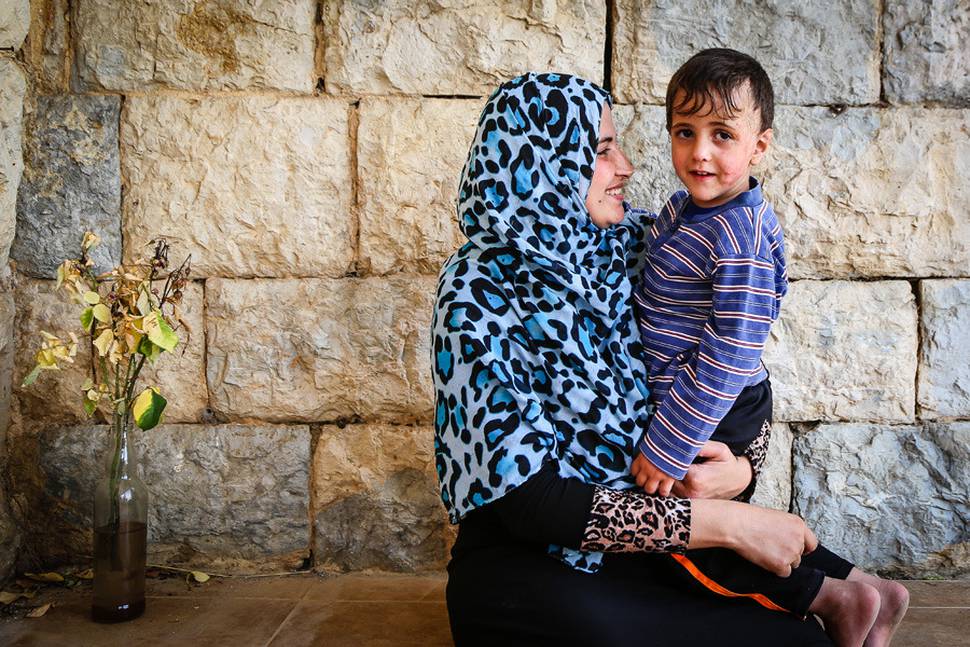 My name is Marwa and I am 27 years old. I have five children ranging from 7 months to 11 years old.
We came here to Lebanon because of the war in Syria four years ago.
We used to have a cow farm.
I saw bombs, shelling, people dying and ruins all around us.
Every day I heard stories of families losing their children and I was really scared of losing one of my children.
When we came here we had nothing. We left everything we owned back in Syria.
Some people who went to the church told us about how their church could help us. We reached out to them and they came and met with us.
When I first met the pastors I was depressed because of everything I had seen and been through.
Soon after we started receiving things from the church like food vouchers, milk and diapers. We still receive these things today to help us.
My kids were affected by the war and even now when they hear an airplane fly by or fireworks at night, they think there is bombing and shelling.
My hope for the future is for my children to get an education and to have no more sadness.
Arif and Sharin, Rohingya. Cox's Bazar, Bangladesh
When my daughter Sharin was 3 months old, the military started firing rocket launchers into our village.
Our house was set on fire and so her mother and I ran together to the forest.
We walked 16 days to get to this refugee camp in Bangladesh. We were so hungry.
We lost everything we owned including our home, land and businesses.
In Myanmar we have been persecuted for many years. They don't want us to live there.
They make it difficult for people to get an education, for people to travel outside their village and for people to hang out together in groups.
But from the time my daughter was born I've been dreaming about her becoming a doctor. I just want to do whatever I can to help that dream become true.
I want to give her a better education than I ever had. I want her to live in safety as a citizen of a country that wants her.
Farah, Rohingya. Cox's Bazar, Bangladesh
He was my whole life. We were just teenagers when we got married.
I really miss him at night. That's when I feel the most insecure. I feel so alone, I am a single older woman. I don't have anyone.
I miss our lifestyle. He was a day labourer and I would cook and clean for him.
Then one day when I was at home, I heard gunshots. I saw with my own eyes as the soldiers shot my husband three times in the chest.
I started to run to help him and the soldiers turned their guns on me. Their bullets hit my goat and killed it and I escaped with my life.
I turned back to see them light my house on fire.
I don't know what the future holds. I sleep alone scared of the people around me.
We used to have a nice life.
Ayenyo, South Sudan
My name is Ayenyo and I am 35 years old. I have seven children aged 3-10 years old.
When the war broke out we had to leave very quickly. We saw many dead bodies as we fled, we also saw many people screaming as they were in the process of dying.
In conjunction with that, my husband disappeared as we made our way here. My brother also is missing.
By the time we reached Uganda the suffering was too much and we passed through a lot of stress but in the camp we arrived to more issues.
Luckily enough, God blessed us when Tearfund came and taught us the skills of how to manage our stress. After the program I really felt relieved and a little bit of hope for the future. I also put the skills the program taught us into action and it is helping me a lot.
The most touching lesson was one on forgiveness and I taught that to my children.
I am recovering my senses and am able to come and speak with people.
Mary, South Sudan
I remember the evening when the war broke out in South Sudan. There were a lot of gunshots.
We could not sleep at home so we had to run away to look for a safer place.
During that commotion, my husband got lost because we were running amidst confusion.
I managed to escape with our five children to the border of Uganda and I received assistance from UNHCR who brought me to the refugee settlement in Adjumani.
Life was extremely rough and I could not sleep at night thinking about my husband whom I have never seen to date and that continued to torment me day and night.
I had no appetite and nightmares of what I saw while running with my children.
My children also were heavily affected by what we saw on the road on our way to the border of Uganda.
But ever since I attended the Tearfund program I learnt a lot and my entire life changed. I learnt to let go of the past hurts in my life and most importantly the program gave me hope.
Now I feel much better than I used to.
- Some names have been changed for security purposes.