A "mini tornado" ripped through Beryl James' property - lifting her double garage into the air and smashing it all over her backyard.
The 87-year-old was going over her accounts at the dining table in her Pyes Pa Rd home about 1pm yeseterday when the wind started to pick up.
"I thought, 'I don't like the sound of that', it just got worse and worse," she said.
"I thought I had better get away from the window."
Beryl was worried the house could be blown over by the strong winds before the neighbour phoned to say her garage had gone.
"I am not the deaf...the wind was just so strong (she couldn't hear the damage unfolding)," she said.
The "mini tornado" also tore through neighbouring properties, lifting garden sheds and flipping trampolines.
Heavy downpours also brought flash flooding to three different areas of Tauranga.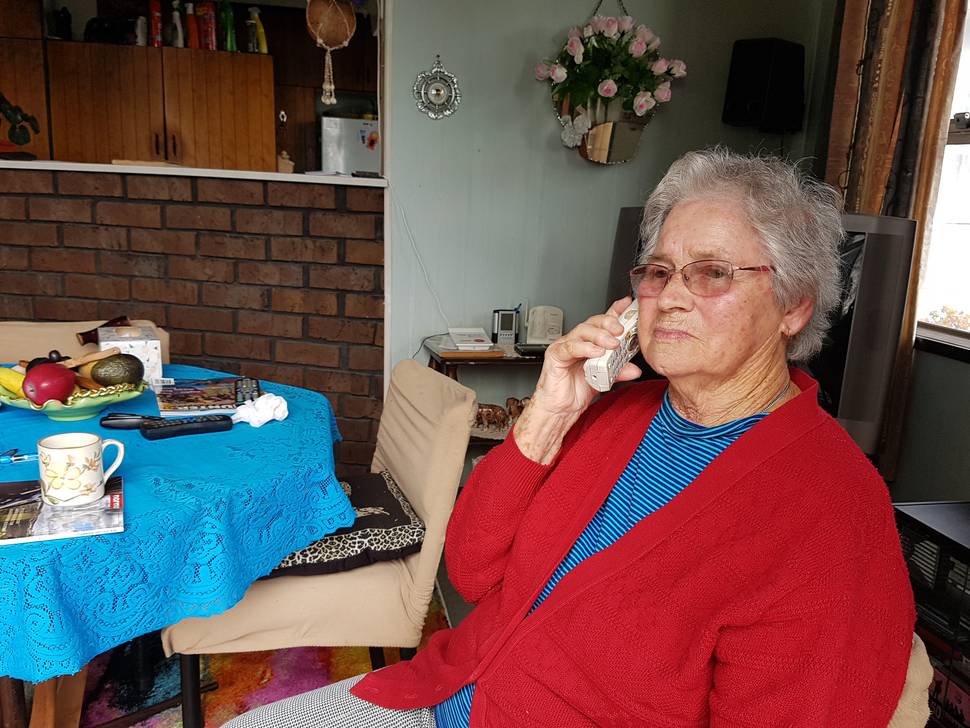 Beryl assessed the damage from the lounge window while she phoned her son Murray James at work.
"I got quite a shock," she said. "Just as well I haven't got a car anymore because that was where I used to put it."
"It was really frightening," she said. "I hope I never see anything like that again."
Murray James drove straight home from work after hearing his mother was upset.
"I came home expecting a door had been blown in, but I didn't expect this," he said.
"As I came up the drive, I looked over, and the garage was gone. It looks like we had been hit by a mini tornado."
Murray said he had rescued his quad bike, trailer and motorbike from inside the garage but everything else had been blown across the backyard and into the neighbour's property.
He said he knew the weather forecast predicted rain "but we didn't expect a tornado".
"When you are at the mercy of nature there is nothing we can do."
Gaye and Kevin Brooker were at home when the 3m by 2.5m garden shed was picked up off the ground and blown into the ranch slider of a neighbouring property on Pyes Pa Rd.
Strong winds tipped a trampoline in their front yard and broke three fences.
Gaye was trying to shut the windows when she saw a glass table from outside "go flying past".
Kevin struggled to close the bathroom windows as the wind strengthened.
"That was when it struck," he said.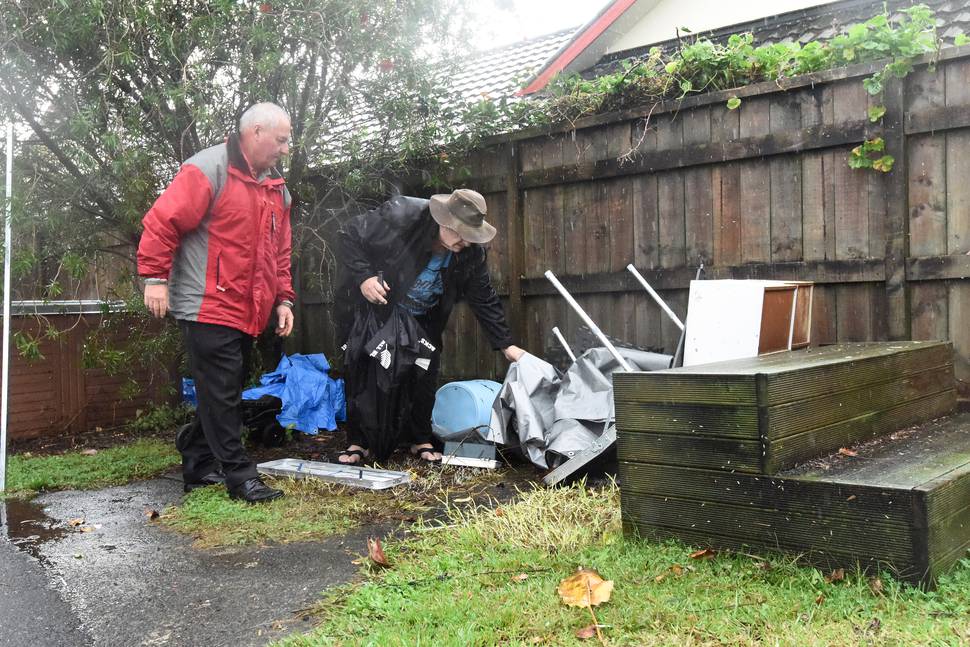 Metservice severe weather forecaster Gerard Barrow said there were very heavy showers around Tauranga early on Tuesday afternoon.
"Although it possible that there was a mini tornado, it is difficult at this time to determine if there actually was one," he said.
A northern fire communications spokesman said firefighters received two calls relating to a tornado in the Pyes Pa area.
The spokesman said firefighters were also called to flooding in Henderson Cres in Parkvale and Tauranga West Rd in Bethlehem.
Stephanie Pill was out working when the driveway outside her workplace at Envirowaste flooded, stopping her from being able to get in.
"Every time there is a huge downpour it happens," she said.
The "big dip" in the driveway at the bottom of Maleme St flooded, and Pill could not drive her car in or out of her workplace.
"We will just have to wait until the rain stops and for it to subside," she said.
Another worker said the flooding was the worst he had seen in five years.