An Auckland man has been scammed out of $1000 by someone calling themselves an ex-police officer.
Kristaps Nauzeris wanted to share his story to stop others falling for the same trap.
Nauzeris, originally from Latvia, is leaving New Zealand on Thursday and wanted to buy an iPhone X before departing.
He found one for sale on the "North Shore Auckland Buy, Sell, Trade" Facebook group.
On April 18, Nauzeris began speaking with the seller on Facebook chat. The seller, who the Herald has chosen not to name, said he was selling the phone so he could afford his dream car.
The seller offered to send a photo of his licence and allayed Nauzeris' fears by writing that there were "no hidden treasures and no issues".
"I am only selling to buy the car I've always wanted. All is genuine on my [side] and like I said I am happy to send a photo of my licence for more security."
Nauzeris transferred $1000 to an account in the FAcebook user's name and the phone was meant to arrive the next day. When it didn't, Nauzeris messaged the seller and found he had been blocked.
Nauzeris, 33, admitted he was too trusting.
"I should have sniffed that out, but I didn't know someone would do that.
"He was quite convincing. He had a reasonable response to all my questions. I asked for extra pictures and he gave me them. He was really well prepared."
Once he realised it was a scam Nauzeris approached the police.
"At the first meeting they said this will not be reviewed as there are so many scams on Facebook.
"I thought I'm going to do my own research then."
So Nauzeris tracked down the owner of the licence to a young Kiwi on holiday in Australia.
He said he had lost his licence a few months ago in Auckland CBD and was not responsible for the Facebook account that sold the phone.
Nauzeris then found a website that shows what branch a bank account is associated with.
Nauzeris then searched Facebook for all the people with the last name of the account
in the branch area and messaged the profiles that had a first name starting with the same letter.
One of them responded. The man said: "Thanks for your message. I have indeed received $1000 into my account, and am NOT going to refund it to whomever placed it there. This is my money and the NZ Police won't do anything about it. I am an ex NZ police sergeant, and am well aware of NZ law.
"Your mistake, you live with the consequences."
The man then blocked him.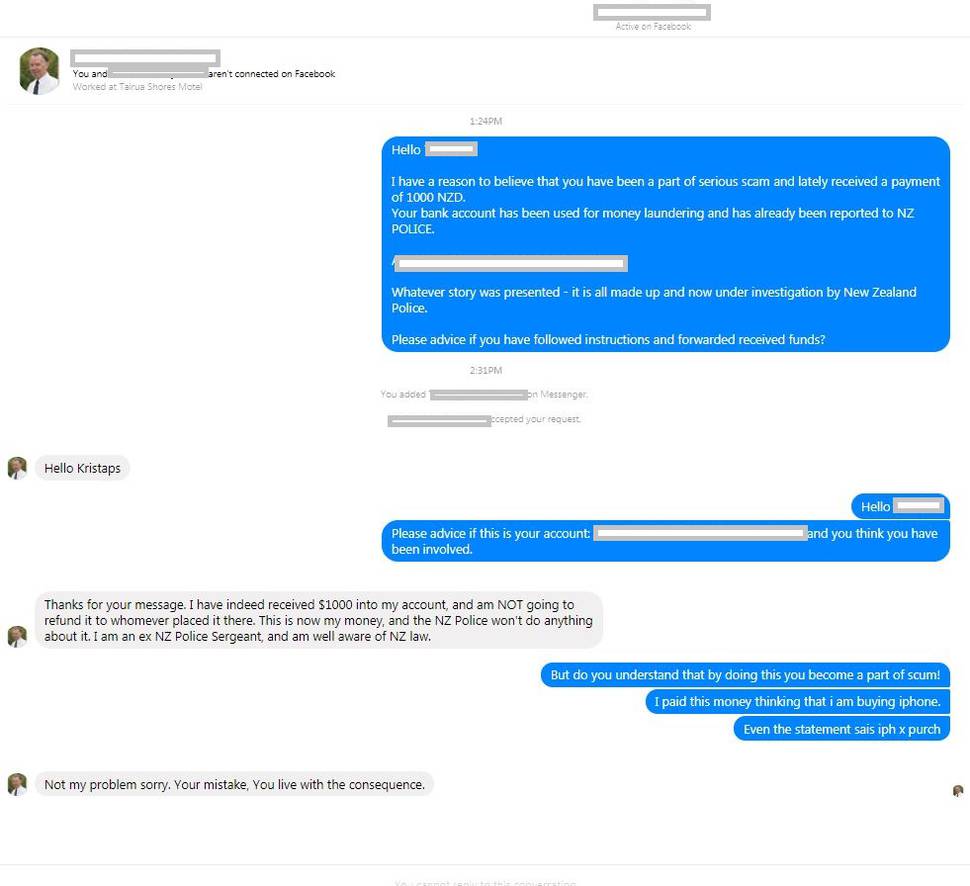 Nauzeris wrote a letter and sent it to the man's family members on Facebook asking for the money back but has so far been ignored.
"When he said 'he doesn't care and it's my own fault' - I thought this isn't right. People need to know," Nauzeris said.
"Just be careful what you do online. I always thought I'm a smart guy and no one will scam me. But it turns out I'm not smart enough."
Nauzeris is $1000 out of pocket, and will "punish myself with my old iPhone for a while".
The Facebook account that Nauzeris originally contacted has posted about selling an Apple Macbook Air and iPhone since Nauzeris' attempt to buy the phone.
The Herald contacted the Facebook accounts that allegedly scammed Nauzeris but had no response.
Waitemata Acting Senior Sergeant John Thornley said police were aware of the complaint and were making further enquiries. They had checked their system and could not find a current or former officer of the same name as the one Nauzeris messaged.

"We recognise that is incredibly frustrating for members of our community who enter into these types of deals only to be ripped off.
"We would therefore really encourage people to be extremely cautious buying items through websites such as Facebook and we would ask them to use more reputable websites such as Trade Me."