It sounds like something out of a sci-fi movie - robots flying around a stadium at speeds of up to 150km/h for human entertainment.
But that's exactly what happened at Eden Park last night.
Video of the first drone racing event at the Auckland stadium shows one of the machines looping around the rugby goal posts and travelling through hoops set up like an obstacle course. It was captured by GoPro cameras attached to the drone.
Members of drone racing teams Flight Club Auckland and Rotocross New Zealand participated in last night's event.
It comes after several close calls between drones and commercial planes and an incident in which an Air Force chopper pilot spotted a drone 60m away while flying, which interrupted operations at a nearby air base.
Stricter regulations in relation to operating drones are expected to be introduced soon, in light of the recent near misses.
Eden Park Trust chief executive Nick Sautner said Eden Park aimed to provide a place for drone owners to use their devices safely.
The stadium would likely hold another event in the coming months, which staff hoped would attract international drone pilots and sponsorship opportunities.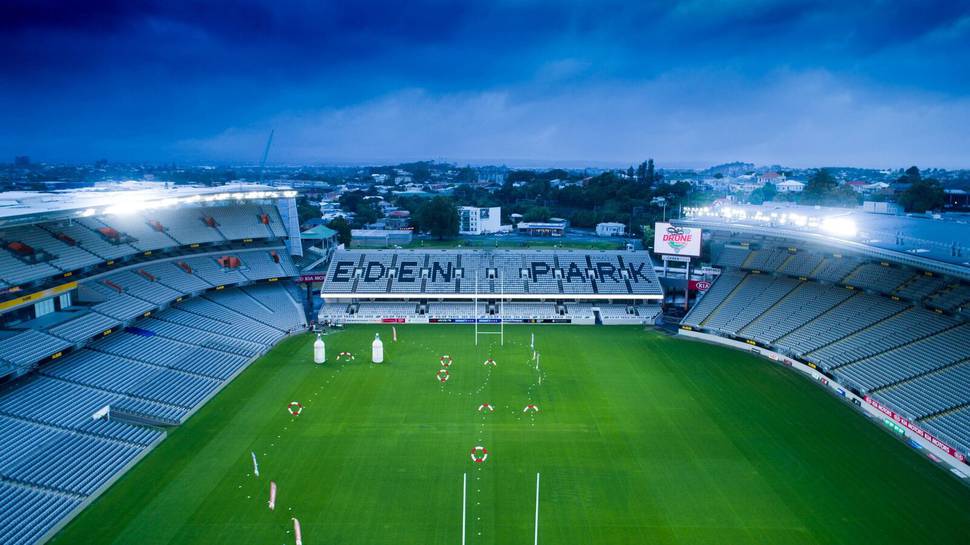 "The emergence of eSports as a legitimate event worldwide highlights the need for stadium diversification," said Sautner.
"In addition, cultural, arts and music events will attract new audiences who may have never attended a rugby or cricket match at Eden Park, all whilst delivering significant economic benefits to the community.
"Footage from drone races receives a large online audience as opposed to live crowds in the stadium however this digital traction creates valuable tourism opportunities for venues and their respective cities."
Similar events have been held at Hard Rock Stadium, the home of the Miami Dolphins, and at Dubai's World Drone Prix which offered pilots $1 million cash prizes.
Intel Extreme Masters, which runs international professional gaming tournaments, held its 2018 event in Poland, which drew crowds of 173,000 - making it the biggest live event in eSports history.