John Kearns was in Edgecumbe at 6am on Thursday April 6, 2017 and remembers it like it was yesterday.
"I saw a few people over on the riverbank and thought 'oh, I'd better go and check that out'," the College Road resident said. "I went over, had a look and thought 'this ain't going to be a good day'."
Within hours his town would be underwater.
Read more: Local Focus: Life after Edgecumbe
Local Focus: Support for the children of Edgecumbe
Vicki Richards was also up on the stopbank.
"It's astounding now to think that no-one lost their lives," she said.
This part of College Road has the Rangitaiki River on one side and houses on the other. Everyone in those houses is used to having the river just beyond the stopbank.
But on this morning, eerily fine after days of heavy rain, many were standing on the stopbank, nervous.
In particular, they were worried about the 50m stretch of concrete wall where there was no stopbank. At 1.5m tall and 200mm thick, the wall was barely holding back the swollen river which was seeping through underneath and almost coming over the top.
"The regional council guy came in and he was there poking and prodding [the wall]," Richards said. "We asked 'do you know what we should do?' and he said 'I'd pack a bag!'"
Meanwhile, Arlene Watters, a tetraplegic who gets around in a motorised wheelchair, was lying in bed in her house right across the road.
"All I heard from outside was 'Get the f*** out now! Get in that van!'" she said. "That's when I thought 'Okay, get moving'."
Her neighbour Fred Mansell was given the same instructions in more polite terms by a police officer.
Mansell immediately jumped in his ute and drove away. As he did, he looked in his rear-vision mirror.
"I saw the whole wall just fall over and smash into the middle of the road," he said. "It was like a big wave going both ways, coming back down and going the other way."
It was now 8.32am.
The river had burst through the concrete wall, pushing it out of the way as the torrent rushed through the College Road properties down to Rata Ave and Puriri Cresent beyond.
Watters had just been driven away and was safe. Mansell and Kearns were safe and Richards had dashed to her mother's house, evacuated her and was driving her along Puriri Crescent closely followed by the wave of brown river water.
But many residents were still in their houses, waking to the sound of water gurgling up in their baths, or rushing past their windows.
Dwayne McGuire was at work, in Fonterra across the river.
"[My] supervisor came rushing in and said that my aunty had rung up and said that my kids were at home and couldn't get out of the section because it's all flooded around the house." That was on the corner of Rata Ave and Puriri Crescent.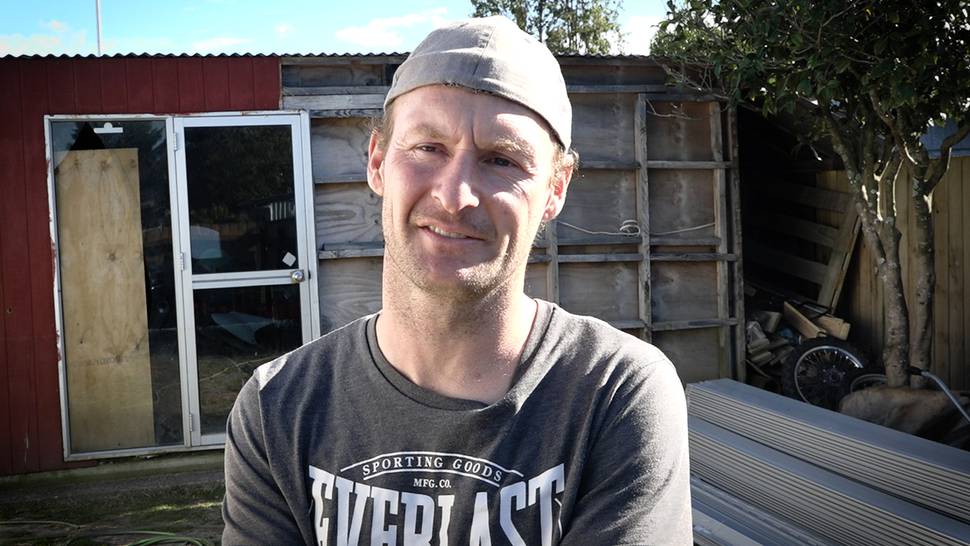 "So I ended up jumping in my truck, driving over the bridge and couldn't get any further," he said.
"I went up to one of the fire service guys and asked if I could go in and he said 'no-one is allowed in'.
"I ended up jumping up and down and he got me a jet boat to come over to my house. So I got inside my house, the kids weren't there so I ended up going into the shed, got the little boat and started going around evacuating people out of their houses."
McGuire was shocked at the force of the water.
"The water was coming down and smashing into our fence, so you wouldn't be able to walk in it. Even in the boat, we struggled to get around the corner." He later heard that his kids were safe.
For most Edgecumbe residents, the day was a blur.
"It was chaotic," Storm Hale said. "It was like a war-zone."
Hale is practice manager at the Edgecumbe Medical Centre.
It was too late to save anything out of her home, which was deep in water, so she spent the next 24 hours delivering medication to Edgecumbe residents who'd been evacuated to Kawerau and Whakatane.
"The majority of our people went to Kawerau, with a fantastic welcome there by the mayor and his crew at the marae, and that was absolutely awesome," Hale said.
"But I felt sorry for our crew that went to Whakatane because when they got there, there was no-one to greet them at the memorial hall. To me it felt like a morgue.
"Elderly people were just sitting there crying. They didn't know what to do, where to go, who was there."
It was a long day for Hale, and it's been a long year. She's still waiting for repairs to start on her house.
"[I'm] angry, pissed off, sad," she said. "At times I want to cry, at times I feel like just chucking it all in and going."
"Everybody says there's a silver lining at the end," said McGuire. "But it's been a hard year.
"A lot of people in that first couple of months, you'd meet them in town and talk to them, and they're not all there."
Now, almost a year on, Edgecumbe is slowly finding its feet. More than 60 per cent of residents are back living in the town, and it's slowly returning to normality.
Watters who's spent her adult life in a wheelchair, sums it up.
"We're born tough here."