Police say an arrow found near the runway was the reason Rotorua Airiport was closed today for nearly four hours.
The airport is now open and flights are operating again, following the grounding of at least two flights.
The airport had been closed from just after midday until before 4pm
Rotorua Airport chief executive Mark Gibb said he was "not prepared to comment on the specific nature" of the incident but he confirmed the police were involved.
Rotorua police area prevention manager Inspector Brendon Keenan said police were called to Rotorua Airport about 12.30pm.
"There were reports of an arrow being found on the ground beside the runway."
It was found during a routine check, he said.
"There was no sign of the bow, and police are still out there making inquiries.
"The airport decided to close, that was their decision."
Flight NZ8234 to Wellington and flight NZ5785 to Christchurch were among those cancelled.
"It's very frustrating for those people having their planes disrupted," Gibb said.
At 4pm he announced they had reopened the airport.
"Air New Zealand will be looking to get their flights back up and running and on schedule again."
Selina and Geoff Anderson were hoping to be back with their children in Christchurch in time for dinner, via Wellington.
"They kept delaying the flight to Christchurch but assured us ours was fine," Geoff said.
"Then it just came over the speakers to say it was cancelled and the airport was closing."
He said people seemed to be rather "put out" by the disruption.
"We're now looking at flying out tomorrow , it's not like we can just walk out of here.
"As long as they help us with accommodation then it's just another day off work tomorrow."
Selina said they just wanted to be back with their kids.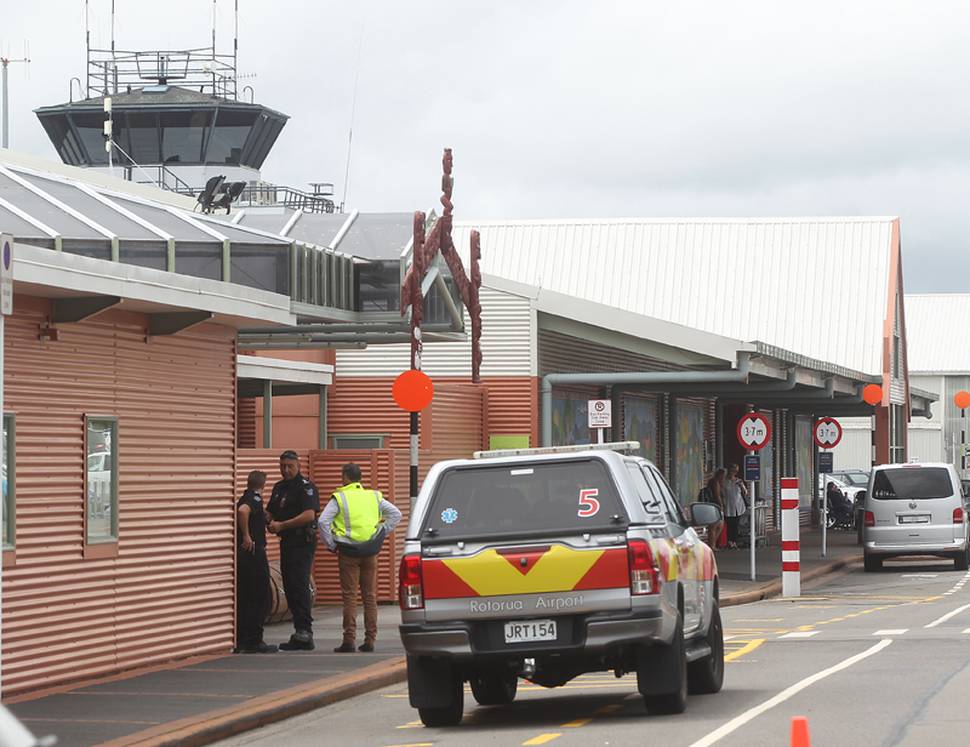 For Drew Bartley, his husband and two friends, all from the US, New Zealand was the trip of a lifetime.
"Now the entire vacation is in a shambles."
Bartley said they had boarded their flight to Christchurch and the luggage had already been stowed away when they first heard something might be wrong.
"Everything seemed fine, the plane had arrived a little late so we were expecting a small delay. We'd been sitting on the plane just waiting for them to close the door and give us our safety briefing.
"Then we were told there would be a 30-minute delay, for security reasons at the airport, and that we'd all be more comfortable inside."
He said after half an hour it was pushed back again.
"Every 30 minutes it was pushed back another 30 minutes. We were supposed to fly at 12.05pm and it's now 2.48pm."
The group was stranded in Rotorua with no flights available to Christchurch until Wednesday.
"The irritating thing is they haven't really kept us informed. The staff just went behind closed doors and wouldn't say anything."
Due to the disruption they have had to cancel the entire South Island portion of their trip.
"We were going on the Tranz Alpine railway, getting a car up to the Franz Josef, on to Queenstown and then a scenic plane across the Milford sounds," Bartley said.
"We're going to miss the South Island because we've now missed those connections and what if we can't make it back to Auckland in time for our cruise."
He said they were gutted because the South Island had been the biggest focus of the trip.
"We will now spend the week here and just make the most of it. We do really like Rotorua.
"Now we just have to find accommodation and a rental car. As if it wasn't bad enough there were no rental cars left to book."