Hamish Lee bought his first home just four months ago - only for a car to plough into it as he slept.
He and neighbours on Fairy Springs Rd in Rotorua have been left with a big mess to clean up after a car smashed through four properties overnight before hitting Lee's house.
Flowers have been torn from the ground, rubbish bins smashed across the grass, a street light brought down and pieces of picket fence scattered by the road side.
For 22-year-old builder Lee these don't compare to the large dent in the side of his new home, which he had worked hard and saved his entire life to buy.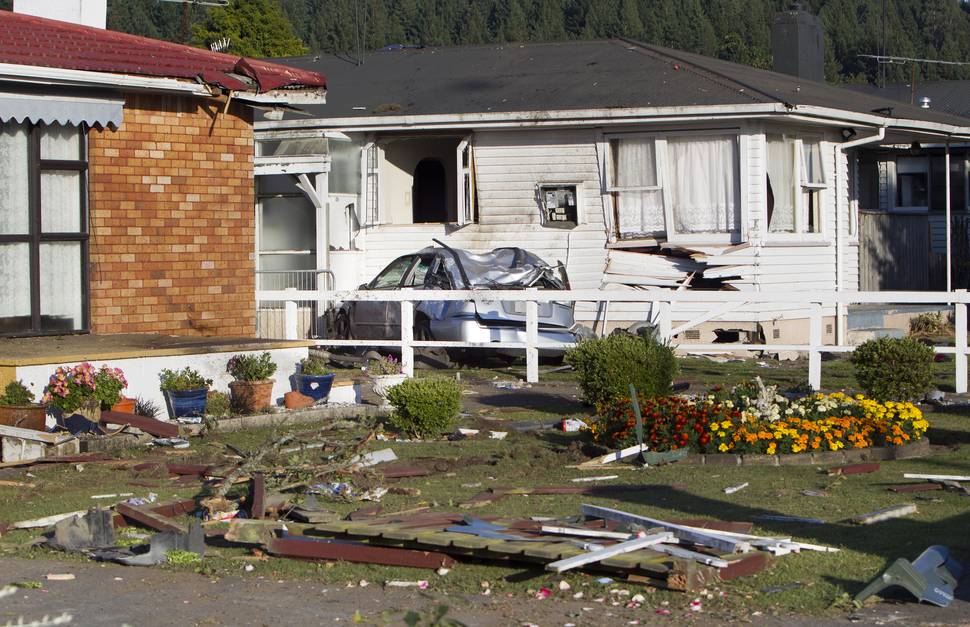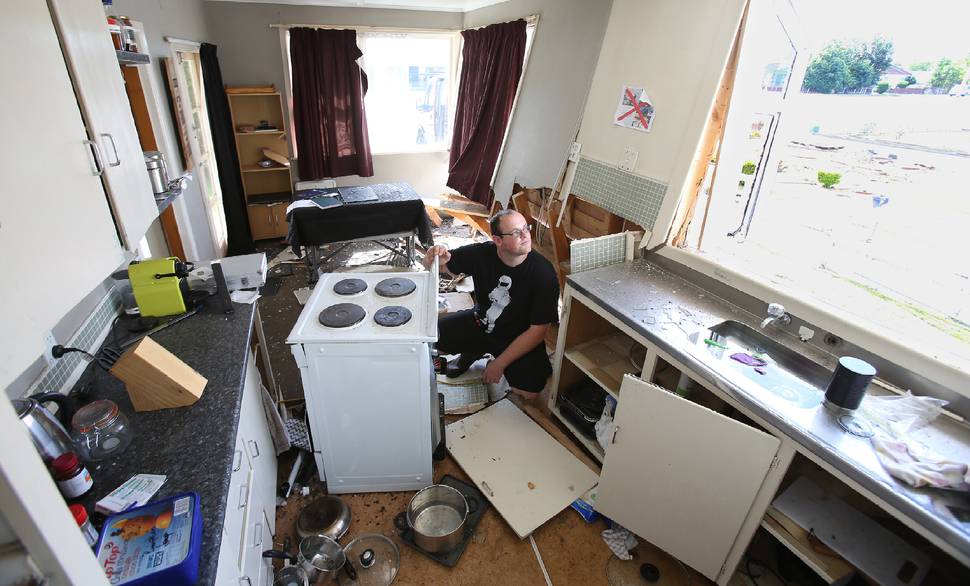 He was sleeping in his bedroom, at the other end of the house, when a large jolt and the sound of running water woke him up just after 2am.
"It was the impact on the side of the house that woke me up.
"I got up to check it out, and I could see the fridge lying on the floor in the living room. So then I thought I had better actually put some clothes on and grab a go bag."
Outside the fire brigade was arriving.
"The power was still going, but the meter had been been hit, so I moved away from the property in case it came alight."
He said his first worry was for the elderly couple who lived next door.

Lee was today waiting on a visit from his insurance company before he could clean up the mess in his kitchen and board up the side of the house.
The window to his kitchen had been completely smashed, water flooded out on to the floor and the larger appliances been flung across the room.
Parts of the car had been scattered across his garden and the bumper was on his roof.
"Looking at the car, I have no idea how they walked away," he said.
Neighbours had already shown up by 9am, bringing food as well as brushes and shovels to help clear away the debris.
Next door Frank and Joy McCleod have been left with parts of a fence and rubbish bin scattered and the guttering of their house smashed after the car hit their steps and flew upwards.
"We've been out cleaning up as much as we can," Mrs McCleod said.
She said she was exhausted.
They were woken by a noise that sounded like "thunder" and Mrs McCleod said within moments the neighbours were there to check they were okay.
"Frank only came out of hospital at 6pm, so we went to bed late and then woke to this mess this morning."
She said people from the community had been around to help and brought a cup of tea since their power was still out.
"They've really looked after us."
The McCleods have lived in the Fairy Springs property for the past 24 years and Mrs McCleod said nothing like this had ever happened before.
A 16-year-old male is in police custody.