Surging waves are causing delays to traffic around Eastbourne as the remnants of the dealy storm which has lashed the North Island over the past 24 hours continue to mark their force felt.
While the storm appeared to have spared the central and lower North Island from severe damage overnight - after causing the death of a woman in Rotorua, flooding to parts of the Coromandel and Thames region and grounding flights in Auckland - MetService earlier today warned of potential flooding in the Wellington region today.
Earlier fears of flooding on the southern coast around high tide, which was at 9.11am, did not result in any dramas.
But now large waves breaking along the Eastbourne coastline, in Wellington Harbour, are washing over the main route in and out of the suburbn.
Stop-go traffic crews are in place at some points. Debris from the waves is also strewn across the road.
MetService duty forecaster Michael O'Connor expected large waves to continue through much of the day in the Wellington region, but said they should ease this evening.
Thousands of properties are also without power across the North Island.
The Auckland region is worst affected with 1000 homes without power according to Vector. Earlier this morning 5000 homes were in the dark in Auckland.
According to PowerCo, 2534 properties are without power across other parts of the North Island. Tauranga is among those most affected with more than 700 properties unable to boil the jug this morning. A further 416 properties in Kerepehi, near Paeroa,​ 312 in Thames and 275 properties in the Coromandel are also facing power cuts.
Electricity company Unison has reported a further 976 homes and businesses in Rotorua are facing power cuts.
Further down the country, 168 homes and businesses are without power in Kohuratahi, about an hour from Stratford.​​
The subtropical storm was expected to bring heavy rains and gale-force winds to the central region last night.
But police and Fire Service spokespeople reported it had been a "quiet night" for the central and southern areas following a day of flooding and heavy winds in Tauranga, Rotorua, Coromandel and Auckland.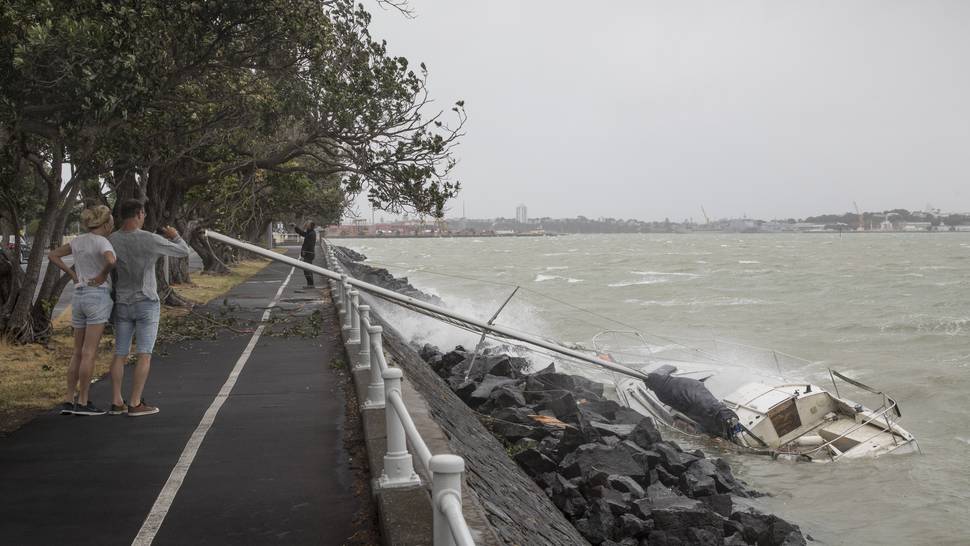 Wellington Fire Service shift manager Mike Wanoa said while the storm was supposed to hit the area overnight, it appeared to have passed over instead.
"We weren't hit by any events at all, it's been very quiet," he said.
A shift manager for the Fire Service in the South Island said the bad weather hadn't hit yet.
Calls about the storm to fire crews have eased off in the upper North Island as well.
Firefighters dealt with 543 weather-related calls since the low first hit the top of the North Island on Thursday.
Fire and Emergency's Paul Radden said they dealt with downed trees and powerlines, fires caused by powerlines arcing, roofs lifting and flooding.
They also had 69 calls for help from people needing to be rescued.
He said it was busy around 2am, but it has been quiet since then.
Metservice meteorologist Sarah Haddon said rain warnings and watches were all lifted about 1am but the wind was still a concern.
Now that rain has eased, winds and showery conditions remain on the western side of the low, which is now situated on the eastern side of the country off the coast of Wairarapa and continuing to track southeasterly.
Strong wind warnings are still in place until 3pm for Kapiti-Horowhenua, Wellington and Wairarapa, including the Tararua District. There is also a warning out for Marlborough.
Southwesterly winds are expected to rise to severe gales in Wellington, with mean wind speeds of 110km/h, gusting up to 135km/h in high, exposed areas.
However there is an improving trend today as the low pulls away, taking the bad weather with it.
Most of the North Island will be fine by the end of the day, and winds on the eastern side will ease.
"It's on its way out," Haddon said.
Thames-Coromandel, which was one of the badly hit areas yesterday, looks to be out of danger now, with weather easing overnight.
A post on the district council's Facebook page this morning said there were no further reports of flooding, slips or further road closures.
All local council roads were open.
"NZ Transport Agency has advised us that the Thames Coast Road (SH25) is now passable from Te Puru north, but remains closed between Te Puru and Tararu. There is severe damage to the road at Whakatete Bay," the post said.