A young American woman who suffered critical injuries in a crash that killed three students in 2012, has made the pilgrimage back to New Zealand to thank the doctors and nurses who saved her life.
Meg Theriault spent Christmas Day with the Waikato Hospital intensive care nurse who looked after her following the crash, hugged the surgeons who operated on her to stop the bleeding on her brain, and posed for photographs with the rescue helicopter pilots who flew her to hospital.
"It was a privilege and so nice to go back. We got to completely experience a Kiwi Christmas," she told the Herald on Sunday.
Theriault was a Boston University student when the van she was a passenger in left State Highway 46 near Turangi and rolled on May 12, 2012 while en route to the Tongariro Crossing.
Three of her fellow students were killed in the devastating crash and another was convicted of causing their deaths, her injuries and the less serious injuries of three other students in the van.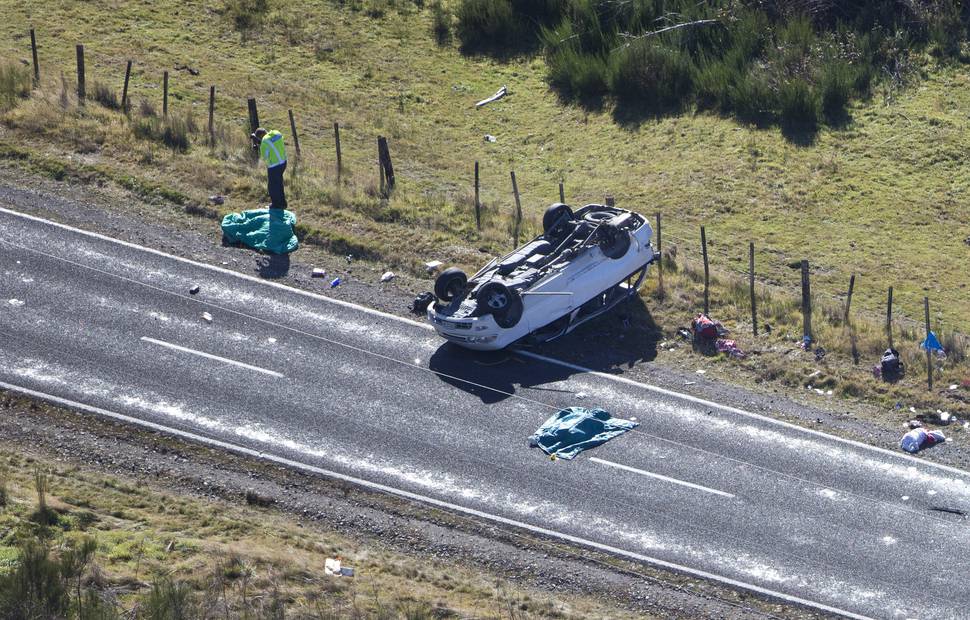 Then 21, Theriault suffered a traumatic brain injury as well as injuries to her limbs and spent two weeks in an induced coma at Waikato Hospital.
It was another three weeks before she left Hamilton in a wheelchair with her parents Todd and Deb Theriault on a medi-flight to Boston to begin a long recovery at Spaulding Rehabilitation Hospital.
But four days before Christmas this year, the determined 27-year-old returned to New Zealand with her parents and younger brother Ben for "the trip of a lifetime".
They went to the Auckland University dorm she lived at for a week more than five years ago. Theriault still has no memory of that first trip to New Zealand.
When they arrived in Hamilton, flowers and food greeted the family at their hotel courtesy of the Waikato Hospital nurses who cared for Theriault.
"Getting to know my nurses and meeting them and spending time with them took over the majority of the trip and was incredible, and they were so gracious and gave us such a great time."
The family also met Theriault's surgeons, Westpac Waikato Rescue Helicopter pilots and other specialists to say thank you.
"The whole process of how I got taken care of was a miracle," she said. "They were part of this miracle and I'm so lucky."
The team of up to 30 staff including experts in various sub-specialities, co-ordinated by Midland Trauma Services, has largely been credited with Theriault's impressive recovery.
The team initiated her early rehabilitation and Theriault went on to graduate university in the top 10 per cent of her class and now lives independently.
"When you have a brain injury that initial care impacts your recovery hugely," Theriault said. "So it was so rewarding to meet these people and show them just how much they helped me in my dire state."
The reunion at Waikato Hospital was emotional and uplifting for Theriault who now works as an insurance associate in Boston.
"It's always been a big part of the closure for me and my parents. It definitely felt like closure. It's not like it didn't happen but we're at peace with it to a certain extent now because we've gone back."
On Christmas Day the family were hosted by nurse Sheree Gare who also took the family on tours including to Raglan and Mount Maunganui.
They made it to Taupo but decided not to visit the crash scene 10km south of Turangi or to undertake the Tongariro Crossing.
Neither did Theriault tell the other students who survived the crash she was returning to New Zealand.
"Because the accident was such a tragedy with three students passing away, a lot of the other students remember it. I think I remind them of this horribly traumatic event in their lives, understandably."
Theriault, who is now a volunteer peer mentor at Spaulding Rehabilitation Hospital for other brain-injured patients, said her recovery was ongoing and she struggled with short-term memory loss and co-ordination.
But for the most part her brain injury was unnoticeable and it was this fact she enjoyed sharing most with the surgeons who had to remove a piece of her skull to save her life.
This year's road toll so far is nearly on a par with the same period in 2017.
"Going to Waikato Hospital and meeting some of my surgeons was incredible.
"I hope for them they realise how incredible and important their work actually is. It's life-changing."
Trauma surgeon and Midland Trauma Service director Dr Grant Christey said it was "fantastic" to see Theriault again.
"It's great to see her doing so well. She's made such good gain."
Christey said up to 50 per cent of trauma patients who were tourists returned to Waikato Hospital to "get some closure".
"It's great for the staff to see that their patients have come out so well. It's often a very important thing for staff to see that their hard work is not in vain and these are the success stories."