By Alexandria Utting, Andrew Potts & Amanda Robbemond of the Gold Coast Bulletin
A former Auckland woman has been charged with murder after her partner was shot dead on the Gold Coast on Wednesday.
Paanice Lawrence, 39, was in a relationship with the dead man for six months.
She left Auckland in late 2016 before moving to Australia.
She had been speaking with detectives at the Southport Watchhouse since early Wednesday after her 46-year-old boyfriend died at her Southport home, news.com reports.
Lawrence, also known as Paania, is believed to have phoned police just after 2am to get help for her partner.
When paramedics arrived at the Waverley St home they found the man with a single gunshot wound. He died at the scene.
The 39-year-old's social media profile shows she was originally from Berkeley Vale on the New South Wales Central Coast, but previously lived in Auckland.
Her Facebook profile shows she quit her job at the Royal Auckland Golf Club in October 2016 before posting her return to Australia later that year.
Acting Detective Inspector Matt Ward this afternoon said there had been no history of reported domestic violence between Lawrence and the man who died.
The man has not yet been identified as police are still informing his next of kin of his death.
"Initial information indicates they were in an intimate relationship for the past six months," Ward said.
Police say a male and female witness were also in the home at the time of the shooting.
They are not believed to be suspects.
A young child and two other adults are believed to have been in a caravan at the back of the property at the time of the shooting.
The child is not related to the dead man or Lawrence.
The deceased did not live at the Southport address.
A gun has been found but police are still investigating whether it was the weapon used in the fatal shooting.
Ward said it was "disturbing" that a gun was fired in a suburban street and police are exploring how the shooter came to be in possession of the gun.

"There is legislation which controls people's storage and possession [of guns] and that is something we are exploring," he said.
Four ambulance units, including the High Acuity Response Unit, went to the address as paramedics worked to save the man.
It is believed paramedics tried to resuscitate the man for at least half an hour before he died.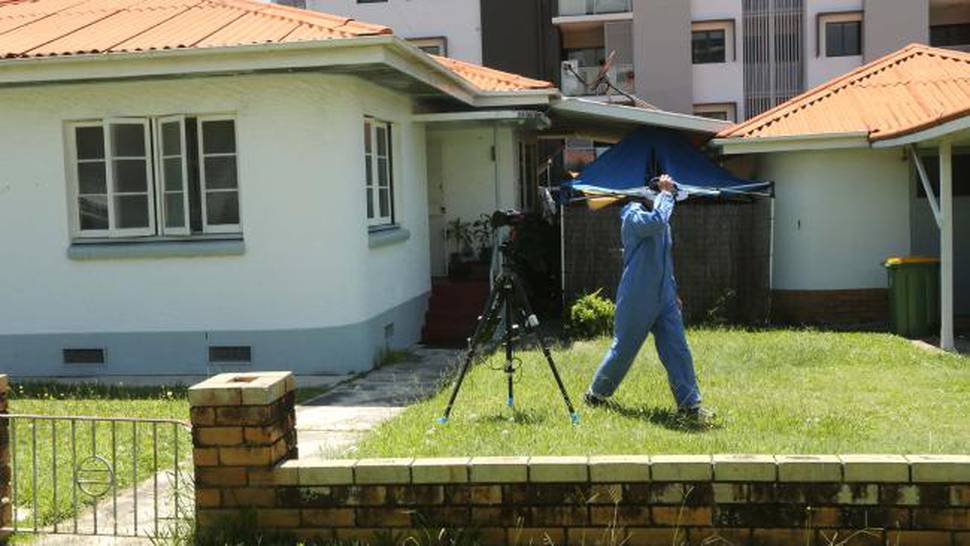 Neighbours to the property have expressed their shock at the shooting, saying the area was generally pretty quiet.
Daniel Franey said he had lived next door for more than a year and hadn't heard of any issues.
"There's a Kiwi lady with her son and about two other people live there," he said.
"I don't know what happened and I was up pretty late. A fair few kids [live there].
"There's always some commotion here in Southport but not from here."
Neighbour Ketki Phagat said she slept through the events.
"It's quite shocking," she said.
"The person who lived there before was quite friendly, but he left four or five months ago.
"It's quite silent here, there's many good people living here."
The Southport Criminal Investigative Branch will investigate last night's fatal shooting.
Police are still determining whether it involved domestic violence.
Glen Bennett, who lives across from the property, said he didn't hear or see anything overnight, and hadn't had much to do with the current residents.
"I'm a bit surprised," he said, adding he only knew of the previous tenant, an older man with a dog.
He said he had always felt safe in the area.
Cecil Radlow, who also lives across the road, said the area was quiet but everybody tended to keep to themselves.
"I've lived here 13 years and I just know my next-door neighbour," he said.
Another resident said she woke up at 1.20am and drove past the property about 2am to go to work, but didn't hear or see anything.
Leon Ran said he was still up at 2am this morning but also had no idea of the events.
"It's so terrible," he said.
"This place is pretty safe I think, this has never happened before. I've lived here for two years."