South Island toddler Amber-Lee Cruickshank disappeared 25 years ago from a small town on the shore of Lake Wakatipu.
Despite exhaustive and repeated searches, there has never been any sign of the little girl.
The Herald senior crime and justice reporter Anna Leask investigated the famous cold case in a bid to generate some answers for the toddler's family.
In October, to mark the 25th anniversary of Amber-Lee, the Herald released Chasing Ghosts, a six-part podcast series, news feature and mini-documentary about the case - one of the most well known mysteries in New Zealand history.
It was our first true crime podcast.
This week, we are publishing the full transcript - more than 24,000 words - in a bid to give this case more publicity.
We want to bring Amber-Lee home.
Can you help?
EPISODE TWO - 'NOT IN THAT LAKE'
In loving memory of Amber-Lee Rose Cruickshank.
Born 5 May 1990.
Missing 17 October 1992.
Presumed drowned.
Rest in peace.
These are the words on Amber-Lee's memorial at Kingston - a small gold plaque attached to a rock beneath a liquid amber tree planted a couple of months after she disappeared.
The memorial is in the playground,, about 100m from where Amber-Lee was last seen.
The search for the little girl was called off two days after she went missing.
No sightings, a large lake 50m from where she was staying - it seemed obvious that she'd drowned.
But now police are certain that didn't happen.
There are multiple theories about what really happened that day.
In this episode of Chasing Ghosts, we will examine them and conclude that the most likely involves foul play.
I'm Anna Leask, a crime reporter for the New Zealand Herald.
In the first episode of Chasing Ghosts, we heard how Nicola Cruickshank, her partner James Gill and two of their children wound up in Kingston on the day Amber-Lee disappeared.
We heard Nicola recall her panic as she and James realised the little girl had gone missing after a barbecue at a house belonging to their mate Richard Dette.
Now let's first go back to October 1992 when about 100 people - search and rescue volunteers, police and locals - scoured the area for Amber-Lee.
They searched the town and the bush beyond with tracking dogs, paying particular attention to overgrown mine shafts and creeks that fed into Lake Wakatipu.
A man out on the water fishing at the time saw nothing - no child falling, or struggling in the water.
But searchers took to the lake in boats and kayaks, scanning the shoreline and beneath the clear surface.
Local divers crept along the lake bed and a helicopter was called in.
There was no trace of Amber-Lee.
Warwick Walker was the Detective Sergeant in charge of serious criminal investigations for the Queenstown area at the time.
He went to Kingston the day after Amber-Lee went missing and was satisfied with the search operation.
The next morning he left for three weeks at police college, near Wellington, but briefed the detective relieving him.
When he came back he was disturbed to hear that the child was still missing - and ramped up the investigation.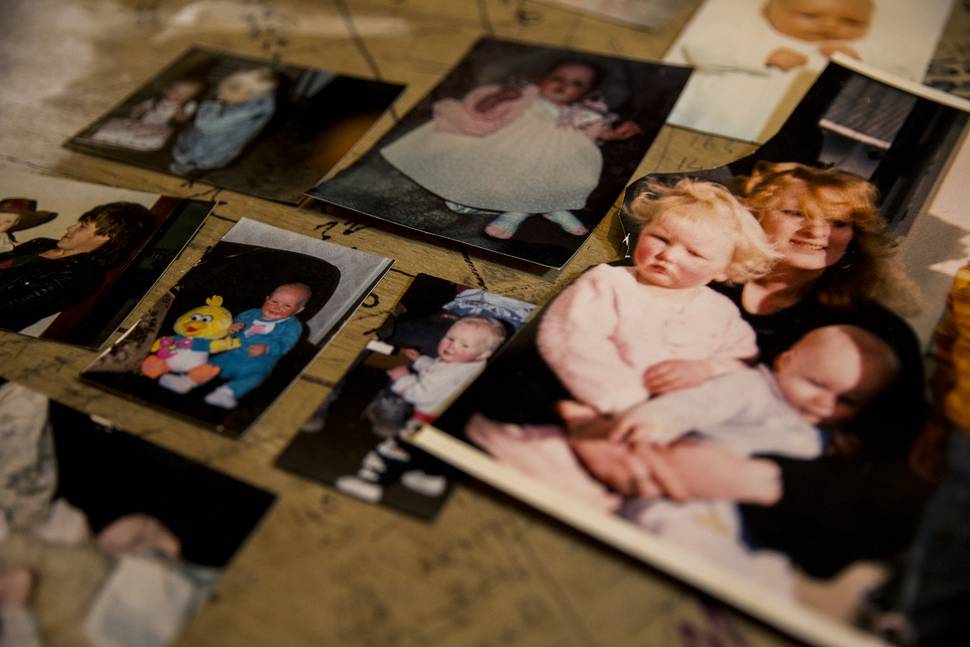 ANNA LEASK
When did it become apparent to you that there was likely some foul play or something suspicious was going on with Amber-Lee's disappearance?

RETIRED DETECTIVE WARWICK WALKER:
I guess that's hard to pinpoint a time.

It's more a pattern of thought that you go through and say well, if you get to a point where you accept that she's not in the lake and probably not in the surrounding bush if that's been well searched, then you go well what are the most likely things.

So after spending 20 plus years in the police and a lot of it doing criminal investigation, most disappearances and or murders - if in fact that's what it is - of people in New Zealand are carried out by people that are known to them. Statistically that is the largest group.

So you've got to say if she's not in the lake, and she's not in the bush - then it's somebody who has been very very close who is the most likelihood.

So then you start to say why would anybody close harm her? And then statistically beyond that you say well if it's not that, it could be somebody in a wider circle who perhaps has got some sort of beef with somebody who is close by, and beyond that you've got to look at a total random event, that somebody could have come and taken her.

You get beyond that and you're just theorising about all kinds of things.

ANNA LEASK:
Why are you so confident she's not in that water?

RETIRED DETECTIVE WARWICK WALKER:
So when I started to go back through the file after I arrived back and sort of thought well what are the additional things that we can do to satisfy ourselves that Amber-Lee is not in the lake or not in the bush... one of the avenues I looked at is only local divers had dived the lake, now I'm not saying that they didn't do a good job, I don't know much about doing dive patterns, but I know how the police dive squad works and so I decided I'd get the police dive squad down from Wellington to dive the lake.

They do a very methodical grid search of the bottom of the lake, and speaking to the officer in charge of the dive squad, he talked to me and I remember a number of factors.

Number one is that there were glossy flyers, you know, that you get from retailers, still on the bottom of the lake which were only very partially covered in silt that you could still read which predated the day that Amber-Lee went missing.

And that was a reasonable way out from the shore so his quite natural assumption is well, there isn't a lot of movement in that lake from that end so there's not a lot of current to carry things away otherwise A, that paper would have gone, or B it would have been covered in silt.

But it wasn't.
It was possible that Amber-Lee had fallen into one of the streams that run into the lake and drowned.
It was spring, snow on the surrounding mountains was thawing and the streams were in flood.
One was relatively close to the house Amber-Lee and her family were visiting.
But Walker said the little girl would definitely have been found had she fallen into it.
RETIRED DETECTIVE WARWICK WALKER:
All you've really got running into the lake at that end where Amber-Lee went missing is a little stream which was from memory 100, 150m from where Amber-Lee was last seen and while there some water running down that the police divers dived along the end of that stream and out into the lake and they could see where there were sheep skeletons, parts of sheep skeletons in the lake which probably had been carried down that stream from past years, but they hadn't been carried very far out into the lake.
So again, his opinion was that had she managed to walk that far up the lake with everyone around and fallen in there, she wouldn't have been carried very far away from the end of that stream.
My understanding is when somebody falls in the water if they're alive and if they struggle and drown then initially their body fills up with water so that they will sink. They may not sink right to the bottom but they're going to be underneath the water so you're then going to say what's going to move the body away if there's no current.
It's slowly going to sink to the bottom, not a long way from the edge of the lake.
If you go in dead, then you're not going to be inhaling water so normally you're going to be on the surface for a while, unless you're weighted down with something.
So she clearly wasn't on the surface the day that she went missing or the day afterwards because there was a lot of boat and canoe activity looking for her.
So therefore had she gone in and sunk, that wouldn't be very far away from the edge of the lake.
Given there's not a lot of influence from the stream, there's no current, the two days from memory - the day that she went missing and the following day - there was not a lot of wind that would have carried the body along, if it stayed on the surface.
I guess we can be pretty confident that she hadn't gone in the lake on the day that she went missing or the day afterwards - unless somebody had taken her out and weighed her down.
But, you know, she hadn't fallen in the lake and drowned or been dead and fallen in the lake because she would have been found, had that been the case.
And similarly with the stream, it wasn't that deep, you'd just look in and you'd see somebody.
Once Walker was confident Amber-Lee wasn'tt in the lake, and unlikely to be in the bush surrounding Kingston, he moved on to the next theory - foul play.
RETIRED DETECTIVE WARWICK WALKER:
If she's not in the bush, if she hasn't fallen down an old mining hole, somebody has got involved in taking her.

It's hard to think that could have happened without anybody seeing it - I mean, we're talking about she's gone missing in daylight, there were a lot of people on the foreshore of the lake, even later in the afternoon.

But it is a quiet little place so for somebody to have taken her away from around the house and being able to take her somewhere else, even a short distance.

It's fairly high risk that somebody wouldn't see you doing that - not impossible - because as I say there's people around but not lots of people.

We're not talking MIssion Bay in Auckland, we're not talking Sumner in Christchurch.

Even though Lake Wakatipu is a big lake, down the Kingston end it is isolated, there's one road in and there's one road out.

So yeah, I think statistically someone has taken her and they have been lucky that nobody has seen them taking her.

I suspect initially probably she wasn't taken very far away.
No one has ever been charged in relation to Amber-Lee's disappearance.
But there are suspects - people of interest who police haven'tt been able to rule out.
Some remain on that list because police aren't satisfied with their alibis, their stories have changed or their behaviour was suspicious after Amber-Lee vanished.
Others simply cannot be ruled out until the child is found.
Nicola and James remain on that list because they were at the house where Amber-Lee was last seen.
But police are confident they had nothing to do with their daughter going missing.
A few months after Amber-Lee disappeared, Walker asked Nicola if he could put the case on Crimewatch.
The TV programme showcased local crimes and people wanted by police.
Nicola agreed and they went shopping together to find replacements for the clothes Amber-Lee was wearing when she went missing - a white knitted jersey, grey trackpants and little blue sneakers.
One item had to be specially made, but they replicated the outfit.
The segment aired on national television and soon after a call came in.
It came from an Australian couple who were visiting Queenstown the weekend Amber-Lee went missing.
They'd found clothes that matched the description in public toilets near the police station.
They were soiled, wet, lying on the floor in a cubicle.
The couple went into the police station to report their find but unfortunately did not take the items with them.
The officer who spoke to them at the time was not aware a child was missing and dismissed the report.
After Crimewatch aired, officers flew to Australia to interview the couple at length about the clothing.
Walker said their information did not advance the investigation.
The clothes were never found.
Another tip police chased up in Australia was that Amber-Lee had been the victim of an accident, that she had wandered up to the main highway and been hit by a car, that the occupants had then panicked and buried her body.
The tip was that the driver of the vehicle and his mates had been boating near Queenstown on the day Amber-Lee vanished.
As they drove home they passed the turn off to Kingston, and hit Amber-Lee who had wandered up to the highway.
The driver was in Western Australia when police got the information, and officers were sent there to speak to him.
Nothing came of the lead and it was ruled out completely.
Walker said every stretch of road around Kingston was examined for evidence of an accident in the days after Amber-Lee went missing.
They found nothing.
The theory that anyone hit and killed the girl simply has no basis.
RETIRED DETECTIVE WARWICK WALKER:
There was no indication on the roadway, there was no skid marks, there was no blood, there was no torn clothing or bits of broken glass from vehicles or whatever.

And given it's quite a quiet little place you would have thought that had that happened, somebody might have heard it, depending of course of how far she'd walked from the house.

And again, had that happened on that predominantly one road in the little town you would think it's unlikely that would happen that nobody else would have heard or seen at that time of the day.

We're not talking in the middle of the night, we're still talking in sunshine and daylight.

So I think it could have happened, but less likely than somebody having taken her.
Detective Sergeant John Kean has been involved with Operation Oliver, the investigation into the disappearance of Amber-Lee, since 1993.
He is now the officer in charge and said over the last 25 years more than 30 file boxes have been filled with statements, tips, letters, photographs and other evidence.
He can't be as open as Walker about the case.
It's still active and he has to be cautious - anything he says could affect a future prosecution.
But he's happy to talk about the theories around Amber-Lee's disappearance and what he believes happened to her that day - starting with the idea she's in the lake.
He says she's not.
DETECTIVE SERGEANT JOHN KEAN:
A second search of the lake was conducted in November around about a month later.
The conditions were much more favourable, the lake was clear and the search conditions were good.
They searched out to about a distance of 80m from the shore and the depth of the water out to that is about 12-15m. So, they reported visibility was up to 10m or more, they could see in the water.
And it was that clear they could see newspapers on the lake floor, possum carcasses and that kind of thing.
ANNA LEASK:
But no Amber-Lee?
DETECTIVE SERGEANT JOHN KEAN:
No. And the police dive team are confident that Amber-Lee was not in the lake.
ANNA LEASK:
And is it fair to say that if she had been in the lake, they would have found her that night?
DETECTIVE SERGEANT JOHN KEAN:
Yes. That's all the information that we have, if she was in the lake, if she'd just wandered off and tragically stumbled and drowned, she would have been found on the night or the following day.
ANNA LEASK:
And what about in the months that followed? I know there were a lot of searches around the banks of the lake. She would have washed up, she would have been found by now wouldn't she if she was in that water at any point?
DETECTIVE SERGEANT JOHN KEAN:
Absolutely, yes.
ANNA LEASK:
So what are the other theories that have been investigated in terms of Amber-Lee going missing?
DETECTIVE SERGEANT JOHN KEAN:
There's been numerous theories that have been put forward - most if not all investigated to some degree.
But the reality is there are only several possibilities and working through them, firstly is that did she disappear into the lake?
Secondly, did she disappear on land.
Or thirdly, was one of the people at the barbecue involved somehow in the disappearance of Amber-Lee?
Or, did we have someone, a random person come into Kingston that day and abduct her, for whatever reason?
Or was it someone else at Kingston on that day that may have some knowledge or involvement in the disappearance of Amber-Lee?
ANNA LEASK:
So what is the strongest likelihood?
DETECTIVE SERGEANT JOHN KEAN:
Well this is the great mystery isn't it really?
I think getting back to what I mentioned earlier about the possibilities we can discount the fact she's not in the lake. We're confident she's not on land - I mean the reality is, how far can a 2-and-a-half-year-old girl go?
That's been contact searched twice.
We've had locksmiths in to check every house, long drops, sections, and every occupant who was either at Kingston on the 17th of October 1992 or who was connected to that area by being an occupant of a house has been spoken to and interviewed about their whereabouts that day.
So we knew exactly where everybody was, or said they were at that time, that we knew about.
Also we've accounted for every hotel patron that was at the Kingston Hotel and as best we could accounted for every person that went to the shop or the garage at Kingston on that day.
ANNA LEASK:
So that really leaves a stranger abduction, or someone who was at that house with Amber-Lee, doesn't it?
DETECTIVE SERGEANT JOHN KEAN:
There's also another possibility that someone else who was at Kingston that day may have knowledge of Amber-Lee's disappearance.
ANNA LEASK:
Could Amber-Lee still be alive after 25 years and out there somewhere?
DETECTIVE SERGEANT JOHN KEAN:
Yes, it is possible. It is possible.
Imagine that, if after 25 years Amber-Lee turned up alive.
She'd be 27 now.
Stranger things have happened.
Look at recent cases in the US - Jaycee Lee Dugard who was kidnapped in 1991 when she was 11 and held captive by a convicted sex offender until 2009.
And then there's the case of Ohio man Ariel Castro who kidnapped three women over a decade, imprisoning them in his Cleveland.
His terrible secret was only exposed in May 2013 when one of the women managed to escape the house with her six-year-old daughter - born to Castro in captivity.
So could Amber-Lee be out there alive somewhere?
Could she have grown up with a different family, a different name?
Arguably she was young enough to forget Nicola and James and her old life.
But could that really happen in a country as small and tight-knit as New Zealand?
ANNA LEASK:
Could she still be alive?
RETIRED DETECTIVE WARWICK WALKER:
Hey look, again, that's way out there on the list of statistical possibilities.
You can't say no to that, but the chance of that are infanticimal.
There were supposed sightings of Amber-Lee for years afterwards, from all round the world.
You've got to say there's a very, very slight possibility but that's not what I believe happened.
So, back to foul play - and the theory that Nicola sold Amber-Lee to pay off drug debts.
Or, that the little girl was taken by someone her mother or father owed money to or had ripped off.
In 2008 Investigate magazine claimed to have "explosive" new evidence that Amber-Lee had been sold.
And an episode of the television show Sensing Murder which aired later that year, claimed Nicola's daughter was taken as payback and described the "culprit" in detail.
We'll look more at each suspect in a later episode.
But for now, let's examine those theories.
Remember, Nicola and her then partner James were leaving Southland to get away from gangs and drugs.
On the day Amber-Lee disappeared, they were heading for the West Coast to start afresh.
Nicola has spent countless hours wracking her brain, trying to remember if she annoyed anyone so much that they took her daughter.
One name raised in the community was Paul Girvan, a close friend of Nicola's for many years.
He was highly trusted by her and her family.
When she and James left Southland, they decided Girvan would look after their eldest son Harley until he'd finished the school year.
Some have suggested Nicola gave Amber-Lee to Girvan to cover a debt, or that he took the child from her.
Girvan died in 2010 but police say there is no evidence to link him to Amber-Lee's disappearance.
Nicola is appalled by any suggestion her mate was involved.
There is just no way, in her mind, he would harm her or her family.
Any minute doubts she had were quelled when she spoke to Girvan shortly before he died.
She asked him directly if he had taken Amber-Lee, if the rumours were true.
NICOLA CRUICKSHANK:
If he was with us today he'd just about choke.
Paul was a good friend of the family, he saved my life when I was 16 years of age from a man that wielded a gun at my head.
He was in my life right throughout, it was him that was looking after my son.
For Paul to take my daughter - I mean there was witnesses here that day, she was here with me.
I questioned Paul before he died, if he had anything - anything - to do with the disappearance of my girl.
There's no way, no way in hell.
You'd think a man on his dying death bed would tell you knowing that was all you wanted to know.
No.
Paul Girvan had nothing to do with the disappearance of my daughter and I believe that.
What about the theory Nicola or James stole drugs?
Cannabis growing was rife in Southland - but it was the wrong time of year for harvesting, so the accusation Nicola and James took someone's crop just doesn't wash.
And what about gangs?
In the early 90s Southland was effectively ruled by the Road Knights.

Gang expert Jarrod Gilbert said the Road Knights traded weed and harder drugs in the 90s, but it wasn't the industry it is today.
And any payback was, in his words, "tit for tat" rather than through highly planned retribution - and rarely involved children.
[PHONE RINGS}
JARROD GILBERT:
Yeah, Jarrod speaking?
ANNA LEASK:
I just wanted to really quickly run through the theory that the Road Knights or someone connected to them could have taken that wee girl. What are your thoughts on that?
JARROD GILBERT:
Oh, I think it's highly unlikely.
There's not a case similar to that that's ever happened in New Zealand to give it a basis of probability.
Most of those gang guys would be appalled by any attempt to hit a kid and even if they weren't, it would be just deemed so risky to stretch outside of gang norms because if there was a hint they were involved, then the heat that brings on the gang would be devastating.
Even if any of those theories were true - who would have physically taken Amber-Lee?
Remember from the first episode that Nicola and James were only staying in Kingston the night she disappeared because they needed to fix a broken window on their house bus.
So, if anyone had planned to snatch Amber-Lee they would have had to lie in wait for hours for their chance to pounce.
In a small town like Kingston on a sunny Saturday when plenty of people were out and about, that scenario just doesn't work.
Kean says speculation that Nicola's lifestyle led to Amber-Lee being harmed is "nonsense".
And, he says the allegations raised by Investigate or Sensing Murder were unhelpful, disappointing and baseless.
ANNA LEASK:
There's been a lot of accusations about Nicky being involved in gangs and stealing drugs and owing money for drugs and the gangs taking Amber. What's your take on all of that?
DETECTIVE SERGEANT JOHN KEAN:
To be honest I think a lot of that's been cruel towards Nicky.
There's never been any substance to that.
Yes in the early days that was looked at as a possibility, but was quickly dismissed.
There was certainly never any evidence to suggest that something from Nicky's past has caused someone to go and abduct Amber-Lee - There was just no information to support that, no credible information.
The other thing with that of course is that if that was to be believed, then what did happen to Amber-Lee?
Why would someone just abduct her daughter and she's never heard.
There's been no ransom or anything along those lines - so it just makes no sense for that.
And that was just unfortunately a product of where Nicky had been in her life prior to the 17th of October 1992.
So, Kean and Walker have ruled out Amber-Lee drowning.
They don't believe she was sold to pay off drug debts or taken as payback.
Walker says she could have been knocked down by a car but it's highly unlikely.
And, the chance of her being alive under a different name is miniscule.
Walker says that only leaves two possibilities.
ANNA LEASK:
So 25 years on based on everything you know about the case, and there'll be things that you know that the public don't, and that police know that perhaps Nicky doesn't even know - what do you specifically think happened that day?
RETIRED DETECTIVE WARWICK WALKER:
I think it still comes down to two possibilities.
There is a real but remote chance that she has wandered off and fallen down a hole, you know, it's an old mining area, there's lots of holes in the ground which are overgrown and albeit that search and rescue do a wonderful job, we're talking about bush, we're talking about things you can't see, holes it the ground.
That's got to be a possibility that nobody else was involved and that she's fallen down a hole somewhere and banged her head on the way down so she hasn't been able to call out.

But I think the most likely is that somebody has taken her and been lucky to not be seen, fairly easy to quieten a 2-and-a-half-year-old, you don't have to be very big to carry them away or just entice them and lead them away somewhere.
I think that is the most likely occurrence.
Remember in episode one where we told you about Nicola bleeding poppies when Amber-Lee went missing?
When she was out the back of Dette's place, she heard a noise.
She stood up, looked around and called out to see who was there.
There was no answer.
Could that have been the moment Amber-Lee was taken?
Could that noise have been the person who took her making their way through Dette's backyard?
Could that person have had Amber-Lee with them, just metres away from her mother?
It's possible, police say, and Nicola has always been haunted by that moment, that sound – the fact that she could have been so close to her child's killer.
There was no evidence found to suggest that is the route Amber-Lee was taken – but it's possible.
Over the years Nicola has been wounded by rumours and scarred by accusations.
But her goal has never changed - to find out what happened to her daughter.
We spoke on the shore of Lake Wakatipu on a bitterly cold July day.
I asked her how she coped with the realisation that Amber-Lee didn't drown after all, that the words on her daughter's memorial "presumed drowned" are wrong, and about the theory that someone knows what happened to Amber-Lee and has stayed silent for a quarter of a century.
NICOLA CRUICKSHANK:
I don't know how they can live with themselves.
I really don't know how they've managed to live their lives for the last 25 years knowing the guilt they must be carrying around for the, what do you call it, the hideous act that they've done.
To know that someone's out there walking around freely after doing this... you just want to get your hands on them, you really do.
You want to see justice served, you really do.
I mean, crikey, I've paid the price for the shit I've done in my life and more than others have paid for s*** that they've done in their lives.
And this person, this hideous creature they call a man, walks freely.
I just don't know how he sleeps at night. I really don't.
I just...how can they do this to someone you know?
Knowing that I'm carrying that burden.
What would it be like for them if it was their child.
I mean, have they asked themselves that - how would they cope, how would they survive not knowing what happened to their 2-and-half-year-old child? I just don't know how... I can't fathom it....
ANNA LEASK
What do you think? You've had 25 years of all these theories and rumours, what do you now believe happened to Amber-Lee that day?
NICOLA CRUICKSHANK:
Her life was taken... I'm lost for words, I really am…. I dunno...

UP NEXT:
In the next episode of Chasing Ghosts we look at Amber-Lee's short life and her mother's descent into darkness.
Chasing Ghosts is a New Zealand Herald podcast.
Concept, research and writing: Anna Leask
Field recording, photography, video: Mike Scott
Post production: Big Pop Studios
Executive producer: Chris Reed
Special thanks to Nicola Cruickshank.
If you have any information about the disappearance of Amber-Lee, please phone Detective Sergeant John Kean on 021 191 5321.
To pass on information anonymously, contact Crimestoppers on 0800 555 111.

Help bring Amber-Lee home.