They might otherwise have never met.
Heading south on State Highway 1, members of a church congregation coming back from a meeting where one of the car's passengers had just been ordained.
Northbound, a family returning from a birthday celebration.
The outcome haunts all those it touched.
On October 10, a Tuesday littered with drizzle, two cars travelling in opposite directions collided in the centre of the North Island.
Twelve people. Four dead, eight injured.
Months later one remains in hospital and dozens of rescuers, bystanders and friends and family of victims are affected; the tragedy a sad indictment of the worst year on our roads since 2010 - 352 dead to date.
Taupo's community is small but its location brings millions of drivers who stop to have a coffee, to admire the lake and have a meal, before forging on. Taupo is a brief respite from a long drive. Then journeys continue - north, east, south, west.
Travelling south toward Taupo on this day in a brand new Toyota Alphard minivan was a family of eight, members of the Free Wesleyan Church of Tonga. In the back seat was Mele Ilisapi Oliveti, 44, sometimes known as Pesi Tuivai, a mother and wife and a newly anointed preacher who carried with her a brand new certificate giving her licence to preach.
They were returning from a church event, held at the Mangere headquarters. It attracted more than 1000 congregation members from across the country that weekend. The church president had flown from Tonga, as had Oliveti's sister.
There was a theme to the celebrations: Women. Fittingly, Oliveti, trained as a lay preacher, had passed all the requirements from the church and was ordained.
Oliveti's group left Auckland that Tuesday morning, telling Reverend Tevita Langi - from their Palmerston North church - they were en route. They planned to stop in Hamilton to see friends to break up the seven-hour drive, they said.
A day earlier Reverend Tevita Langi called around the congregation to ensure everyone had left Auckland safely. "I felt like it was my responsibility to do that. I was quite relieved they were coming back," he said.
While Oliveti and her fellow passengers approached Taupo, four people spending precious time together had just passed by the lakeside town. Helena Paul, her friend Leighton Ahuriri, and her grandsons Hone Hawkins-Kanuta, 5, and 16-month-old Kaydentz left the Hawke's Bay, starting the long drive north in a Nissan Lafesta.
A week earlier, Ahuriri, a Perth airport worker, had flown in from Australia for his 60th birthday. Paul had been counting down the days until she saw him. Ahuriri's brothers lived in Perth and he joined them nine years ago. It was the best thing he'd ever done and he crowed to friends and family he should have made the move earlier. He frequently visited his four children, scattered throughout the central North Island.
Paul lived in Kaikohe, six hours north of Taupo. The 56-year-old was "the cook, the baker, the one everyone rang when they were sick or when they lost someone", her family later said. Hone called Paul Mum and before the journey boasted to relatives he was off to the big smoke - Auckland - to pick up Ahuriri. He had once bought Hone some PlayStation games and they were dutifully packed.
Ahuriri's daughter Kirsty Ahuriri organised his party, starting with the cake. She vetoed his favourite flavour - madeira. "I was like, 'Oh, Dad, that's such an old-man cake, no one wants to eat that.' So the baker said, 'We'll do red velvet marble with vanilla.' Dad just loved it'."
He hadn't had a cake like that since he was a boy, he told her.
The party was at the Cosmopolitan club on the Friday night. Streamers and balloons were hung, a present table set up. "I went all out for him," Kirsty Ahuriri says. "I'm glad I did."
Paul was at the party, with the grandkids. They had something to eat, but left soon after. Kirsty Ahuriri says she had met her once, maybe twice.
The last time Kirsty Ahuriri saw her dad was Saturday. He was going to the Hawke's Bay with Paul. That final day is a bit of a mystery to her.
"He didn't really seem like he wanted to go. You could see he wanted to stay with us. I don't know who he was visiting over there."
TUESDAY
The shrieking began about 3.15pm. The screams of the sirens soon gave way to startling silence. People who attended the scene later noted the morbidity of the quiet.
Fire and Emergency firefighters, St John paramedics and paramedics based at Greenlea and Westpac Rescue Helicopters were called, along with police, to an intersection north of Taupo.
Two truck drivers and a third passerby on his way to Auckland who stopped at the crash had called 111. On State Highway 1, just a few minutes north of Taupo, the Toyota collided with the Nissan. They were 1km from the intersection of Tutukau Rd, at the end of a passing lane.
Pushed backwards into the shoulder of the highway, abutted by dried grass, was Paul's car. The driver's side looked like it had been ripped off. In the centre of the road was the new Nissan. The bonnet was in pieces. Both cars' windscreens were cracked. The airbags had filled.
Two truck drivers travelling behind each other, David Henderson and Harry Murdoch, were among the first to come across the scene. People were clambering out of the people mover so the pair checked on the smaller car, noticing immediately Paul had died.
Alone and with help yet to arrive the men tried to help Ahuriri and Hone, but it was too late. Instead, they focused on getting the surviving infant out of the car, gingerly pulling him through a broken window. Henderson later told the Herald: "What we saw in that car ... it will haunt me forever."
Reverend Langi was in his church office when he got a call from the woman in the front seat of the people mover. She was telling him to pray. "There has been an accident," Langi remembers she said. "My heart was beating 1000 times a minute. I was trying to talk to her but I couldn't hear her voice very well.
"She'd been thrown out of the vehicle. I could hear one of the paramedics saying, 'Can you please hang up, we need to put you in the chopper now'."
Waikato Westpac Rescue helicopter chief crewman Bill McNeilly had just landed back at base in Hamilton when the page came through. His crew had just returned from Rotorua. The key was barely out of the chopper's ignition. It was serious: Two-vehicle crash, head on. Multiple patients, some critical.
In emergency services, codes denote the seriousness of a job. A status four is someone "walking wounded". Status one is time-critical - someone has life threatening injuries. McNeilly noted two people were status zeros and there were multiple paediatric jobs - children.
McNeilly, who has been in this job for decades, says it's not an adrenalin rush now, "but you're always affected when it's kids". It took eight minutes to fly from Hamilton to the crash site. Pilot Grant Bremner circled overhead before setting down on the road next to the cars.
There was no time to muck around. McNeilly and his crew would be there in 10 minutes - enough time for the lead St John paramedic on the ground to give a rundown of the situation.
It was decided McNeilly and his crew would fly Paul's surviving grandson to Waikato Hospital. The child had critical injuries and there were other helicopters on the way and ambulances on the ground, so it was fastest to take him immediately. When there's time, crew will get family of the patient on board, too. Not today.
"Due to the injuries of the people in the vehicle it was difficult to assess who was who," McNeilly said. "You don't spend a lot of time going 'Who is this?' If we have a little one like that and a conscious person, yeah, we'll take them, but at that particular time it was easier to just take him."
En route to Hamilton McNeilly reassessed the boy, checking his vital signs and making sure he was comfortable. The pilot had taken pictures of the scene to hand to hospital staff to give them a better idea of the context of his injuries. McNeilly says every crash is unique.
"No one job is the same as the last. There are so many factors that can change. Yes, it was a big impact. The two vehicles were extremely damaged but again, I've seen some impacts like that and people walk away."
By this time Senior Sergeant Fane Troy had arrived. The long-time Taupo road area policing manager had just finished work and was at the gym when he got the call, reaching the scene by 3.45pm.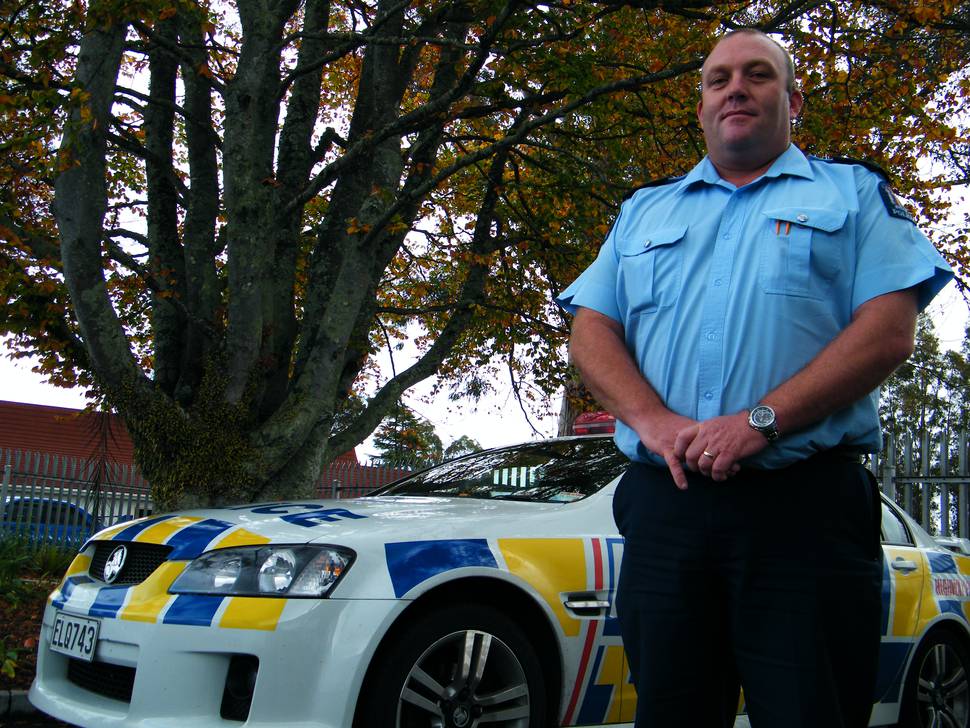 Troy was in charge of overseeing the rescue efforts, and ensuring evidence was properly gathered. McNeilly's helicopter had left but two more were coming and plans were in place to transport the rest of the survivors.
The police team blocked the road at each end to prevent traffic contaminating the scene. Then, it started to rain. Members of the public were given tarpaulins by Fire and Emergency crew, and they hovered over the injured, sheltering them. One by one the eight were taken to hospital. The bodies of Paul, Ahuriri, Hone, and Oliveti remained.
Over the next six hours police began mapping the scene. Although it's not ideal to close the state highway for any period it's more efficient to do the forensic scene examination immediately, rather than come back and reclose it days later.
While St John and Fire and Emergency tended to the injured and police examined the road and vehicles for clues, Senior Sergeant Troy faced a pressing job - notifying the relatives of the victims.
"It's important we identify next of kin as soon as possible. With this day and age of social media, people are taking photos of crashes and posting them on Facebook and people are recognising (the cars). We have to act quickly."
Troy contacted the area commander in Northland with the direction that Paul's whanau needed to be alerted. Where possible, a police officer is sent in person. Recalling the unfurling mess around him, Troy summed up the mood: "Sombre."
AFTERWARD
Kirsty Ahuriri had been messaging her dad that afternoon, checking when he was going to drop in and say goodbye on his way back to Auckland. She works in Taupo and had heard emergency service sirens all afternoon. "Little known to me, clearly he was passed away by then. I knew something wasn't right."
She is absolutely convinced her dad was asleep when it happened. Ahuriri never left the country without bidding his children farewell, she says.
"It was real weird. He will always come and say goodbye to us, no matter what. Even if he had to run into my work to say goodbye - he has never not said goodbye. So I believe he was asleep. (Paul) just drove past Taupo."
Her brother called her that night with the news. "I thought I was dreaming. And then I said, 'I'm gonna call you back.' I just hung up the phone. I broke down and rang my brother back. I said, 'Are you sure?' He said, 'Yes, I've just identified him.' I felt so sorry for my brother. My dad, out of all of them, he wore all the impact. It was real horrific."
Taupo's mayor David Trewavas says a crash like that goes "right through the community". The major arterial highway is well used and when a crash is heard of a ripple of worry plagues the residents. Is that my relative?
"We've all got people that we love. Something like that rocks everybody. It doesn't matter what scale the crash is. It affects people. It's devastating for all concerned."
Emergency services and witnesses spoken to by the Herald on Sunday all agreed on one thing: The rescuers couldn't have done it without one another. Everybody played a part in the fallout of this incident, right down to the Victim Support advisers who continue to counsel witnesses.
"It does have an emotional toll," Senior Sergeant Troy says. It wasn't his first high speed crash and it won't be his last. Busy Taupo sees fatigued, inattentive drivers all the time. It's frustrating for him.
McNeilly says very early in your emergency services career you'll know if you can deal with the tragedy. He's reluctant to say deaths profoundly affect him.
"It's something you just get used to. You don't ponder on it. It's not something that affects your day.
"Does that mean I don't put all the effort into the job? No. We do it 100 per cent," he says.
"Do I sit at home and stew over it? No. You can be going in there and it's your birthday and you've won the lotto and things are going well in your personal life and it will affect you differently (than) if you've had a fight with your wife, or your grandmother has just died and you're treating an elderly person.
"You don't have to feel bad after being at a traumatic event. Of course it's emotional, you're human (and) it's people who have lost their family members (but) I went home, I had dinner, and went to work again the next day."
Reverend Langi rang everybody he could think of. Police. Hospitals. The congregation. Eventually he spoke to the driver of the brand new van. That man is the only survivor still in hospital, with two broken legs. He had to be revived at the scene but was "lucky", Langi says, "considering the state of the vehicles".
The man remembered the incident well and recounted to his bedside visitors how he had tried to take evasive action to avoid the collision, Langi says. "He was trying to escape the other vehicle. He was going left, right, left, right. He passed out after the impact."
Oliveti was due to deliver a sermon weeks after the crash. Diligently, she prepared ahead. Her husband recounted it on her behalf instead. Langi says her message to the congregation was: "To be content with whatever God has given us."
The reasons why the Nissan and the Toyota crashed are still unknown. The serious crash unit is continuing to investigate and have interviewed all the witnesses. It can take months for crash analysts to come to a conclusion. Senior Sergeant Fane Troy declined to confirm who was driving the cars at the time of the crash.
POLICE PLEAD FOR SAFE DRIVING
Police and the New Zealand Transport Agency are pleading with drivers to be safe ahead of Christmas as the road toll peaked this year, climbing to a record of 352 since 2010.
The two agencies launched "We want you here for Christmas", which encourages drivers to go slower, belt up, stop using cellphones, and not drink and drive.
During the holiday period – from 6am December 18 to 6am January 8 – if you're detected driving more than 4km/h over the posted speed limit, you will be likely be ticketed.
ROAD TOLL
2010: 375
2011: 284
2012: 308
2013: 253
2014: 293
2015: 319
2016: 327
2017 to date: 352