Defence minister Ron Mark has admitted wearing medals he did not have permission to wear.
He is now seeking permission to wear medals which have taken pride of place on his chest during the swearing in of Parliament and the commemorations for Armistice Day.
The concession comes after the Herald reported concern in the veterans' community over Mark wearing medals earned in the service of Oman.
There was also frustration from veterans that the medals were being worn ahead of decorations earned in the service of New Zealand.
Mark said he would seek advice - and has now come back with a concession he got it wrong.
It is a breach of rules for a New Zealand citizen to wear medals from a foreign nation without the Queen's permission, able to be granted by the Governor-General.
And it breaches NZ Defence Force rules for any foreign medals to be given precedence over those earned in the service of New Zealand.
A spokesman for Mark said: "The minister has spoken to officials and is seeking approval for the wearing of his Omani decorations.
"The application is being processed by the Cabinet Office. This can take several weeks."
It was a blunder that proved embarrassing for Mark as he had worn the medals on a number of occasions since being appointed Minister of Defence.
He wore the medals when being sworn in as Defence Minister, and again at the opening of Parliament.
The medals were worn when he joined Prime Minister Jacinda Ardern to address the RSA and then at a service for Armistice Day in Wellington.
At that event, he was present with Governor-General Dame Patsy Reddy and Chief of the Defence Force Lieutenant General Tim Keating at the Tomb of the Unknown Warrior.
There are strict rules around the wearing of medals from a foreign country. Medals granted by a country where the Queen is not Head of State need the Governor-General's permission.
The name and medal of those granted permission is listed on a special register held by the Cabinet Office.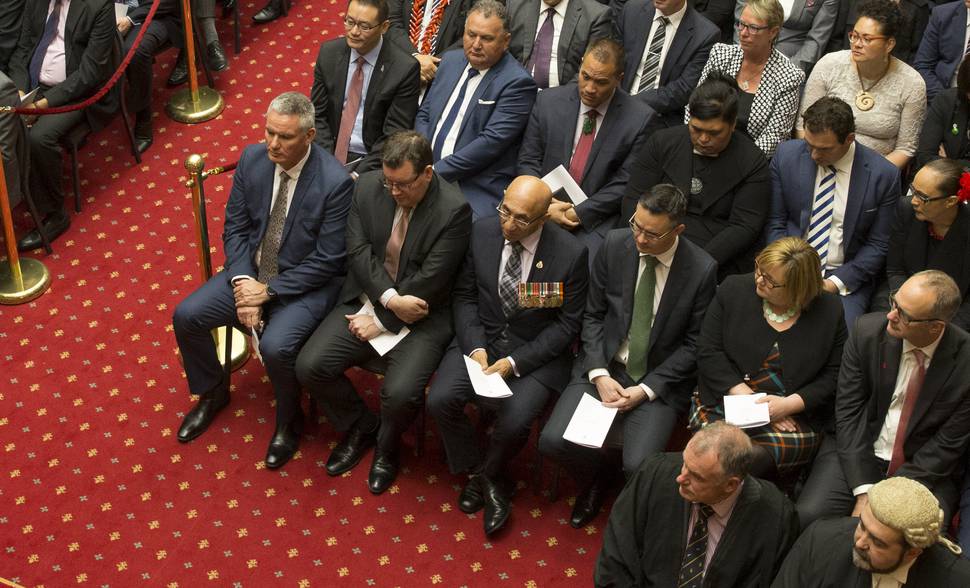 For those who are granted permission, those in uniform have a set of rules forbidding the wearing of foreign medals ahead of those earned in New Zealand's service.
While Mark is no longer in service, he has a relationship through those who do serve through the Chief of the Defence Force.
When initially approached by the Herald, Mark said: "I have the greatest respect for military service, and the way in which it is recognised. I am proud of the people I served alongside in both the New Zealand and Omani Defence Forces."
Mark went from cadet forces into the NZ Army in 1971. He went into officer training in 1978 and rose to Captain before he left in 1985, having served two tours in Sinai.
During that time, he was awarded three New Zealand medals for his service, and another for being part of the Sinai multinational force.
Mark then joined the Sultan of Oman's forces, leaving with the rank of major in 1990. During that time, he was awarded three medals.
The error in wearing the medals - and how they were worn - had been a hot topic among veterans in recent weeks.
NZ Medals Ltd owner Aubrey Bairstow - who is a recognised expert in constructing medal boards - said there was upset over Mark's medals.
"It's also ironic his party is called New Zealand First but he seems to put New Zealand after Oman. This is one thing where he didn't put New Zealand first and given his capacity as Minister of Defence, you would expect him to.
"It's upset people for all the right reasons. Obviously he's going to rectify it."
One Vietnam veteran speaking anonymously said Mark had done himself a disservice in the eyes of those in uniform. "The Chief of Defence must be tearing his hair out. He's saying to the soldiers he oversees, 'you are required to conform but I am not'."