Typewriters, adding machines and company records were put in a safe strong-room by some of the 41 people killed by New Zealand's deadliest fire tragedy.
An inquiry later found they were probably following orders which wasted "vital time" in escaping the Ballantynes department store inferno in Christchurch 70 years ago today.
There was no evacuation plan. Evacuation orders were made by individual department heads. There was even evidence of some staff returning from their afternoon tea being sent back to work upstairs after smoke had been seen.
The fire was a scandal of failures and omissions that led to criticism of Ballantynes, the city council and the fire brigade.
Forty people were incinerated by the blaze, which roared through the prestigious department store on Tuesday November 18, 1947. Their bodies couldn't be identified. One more person, Violet Cody, died later in hospital with her unborn child. She had leaped, screaming, from a window.
"Thousands of horror-stricken spectators saw two [other] girls leap from a third-floor window and crash on a ladder and veranda," the Press Association reported at the time.
"From there, unconscious, they were dragged by firemen. Their condition in hospital is satisfactory."
At least 680 people were in Ballantynes at the time of the fire - 430 staff and 250 customers.
Marion Hooykaas was a 17-year-old apprentice tailoress who worked on the top floor. She survived.
"We must have been the last ones to get out," Hooykaas, now 87, told the Weekend Herald. "I was scared.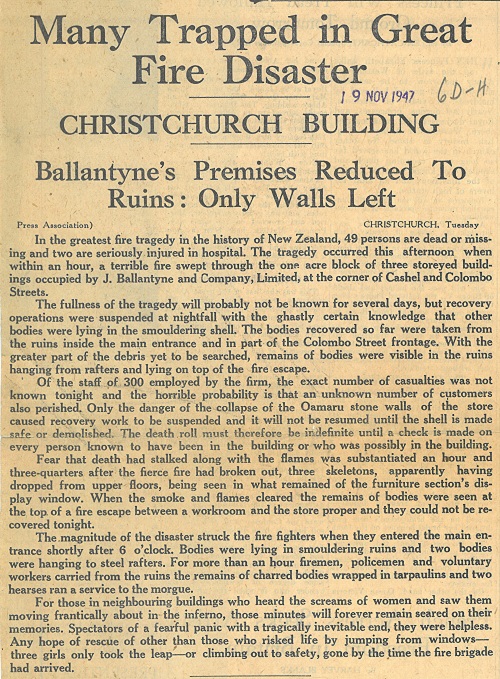 The Ballantynes fire on November 18, 1947 remains New Zealand's deadliest fire tragedy
"Our boss came in and he said that he was getting us out.
"One of the old tailors stood at the door, held the door open and he said, 'Take your scissors because you can't replace them'. It was after the war and it was hard to get scissors.
"He said, 'Just pick up your scissors and go'. We did. We took our pay too - it was in our bags. I had a blazer; I left that.
"We were quite calm when we went out off the room, but when we got down to the stairs to the cafeteria that's when you kept saying, 'Hurry up'; they were walking so slowly, but it was dark."
Earlier they had stood at the windows and waved in reply to a man waving from across the street. He later told them that the roof had collapsed soon after.
Hooykaas (nee Davies) lost work friends.
"Our minister rang up at 6 o'clock and he said had I seen Ruth Bradbury. She worked in the office. She hadn't gone home."
Hooykaas returned to work for Ballantynes - until she married at age 23.
Asked her view on how the fire was handled, she said: "It was quite hard really because we got out, and all of those were lost - it was hard."
Ballantynes comprised seven buildings covering about 4000sq m between Colombo, Cashel and Lichfield Sts, south of Cathedral Square.
Some of the buildings and their basements were connected by unauthorised openings. Fire protections were inadequate. Stair wells and lift shafts acted like chimneys, drawing hot gases into the upper areas, which rose to three levels above the ground floor.
Although the cause of the fire was never established, it is known to have started in a basement at around 3.30pm. A female employee had noticed smoke. There was a delay in calling firefighters, who arrived at 3.47pm; they were poorly equipped for the coming conflagration.
Just before 4pm, the fire erupted in a flashover of hot gases. At 4.10pm Kenneth Ballantyne, a joint managing director, was the last person to escape. He climbed out a widow and scrambled down a ladder.
Window panes broke, flames shot out and a cloud of black smoke rose high above the buildings. Some 200 firefighters battled the blaze, using 20 fire engines.
In a 1997 television documentary, Scorched Memories, witnesses told of the heartache of seeing people at the windows.
"I spotted my father in the people at the window," said Alf Brown. "I whistled out to him but couldn't get his attention."
At a roll call in the evening at the city's King Edward Barracks to work out who was still missing, Brown saw a Ballantynes manager.
"He pointed at me and said 'That's Alec Brown's son'. That's when I knew that Dad was dead."
Navy volunteer John Goldsworthy recalled young women at windows, who disappeared as a smoke came over their heads and the floor collapsed.
"They all screamed at once, then dead silence, just cut off as they went into the flames obviously. That was the hardest part to think of - to see them disappear ... [and] realise where they were going."
Firefighter Bob Ludbrook told the Star at the 60th anniversary in 2007 of the grisly scene that confronted him when he was sent home at 8.20pm.
"I walked around the front of Ballantynes to the front doors. There were skeletons just piled up there in the doorway that had been found in the fire. It was awful to see."
The Royal Commission that investigated the fire found numerous failures, including a lack of effective leadership at Ballantynes and in the fire brigade. Urban fire services were re-organised.
Of the 41 who died, 38 were staff, two were external auditors and one was from the Retail Salesmanship College. Thirty-one were female and 10 were male. Most worked in accountancy and credit areas; seven were from the millinery workroom, where hats were made or trimmed.
There was a dispute in evidence between the two women who leaped and survived, with injuries, Nancy Nash and Lois Kennedy, and Kenneth Ballantyne over evacuation orders
Ballantyne said he told the credit office staff to leave as soon as he arrived, but perhaps they didn't hear him.
The women said he was there was there for up to six minutes before any evacuation attempt was made. During that time the staff, acting on instructions thought to have been given by the head of credit and accountancy, William Hudson, who died, to put records and other material in the strong-room.
Kennedy said 25 bins, two typewriters, three or four adding machines and a number of boxes of records were put in the strong-room.
Ballantyne's brother Ronald told the commission that virtually all the records of the credit department were saved, and also part of the accountancy records which were found when the strong-room was opened after the fire.
The commission said: "... valuable time was used in preserving records of the company at a time when a way of escape was open."
In the commission's view, Ballantynes had been blind to fire risk, in failing to install a fire-warning or prevention system "in addition to the fire-extinguishers on which sole reliance was placed".
Sprinklers would probably have put out the fire in the basement or contained it there.
"Without evacuation drill, without warning-devices, without advice to employees on the steps to be taken in the event of fire, without an automatic connection with the fire brigade, and with employees - many of them young women - numbering some 458, orderly movement, even communication between various departments, can hardly have been expected, and contradictory instructions - some to stay, some to evacuate - took the place of efficient order and movement."
The documentary Scorched Memories said Ballantynes made an apology in 1993. But the company has cast doubt on that and Marion Hooykaas can't remember an apology.
Ballantynes chief executive Mary O'Halloran says: "Due to the lapse of time and in the absence of those who were actively involved, it is not possible to advise what apologies might have been made."
A civic funeral was held at Christ Church Cathedral five days after the fire, followed by a mass burial at the Ruru Lawn Cemetery.
Asked how the company marks the anniversary, O'Halloran said it laid a wreath at the Ballantynes fire memorial at the cemetery each year. It had also contributed to the cost of the earthquake-damage repairs to the memorial, which was re-dedicated in an official ceremony in 2014.
A company-history mural which has been on the store's Colombo St frontage and makes reference to the fire and those who died is being moved inside.
O'Halloran expressed the company's sympathy for the families who lost loved ones in the tragedy.
"... we can reassure them that we never forget the precious lives lost or the solemn lessons learned from the fire."