Trains are running again after an Auckland warehouse badly damaged by fire threatened to collapse on to tracks.
Auckland Transport this morning cancelled all services between Newmarket and the closed Westfield station, concerned that the unstable fire-damaged Penrose building bordering the southern and Onehunga lines would topple and cause a major disaster.
But by mid-morning trains were cleared to resume and one of two lines reopened. Passengers were warned to expect delays.
By 11.15am all trains were running to schedule.
KiwiRail said the track and overhead power lines next to the gutted Penrose building had been inspected and were not damaged.
However because of fears the unstable structure could collapse, just one track is open, allowing a modified service to run.
Investigations are under way into what caused the blaze that ripped through the pipe factory last night.
Fire Risk Management Officer of Auckland City Fire Jason Goffin said, "We are in the process of ensuring the building is safe. There is a back wall we are concerned about so we are in the process of making that safe before we can conduct an origin and cause examination to determine how the fire started.
"Further information will be given once we get in the building and once it is deemed safe.
"Obviously there is a little bit of interruption with the railway infrastructure so we are trying to make all practical steps to get that back up and running and ensure the safety for everybody."
The spectacular blaze at the Humes Pipeline Systems building lit up the night sky and explosions sent flames shooting high into the air.
Fire and Emergency northern shift communications manager Carren Larking said just one crew remained at the factory keeping an eye out for flare-ups.
The building was gutted. Parts of the iron roof have collapsed into the building's shell.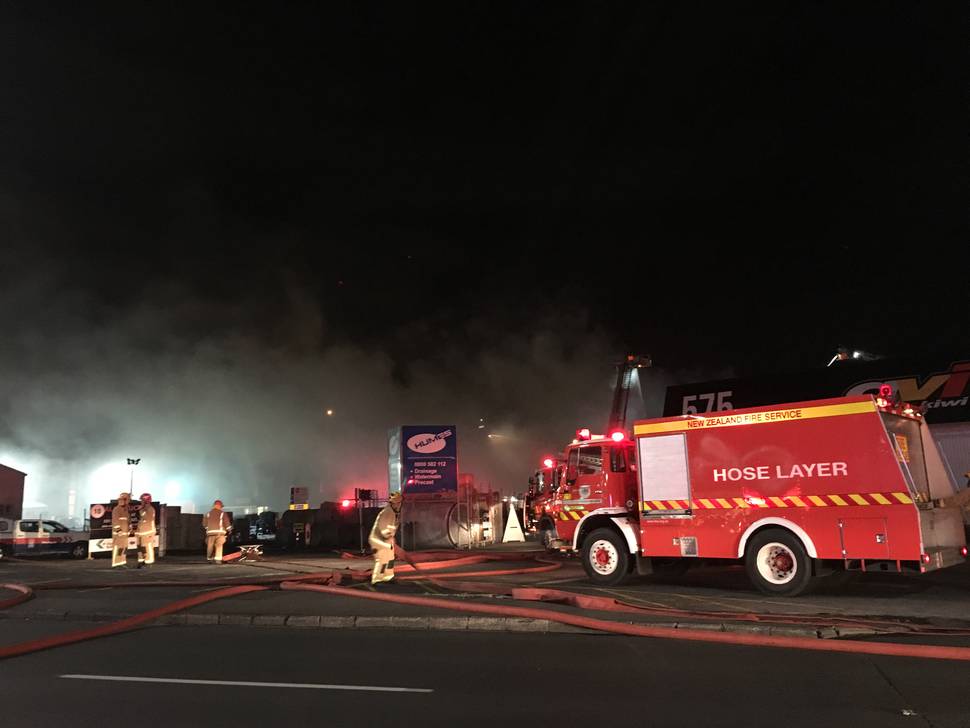 This morning Humes Pipeline Systems general manager Becky Lloyd said the company was assessing the damage at its Penrose supply centre.
It was working to minimise disruption to customers by using sales centres at Takanini, Henderson and Albany.
She said no staff were on site when the fire broke out and no one was injured.
Larking said fire investigators had already started trying to find how the blaze started.
No one was in the building when the fire took hold shortly after 9pm but workers, many teary-eyed, gathered nearby last night as smoke billowed from the warehouse inferno.
At the height of the blaze 50 firefighters worked to bring the fire under control.
Fire service area commander Richard Twomey said crews were initially only able to attack the blaze from above as was too dangerous to go inside.
Goodman (NZ), the manager of Goodman Property Trust, says the warehouse was fully insured.
"The small warehouse building is fully insured and we are now working with Humes to minimise the interruption to its business operations," Goodman chief executive John Dakin said in a statement. The warehouse represents less than 0.1 per cent of the trust's property portfolio, he said.
One witness said the building was completely engulfed in flames, and there had also been several small explosions.
"Fire trucks were trying to put the fire out with their aerial appliances - ladders and all that."
Another witness said the fire was in a warehouse that appeared to have been completely demolished.
"I can't believe how big it was. I thought it was just a small contained house fire but something as huge as this is really big."
Meanwhile, two people were treated for smoke inhalation after a stairwell filled with smoke at Auckland's SkyCity hotel and casino early this morning.
Firefighters were called just after midnight to a fire in the wall of the stairwell.
Two people were treated by ambulance staff, a Fire Emergency NZ spokesman says.
The fire was dealt with quickly but it was not clear what started it, he said.