Auckland Grammar understands "Lest we forget".
I've attended the school's annual Anzac Day service as daughter and mother of old boys (one truly an "old" boy at 94, the other newly minted at 18) and it's always moving.
Afterwards, we gather at the base of their graceful World War I memorial obelisk where the names of 286 fallen old boys are engraved.
Their names are also on crosses on the lawn, row upon straight row, gathered together at their old school in an assembly not of their making, mimicking the row upon straight row many rest in far away from here.
With a trip to France booked, I made it my mission to visit Grammar's Passchendaele men, 100 years on from their deaths.
Two historians (also parents of Grammar old boys) are researching each man on the memorial and writing proper obituaries for them. They'll be compiled into a book to be published on the centenary of Armistice Day, 1918.
I asked if they could give me advance information on the Passchendaele men. October 12 has gone down in history as New Zealand's worst day in any overseas war. About 846 died as they attempted to capture Bellevue Spur.
An estimated 350 to 450 men had already succumbed on October 4 during the successful capture of Gravenstafel Spur.
October 12 was a blood (or rather mud) bath, a turkey shoot, a disaster. Men were sent over the top, but then were unable to get through uncut barbed wire, becoming literally stuck in the mud, a mud so thick it had made preliminary artillery barrage ineffective.
They were either easy to pick off, or suffered the long road to death between battle lines, unable to be rescued. Many would never be found in that bloody mud. It was the Western Front at its worst. More men died than in any one day in Gallipoli.
We remember our Gallipoli war dead in April, but I venture not so much our Passchendaele losses in October.
The Grammar Passchendaele dead were too young to have had children. In the absence of their own family, I asked the school if my family could visit them to say thank you and tell them they are not forgotten.
As well as taking New Zealand poppies, with the help of our B&B owner in a small northern French town finding a florist (and Google Translate), a beautiful wreath in school colours was created to go on its own "tour of duty" to some of New Zealand's memorials.
Tyne Cot Cemetery, in Belgium, is the largest Commonwealth War Graves Commission cemetery in the world - the resting place of 11,900 servicemen, and 35,000 more have no known grave, remembered on the memorial wall.
All New Zealand's missing from the Ypres salient are here. On entry, a volunteer asks if I am looking for a loved one. Yes, I answer -19 of them, three in graves and 16 on the memorial wall.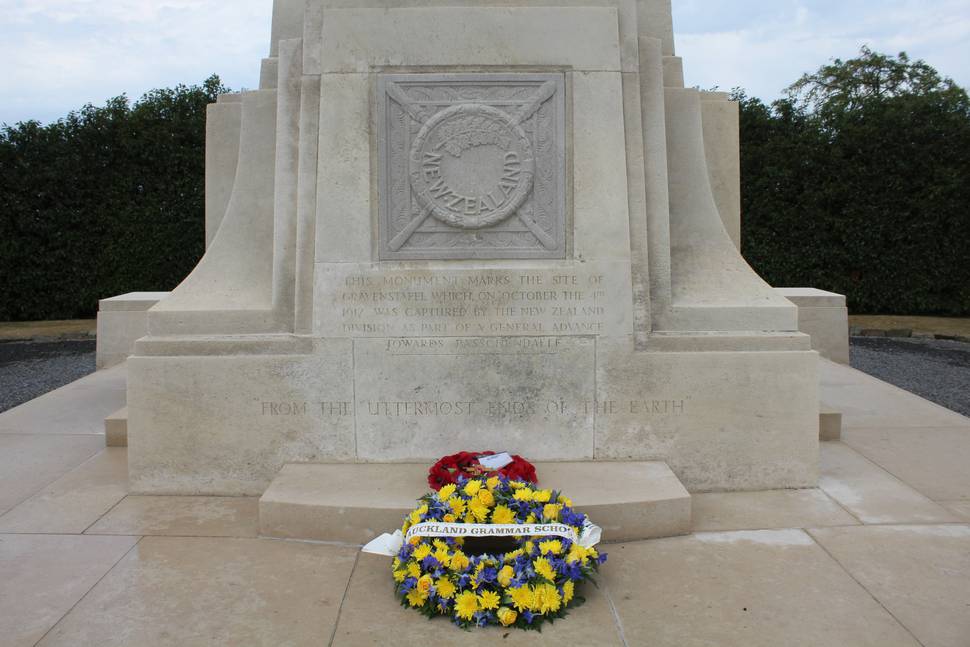 She helps me understand the grid references for "Brown, Tunks and Thompson", but before she finishes I find my voice faltering, tears welling up. I have to offer a mute nod to acknowledge my thanks, as I set off to find them.
Talking is suddenly beyond me.
I find myself talking soon enough, but quietly to myself and Arthur. He's not "Brown" anymore, he is Arthur. Arthur, where are you? I'm trying to find you here among all these men. I finally find his row. I count the number in from the end and see what I think must be his grave ahead. I find him. Arthur, here you are. And I'm here too. I've found you.
It's like finding an old friend. I cry. I sit with him. I look through his obituary that will be published next year and talk about it in a one-way conversation.
So, you were a boy at Ellerslie and Newton East Schools before you went to Grammar? Then a trainee chemist in Auckland and a nurseryman up in Warkworth? And when you arrived here in France in Jan 1917, you trained as something else again - a Lewis gunner with the 2nd Battalion, Auckland Infantry Regiment. Then come 4th October, you were killed in action during the assault on Gravenstafel at just 20 years old.
I think about that - 20. I feel like his mother. I have an 18-year-old and a 22-year-old. We give him our New Zealand poppy, say thank you, and bid farewell. Not far away are the other Grammar boys we visit before venturing to the wall to find the 16 men there.
I read the list and the three kids look through the long lists of New Zealanders to find them.
I can't help thinking as we find WS Young that he is aptly named. WAS young. Yes, he was. He was only ever, young. He, like 10 others on this wall died on October 12. One died three days later. None of them ever found. Obliterated somewhere in that muddy, bloody mess of Passchendaele.
After our personal poppy deliveries, we take the wreath from the memorial wall for the Kiwis, to the middle of the cemetery and think of all the men here, whatever their nationality.
We travel to Broodseinde Memorial and again use the fantastic Nga Tapawae app to hear about the October 4 assault on Gravenstafel. We rest the wreath here too and think of Arthur, the two other Grammar boys buried at Tyne Cot, and the four more on the wall who were never found. We know a bit about them now.
Evening comes - we go to the Menin Gate memorial in Ypres to place our wreath in the Last Post ceremony. It's happened every night since 1929, except for four years of German occupation in 1940-44. The gate names 54,000 officers and men missing from the Ypres salient battles from all Commonwealth nations, except New Zealand, who died before August 16, 1917 (with some exceptions). Except, there is a Grammar boy here.
Although Private Stanley Rees fought with the British Expeditionary Force, he was educated at Grammar and Wanganui Collegiate before heading to England in 1915, aged 24, where he went to war.
In September 1916, his battalion fought at Flers where he may well have encountered old friends in the New Zealand Division. For the 3rd Battle of Ypres, the Battalion was involved in the attack on Pilckem Ridge. Rees was killed in action on July 31, 1917. We remember him as we listen to the Last Post and lay our wreath.
A guide with a school group suggests it goes to one last spot - Messines, where the attack of June 7, 1917 by the New Zealanders was considered a success. It should rest there. We agree. Fifteen minutes later we are driving down Nieuw-Zealanderstraat to the New Zealand Memorial on the outskirts of town, for the wreath to come out one last time.
The memorial to the June 1917 battle overlooks beautiful countryside and has a glorious pre-sunset glow about it. As we leave our flowery friend at the obelisk, I think of the Grammar obelisk and those 286 names. I only got to know a little about a handful of October 1917 names. There will no doubt be June 1917 names from Messines too, and names from many other dates and many other places. Lest we forget.