Wounded Afghanistan veteran Major Craig Wilson has won double golds at the Invictus Games in Toronto, taking New Zealand to a record 10 medals so far with two days still to go.
The 24 New Zealanders have won three golds, four silvers and three bronze medals so far, compared with a total of nine medals in last year's games in Florida.

Wilson single-handedly took two of the golds in the indoor rowing events, winning both the four-minute endurance and the one-minute sprint.
The whole team celebrated by performing a specially-created Invictus Games haka.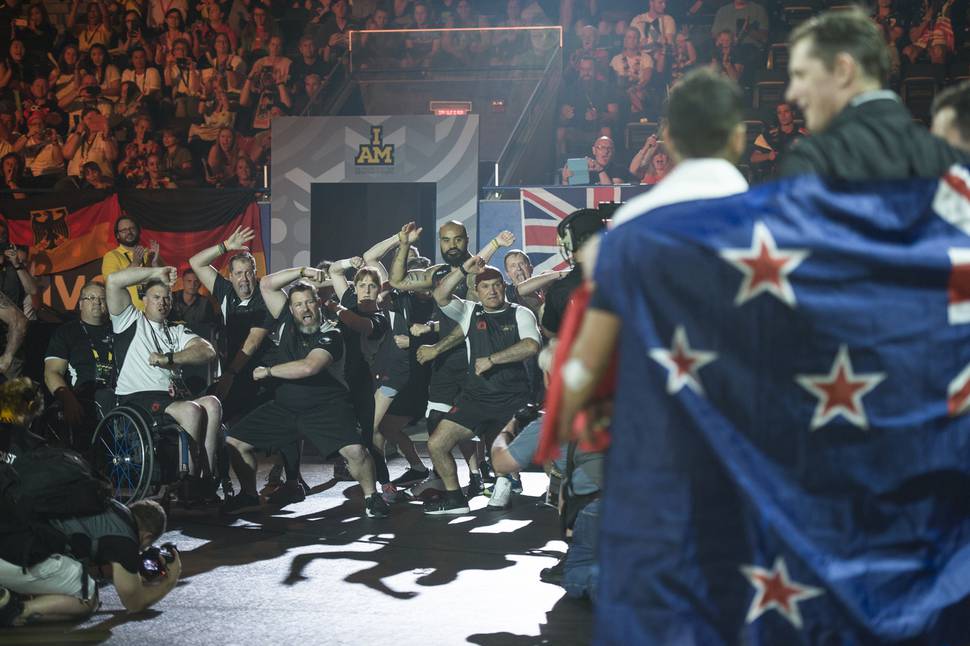 Wilson was shot in the shoulder and received multiple wounds to his lungs, ribs, collarbone and shoulder bone, and lost the use of his right arm, in a controversial battle in Afghanistan in which two other Kiwi soldiers died in 2012.
One of the dead, Lance Corporal Rory Malone, was awarded the NZ Gallantry Decoration posthumously after he risked his own life carrying Wilson, his commanding officer, to safety.
Wilson, who won the same medal in 2007 for courage in Afghanistan in 2004. said he was glad his hard training had paid off at the games.
"Invictus to me represents getting over setbacks, difficulties and barriers," he said.
"It takes the core resilience that is at the foundation of the NZ Defence Force. Many of my team and my fellow competitors have adapted, overcome and are going from strength to strength.
"Learning from my team and other people here has been even better than winning gold."
Army Reserve staff sergeant Vanessa Bawden-Pere won the team's first gold medal in the women's midweight powerlifting.
Royal New Zealand Navy lieutenant Dan Crawford stole the show on the second day of competition, getting two bronze medals in less than an hour in the men's 1500m and 400 m. These medals were the first track medals for any NZDF Invictus Team.

Crawford said he had no idea how well he would perform at the Games.
"It wasn't until I rounded the final bend of the 1500 metres that I knew I'd be leaving with a medal. It felt incredible to hear all the Kiwi supporters as I was sprinting down the final 100 metres," he said.

"I was truly humbled when Victoria Cross recipient Willie Apiata did a haka after my medal ceremony, it was a special feeling I won't forget and seeing the smiles on team members faces as we congratulate each other is testament to the positivity of the Invictus Games."
The Invictus Games were founded by Prince Harry in 2014 for wounded, injured or sick military veterans.
New Zealand has been one of the invited participants since the first event in London in 2014, in which 14 countries participated.
This year there are 550 participants from 17 allied nations: Afghanistan, Australia, Britain, Canada, Denmark, Estonia, France, Georgia, Germany, Iraq, Italy, Jordan, Netherlands, New Zealand, Romania, Ukraine and the United States.


NZ medals so far
'
Gold
Vanessa Bawden-Pere, women's midweight powerlifting
Craig Wilson, men's IR3 4min indoor rowing
Craig Wilson, men's IR3 1min indoor rowing

Silver
Aaron Gibbs & Glenn Barnes, open doubles wheelchair tennis
Allister Baker, men's IR5 1min indoor rowing
Dan Crawford, men's IR6 4min indoor rowing
Glenn Barnes, men's IR2 1min indoor rowing
Bronze
Dan Crawford, men's IT7 400m
Dan Crawford, men's IT7 1500m
Dan Crawford, men's IR6 1min indoor rowing