National leader Bill English has just paid a visit to Rotorua, where he was met with a haka from Rotorua Boys High students.
Just one of the students could vote, and he told English he was leaning towards Labour.
English gave the student his 30-second pitch, which is basically that people leaving school now have the best opportunities in a generation thanks to his party's economic management. It was enough - the young man said he would vote blue tomorrow.
Conversations like this are increasingly rare on the campaign trail, which are now dominated by photographs and near-wordless engagements with MPs.
But there was another interesting encounter in Rotorua. Justin Nichols, a painter, told English that Labour were looking after the bottom end of society and National the top.
"Who is looking after the middle class?" he asked.
Nichols said he earned $1000 a week and his wife worked, but he couldn't afford a house. English reminded him of National's first home grants of up to $30,000, which he might be eligible for.
Nichols said he had voted Labour in the past when he was an employee, but was voting National now that he owned a business. National was "looking after the top" and "I'd rather aim for the top", he said.

English also stopped for selfies with locals and enjoyed a bacon sandwich as part of World Car Free Day.
English and his wife Mary visited Rotorua last Saturday but this time they brought with them their son Xavier, Deputy Prime Minister Paula Bennett, National campaign chairman Steven Joyce and a bus full of supporters.
As they arrived at Rotorua iSite they were greeted by a crowd of National fans and a powhiri from students at Rotorua Boys High School
Read more:
• Rotorua people have already voted in 'significant numbers'
• Street View: Will you vote in the general election?
They then shared a hongi with each of the boys, posed for photos and made there way through the crowds talking to locals.
Mrs Bennett said this was the last big push.
"We're thrilled to be here and the welcome from the kapa haka group was just really fierce and really powerful and a wonderful way to start the morning.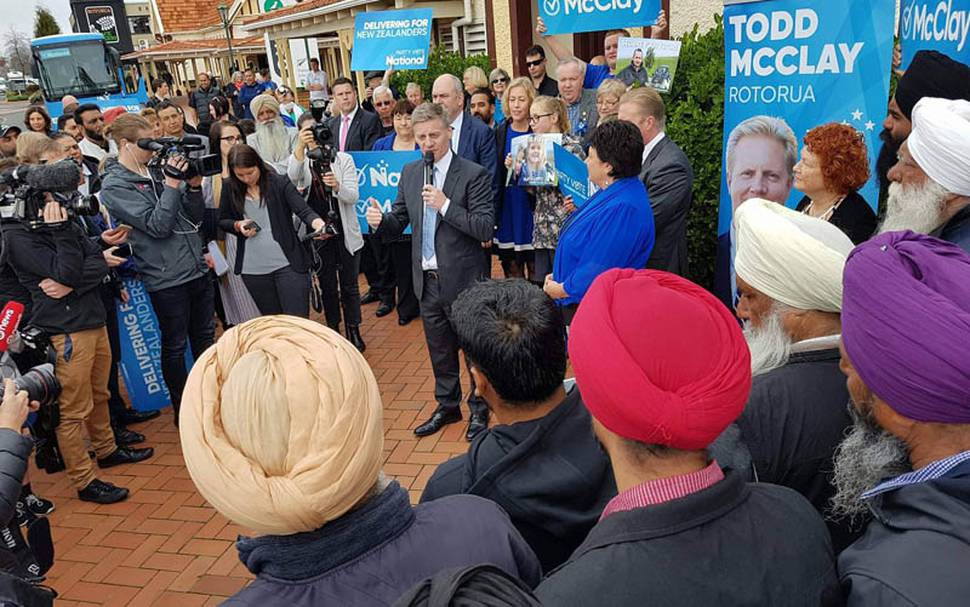 "We're loving that so many people are out and we're feeling really great positive energy."
Members of the public began chanting National as she posed for photographs with them.
Joyce said it was fantastic to arrive in Rotorua.
"What a wonderful welcome, it's been one of the best stops on the bus trip so far.
"Fantastic welcome from the boys and just great to see so many people here."
Due to the "overwhelming support" English made the decision to give a speech to the crowd.
"Thank you all for getting out with such an energetic campaign," he said.
"I am going flat out, but I have to say I have really enjoyed this campaign."
There were claps and cheers from the crowd as English encouraged his supporters to party vote National.
Rotorua MP Todd McClay then gave a closing speech.
"Thank you for the support you have given us in Rotorua," he said.
"Prime minister, you're backing Rotorua and Rotorua is backing you."
The crowd then made their way to The Hits and Bay of Plenty Regional Council World Car Free Day bacon sandwich stand on Arawa St.
There English, Bennett and Joyce were then served a sandwich as they continued talking.
Xavier English, who had joined his parents on the bus today, said it was interesting seeing what his dad actually does.