One hundred years ago, 10 New Zealand soldiers died in a tragic accident in a small English village. Three of the men had enlisted for service in Whanganui. Liz Wylie learned more about the accident and those who died.
In the small Devon village of Bere Ferrers, on the west bank of the River Tavy, there are a number of memorials to 10 New Zealanders who died there 100 years ago.
The village had a population of just 200 in 1917 when a troop train carrying New Zealand soldiers stopped to let an express train pass at 3.50pm on September 24.
Riflemen William Trussell, Joseph Judge and John Warden of Whanganui were among the Kiwi soldiers on the troop train that was to pass through Bere Ferrers on the way to Sling Camp on Salisbury Plain.
They had disembarked from troopships Ulimaroa and Norman at Plymouth dock that morning and were tired and hungry when their train made the unscheduled stop at Bere Ferrers at 3.50pm.
Their last meal had been breakfast at 6am.
Devonshire historian Gerry Woodcock wrote the soldiers would have been "raw, sick, tired and above all hungry".
When the train halted at Bere Ferrers, Trussell, Judge, Warden and seven other men would lose their lives when they stepped out of their carriages and in to the path of the Waterloo-to-Plymouth express train travelling on the second track.
Judge and Warden died instantly while Trussell died a few hours later in nearby Tavistock Hospital from a fractured skull.
The coroner's inquest would reveal that the men believed themselves to be in Exeter where they had been promised rations.
One of the survivors said: "We never thought of express travelling at 40 miles per hour.
They don't travel at that rate in New Zealand. It was a wonder more of us were not killed."
The inquest revealed the men instinctively jumped down from the train on the same side they had boarded which placed them on the railway's other track.
The coroner ruled the deaths were accidental.
The people of Bere Ferrers and those from the nearby town of Bere Alston reportedly went into mourning for the New Zealanders.
"The funeral of the victims took place at the Corporation cemetery at Efford [also called Egg Buckland], near the Stoke Military Hospital, at Plymouth, and was one of the most impressive events witnessed there during the war," reported the New Zealand Herald on November 24 1917.
"Thousands of persons gathered in the vicinity, and at the cemetery, the crowd were so dense that the gates had to be closed.
"Each man was buried in a separate grave, and there were three religious ceremonies; four of the victims belonged to the Church of England, four to the Presbyterian Church, and two to the Roman Catholic Church.
"On the plate of each coffin were engraved the name of the man, his regimental number, and the date of his death."
"Over each grave three volleys were fired, followed by the sounding of the Last Post by buglers of the Devons."
The devotion of the locals to honouring the dead men is perhaps explained by the fact that many families from the parishes of Devon had emigrated to colonies like New Zealand when the availability of work at local farms and mines was declining.
Also, the villagers had already lost 41 of their own young men on the battlefields of WWI.
New Zealand's High Commissioner to Britain, Bryce Harland, attended a re-dedication service to the soldiers at Bere Ferrers when 14th century-built St Andrew's Church was re-opened after restoration work in 1989.
In 2001 New Zealand's National Army Museum helped arrange a remembrance service in Bere Ferrers, during which a new memorial was unveiled in the centre of the village.
Today, Bere Ferrers has a population of around 3000 and there is a single rail track alongside the station.
Little else has changed according to resident Eddie Ember who is organising a centenary event for the New Zealand soldiers on Sunday.
"Well we got broadband, but everything is pretty much the same," he says.
The Bere Alston Branch of the Royal British Legion in England will be holding a commemorative event on Sunday at 15:52 at Bere Ferrers Station to remember the lives of the soldiers who died there in 1917.
The event will be filmed for British television by the BBC.
No doubt, someone will read the words inscribed on one of the memorials there...
Who shall sing the song of them,
The wonder and the strength of them,
The gaiety and tenderness they bore across the sea?
In every heart's the song of them,
The debt that England owes to them,
The chivalry and fearlessness
That strove and won her free.
The Whanganui three
The Whanganui soldiers of the H Company of 28th Reinforcements, New Zealand Rifle Brigade who died at Bere Ferrers were:
Rifleman William John Trussell was the only one of the three soldiers who was born in Whanganui. He was the eldest son of John and Clara Trussell and a cabinet maker like his father.
He had three younger brothers and one sister - Herbert, Lawrence, Arthur and Clara. All three brothers served in WWI and returned to Whanganui for a time after the war.
Arthur was a champion rower and a member of the famous Army VIII team.
William was just a few weeks short of his 28th birthday when he died at Bere Ferrers.
It is on record he did well in his exams during his time at Wanganui Boys College and played hockey.
Before he enlisted to serve, he was employed by Dominion Furniture Company.
A notice in the Wanganui Herald on September 28, 1917 described William as "a very fine and manly young fellow" who was very popular.
John Trussell was a prize-winning cornet player in the Wanganui Garrison Band from 1882, and served as Secretary for over 25 years and also as conductor as well as serving on the executive of the North Island Brass Band Association.
Some members of the Trussell family are buried at Aramoho Cemetery and it seems there are no living descendants in the region now.
Before 1917, John and Clara's offspring were the only children born in New Zealand with the surname Trussell.
Rifleman Joseph Judge
There is no available photo of Rifleman Joseph Judge who was aged 40 when he died in the railway accident on the way to Sling Camp in 1917.
He had never married, and was survived by his mother and brother.
Joseph was born in Bacup, Lancashire on 1 May 1877.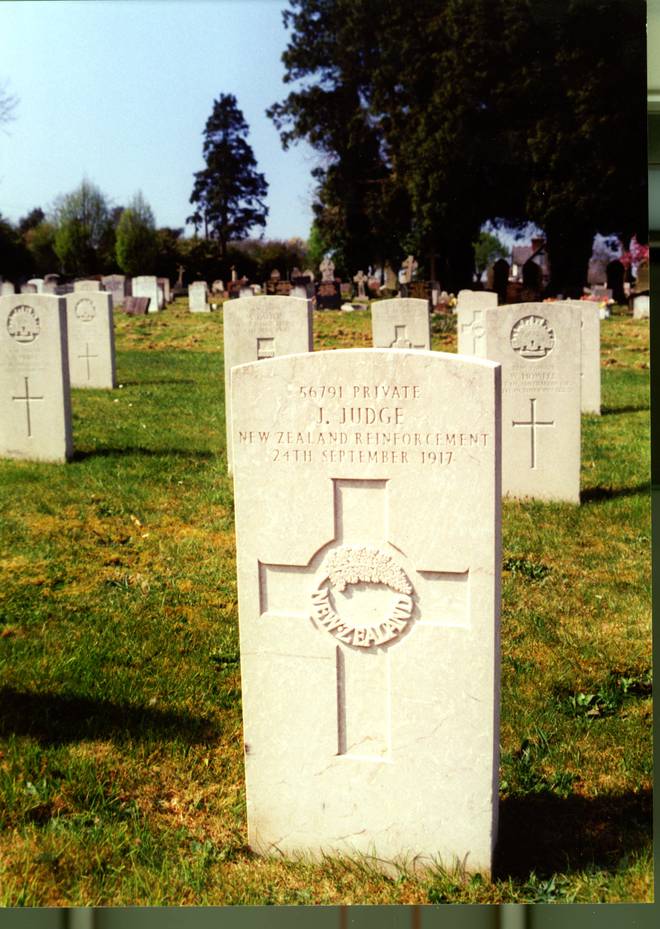 His parents Anthony Judge (a stonemason) and Catherine O'Neil lived all their lives in Lancashire.
When Joseph emigrated to New Zealand in 1912 he left behind his brother and his widowed mother at 17 Leyland Street Accrington.
He sailed from London to Auckland on the S S Ruahine, describing himself as "chemical worker" (in the census the year before he was a general labourer with a chemical manufacturer).
When he was called up in 1917 he was living in a boarding house at 10 Nixon Place Wanganui at which time has was employed by soap manufacturer J B Gilberd & Sons Ltd as a labourer.
He enlisted in April 1917 and sailed to war aboard the Ulimaroa on July 26, disembarking at Plymouth on September 24.
It seems his mother died in the County Asylum in 1921, and Joseph's service medal was forwarded to his brother Arthur at 1 Grimshaw Street Accrington.
Arthur, who was born in Bacup 1883, was the sole survivor of Joseph's immediate family.
Rifleman John F. Warden was born in Ireland in 1883 and emigrated to New Zealand in 1907. He farmed land at Whangaehu with another future soldier T. Carson.
After selling his small dairy herd in late 1916 Warden enlisted in the army in February 1917.
He was originally meant to be in the 30th Reinforcements, however, at his own request he was moved up the list and left with H Company of 28th Reinforcements, New Zealand Rifle Brigade, on the 26th of July 1917.
When he landed in Plymouth he was four days short of his 34th birthday.
Warden's very brief military record lists his father as Samuel Warden of Artlone, Randalstown, County Antrim, Ireland, as next-of-kin and rather uniquely he also listed Mr. David Henderson (friend), St Johns Hill, Wanganui, alongside that of his father.
Thanks to historians and researchers Kyle Dalton of Whanganui, Mervyn Judge and Linda Fletcher of Levin, Phil Beattie and Matt Pomeroy of the Onward Project, Faith Goodley of National Army Museum and Clive Charlton of Bere Ferrers for photos and information.