A fire at a Te Puke sawmill will likely cost the company "tens of thousands" of dollars in repairs and even more in lost revenue, one of its owners says.
Ten fire crews battled the blaze this morning, which started just after 6am at Pukepine Sawmills on Jellicoe St.
Paul Tanner, who owns the company with his father and brother, said the fire was in the office of the kiln drying plant, which had the plant's computer control room and a smoko room.
He said it was believed to have been caused by an electrical fault.
"It does mean that because the computers are in there for operating it, we're down until we can get replacement computers.
"We will have to get our timber dried elsewhere for the next two or so weeks."
Mr Tanner told the Bay of Plenty Times it would likely cost the company "tens of thousands" of dollars to replace the fire-damaged building.
"It's been a bad fire which has cost a couple of weeks in operation...because of that downtime factor, that's the biggest cost. It's not necessarily the fire damage, it's unscheduled downtime and downtime you can never afford to have."
He was unsure at this stage how much revenue would be lost because of that downtime.
Mr Tanner said they would have to re-build the kiln office but would not be re-building the smoko room.
He said the office was "an old wooden building" and they would build a better replacement.
"There's no dramas at all with the operation, we can easily get that up and running in next to no time. It's going to cost the family a fair bit of money on repairs and stuff, but it's not going to be detrimental to anybody's jobs or anything like that.
"It's caused us a few headaches because it just means we can't dry the timber which means we can't process timber and everything else. So it slows us up...limits us to be able to process timber as quickly."
Ken Tanner is chief executive of the company, joined by his sons Jeff as general manager and Paul who is in charge of engineering and maintenance.
Te Puke chief fire officer Glenn Williams said this morning that initially two crews were sent to the scene but the situation was quickly escalated.
The fire was in a 30m by 20m building, he said.
No one was injured.
Mr Williams said the fire was out and crews were dampening the scene so fire investigators could get in and ascertain the cause.
Chris Berridge, purchasing manager at Pukepine, spoke to the Bay of Plenty Times as he left the site.
He said he was contacted by the site manager this morning and came down to have a look at the damage.
"He just said there's been a big fire."
Mr Berridge said the fire would definitely result in some work being delayed in the kiln drying plant.
"It's going to have to be demolished pretty much, re-built."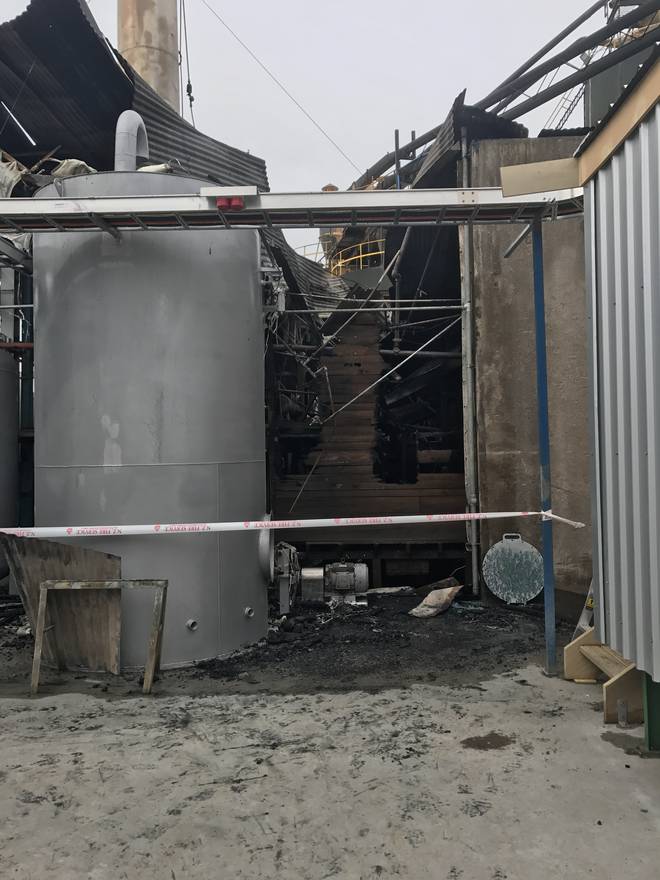 The Pukepine Sawmills operation comprises green and dry mills, several kilns for drying and a timber treatment plant.
"Part of the operation is Purepine Mouldings our secondary processing plant that produces interior and exterior finished timber products for the domestic and export markets, and includes a modern priming paint plant," the company's website states.
The whole operation employs approximately 180 people on two shifts.
The sawmill produces 50 per cent structural timber products for the New Zealand and Australian markets, and 50 per cent high quality appearance-grade products for New Zealand, Australia, North America and Europe.