The son of Taranaki man Bruce Mouat has broken his silence, after his stepmother Susan Mouat's startling admission that she caused him to fall to his death in 2011.
Mouat's death at his Hawera home - after falling down stairs and hitting his head - was initially ruled an accident by the coroner, after Susan claimed he had come home drunk and fallen.
But Laine Kawana-Mouat says for six years his family always believed Susan Mouat knew more than she was letting on about the night his dad died, and is relieved to have some closure.
"As time went on I had lost hope the justice system was going to be able to catch her because there wasn't sufficient evidence. I had come to grips with the fact that she was going to take this secret to the grave," Kawana-Mouat said.
"I thought it was pretty bloody awesome that we didn't have to sit through a trial and listen to her trying to weasel her way out of it.
"The police have done a very good job, to be honest. I'm pretty impressed with them."
He revealed that Mouat had made a number of incriminating admissions to friends over the years, and her friends reported them to police, leading to a manslaughter charge being laid last year - five years after her husband's death.
On the first day of her trial this month she pleaded guilty, despite previously telling family, police and a coroner that Bruce had come home drunk and fallen down stairs, hitting his head on the pavement.
She claimed the pair had argued before she heard a thump outside the Hawera home they shared and discovered him unconscious.
In his findings Coroner Tim Scott said Mouat had let himself down by his excessive drinking and ruled the death accidental, but noted Susan's 'bizarre' behaviour at the funeral, where she allegedly referred to herself as a murderer.
Kawana-Mouat told the Herald on Sunday the family were immediately suspicious about Susan's involvement because of her subsequent behaviour.
Kawana-Mouat said his stepmother put on a show at Bruce's tangi- "she would only come downstairs when people were there, and play the sorrowed wife, crying over his coffin"- and he was incredulous that she went shopping while Bruce was in intensive care.
He said following a dispute about Bruce's headstone, she had ignored the family's wishes and installed her own.
Just 17 at the time, Kawana-Mouat said he instinctively knew something wasn't right.
"If you've lost someone that you really care about, I don't think you grieve like that. In the first day or two, she sort of talked to all of us, but her story kept changing as she was telling it.
"Over the last five or six years she'd said comments to different people which has come back to the family. Which is a bit bizarre - that you can say something and get away with it for so long," he said.
Kawana-Mouat declined to go into the specifics of her remarks while Mouat was yet to be sentenced, however he understood a number of people had reported her admissions to police.
This week police refused to discuss the case or release a summary of facts, saying Mouat had not yet agreed to them.
Her lawyer also declined to comment on her behalf.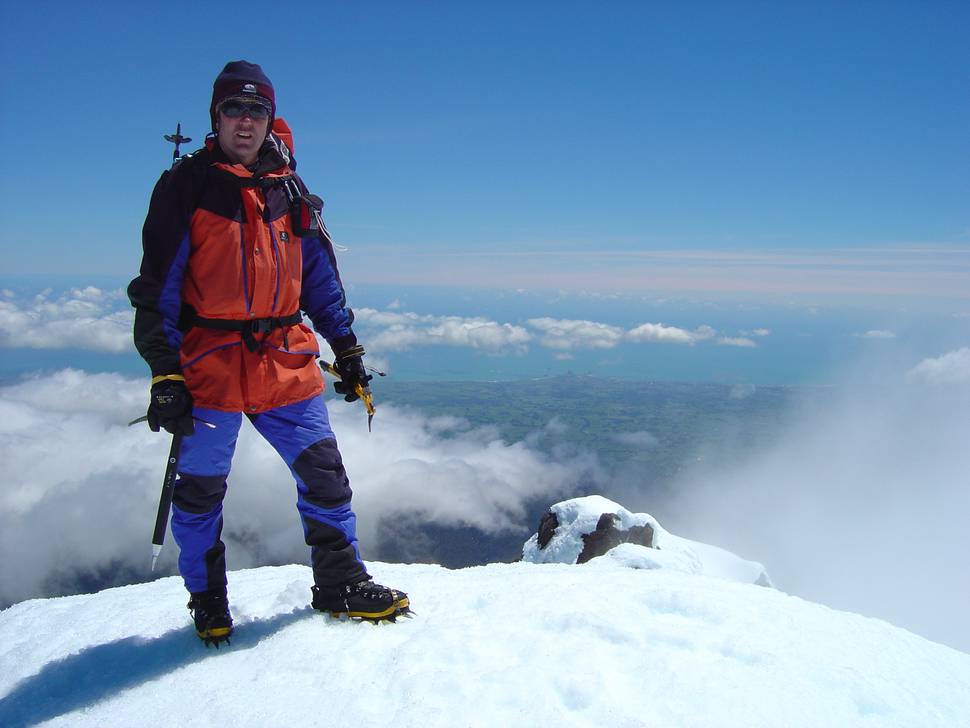 Despite many sleepless nights and nightmares, Kawana-Mouat said he was left with a treasured memory of his father- a respected mountaineer- pushing him up Mt Taranaki a year before his death.
"I was swearing and carrying on the whole way," Kawana-Mouat said. "He would say, 'it's only another five minutes' even if it was an hour. Since he's passed I haven't gone up, it just doesn't feel right."
His relationship with his stepmother is strained, and many members of the family refused to speak to her, but he plans to ask her why she lied.
"It would have been nicer for her to admit to it," he said.
"She showed no remorse when she walked into the courtroom. When she pleaded guilty she couldn't make eye contact with us."
His father would be disappointed, he said.
"He'd be annoyed at causing so much grief, even though it's not his fault. He's a massive loss to all of us. For about a year I was quite angry and negative about everything but I've tried to move on, I think that's what my father would have wanted."
Bruce Mouat's brother-in-law Simon Harrison said the family had always believed Mouat knew more than she was letting on.
His death had taken its toll on the family, including Bruce's three younger siblings and his elderly mother, Harrison said.
"[Bruce] was always engaged in conversation, enjoyed meeting new people, and was a friendly face and always had something to offer.
"He's never forgotten. I know my wife is thinking more and more about the fact he's not here."
Mouat will be sentenced in October.