Herald journalists have been in small town New Zealand to talk to voters about their hopes, fears and dreams. Each day we visit a town beginning with one of the letters H, E, A, R and T. Today, Nicholas Jones visits Hunterville.
About ten years ago Charlie Duncan realised the Hunterville community had a problem - a lack of young people.
"I was 33. There were basically about six people in this community that did everything. And other than Jason and I, the rest of them were nudging 45 and getting older," says Duncan, a bear of a man who was born in the now-closed Hunterville maternity hospital his great grandparents built.
"We had things like dog trials, horse sports, school fundraisers. And it was the same people and we seemed to be doing more and more to generate enough."
Changing that was a driver behind Duncan starting Otiwhiti Station, an agricultural training school where 12 cadets learn "how to shear, how to kill, how to ride a horse, how to break-in dogs".
The station is ten minutes' drive up a valley from Hunterville, winding past stands of native bush and over a one-way bridge.
The farm was owned by Duncan's great grandfather, and was gifted to a trust researching polio, before being used to rehabilitate serious accident victims. He and his cousin bought the farm back at auction in 2006, each farming a half.
Another motivator for starting the school was having young staff turn up without the basic skills, despite having qualifications.
Duncan takes students from all over the North Island, with about 70 per cent coming from urban areas, including a couple from Auckland's Mount Albert Grammar School.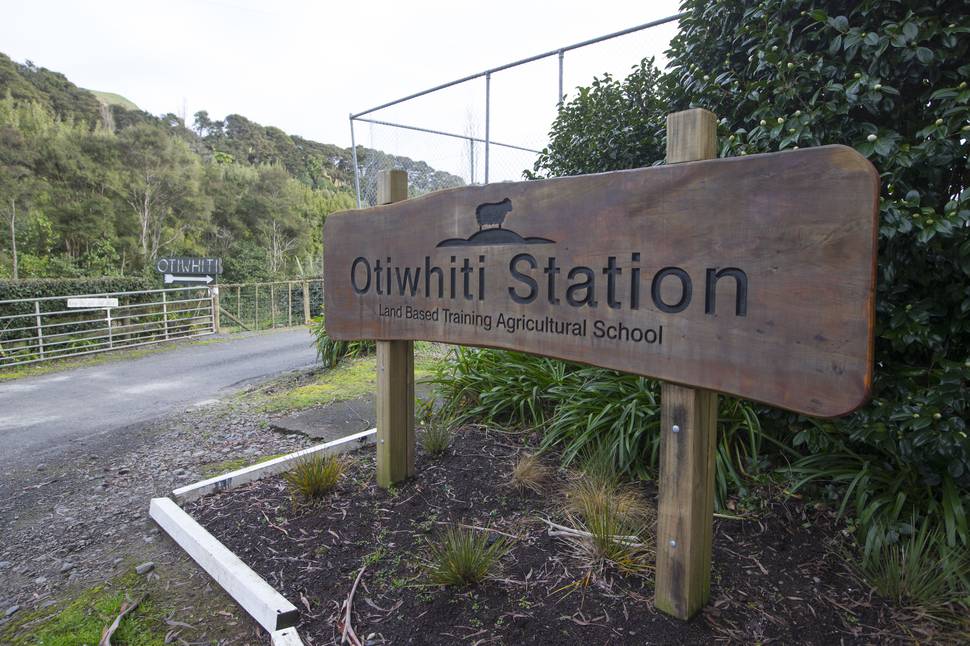 Currently about 18 former students are working in the area. One now manages 7000 acres up the road, married with two children.
Otiwhiti relies on sponsorship to help make ends meet, and Duncan says the current bureaucracy around residential training favours a "bums on seats" model.
"It's not about how much money goes to agriculture training. It's just how it's invested is bad."
While the station has led to the area's average age coming down, Duncan, who has four kids aged 12 to 6, said he was seriously frustrated with how rural communities were treated by central government.
"All they want to do is pull money out. We have one of the biggest non-sealed roading networks of any council at Rangitikei. And all they want to do is pull back the percentage that they want to contribute. I've got a trucking company as well and we pay $250,000 just in road user tax. If they just applied that to our roads.
"You drove out here on that road - that road is about to get 10 times busier because all these little green things are going to start coming out," Duncan says, pointing to pine trees visible through the common room window.
Hunterville is a blink-and-you-miss-it town of a few hundred on State Highway 1 half-way between Taupo and Wellington, famous for its annual Hunterville Huntaway Festival and its statue of a huntaway dog.
Despite a few shops being shuttered, its main street is tidy. Concrete sculptures of sheep are popular with kids and tourists, and "Dog Parking" is stencilled by one store front.
Inside an old law office dating to about 1891 sits Sam Weston, a beanie and fleece protecting his top half from today's freezing southerly, his rugby shorts affording less protection.
There's a Tui poster on the wall: "It's a legitimate business expense". Weston, who has three kids at Hunterville School, splits his time between the farm and his rural accountancy business. He's come in fresh from a morning of feeding calves and moving breaks.
"It is a small, close-knit community. It doesn't matter who you are or how much money you've got - there's no sort of cliqueness, no real hierarchy," he says of Hunterville's appeal.
The town is going alright, he says, with a number of Aucklanders buying property and moving down country.
"I've got clients who have sold properties and quite a lot of the open homes have been attended by out of towners. They want to get out. We have a wide variety of people that live in Hunterville, because these days the connectivity - you can work anywhere."
Our interview is interrupted when a client drops in. "Nothing complicated?" "Nah, might be just a little out on the lamb figures, I had 20 lambs last year and was going to eat some for muttons and that, ended up selling most of them." "All good, talk to you later." "Alright."
Weston, 44, lived in London and Dublin with his wife and returned home to take on the family farm. He said political parties and advocates calling for stricter enivornmental measures seemed to miss the fact land is passed down through the generations.
"Our farms are our livelihood. We are hardly going to go and try and rape and pillage them."
Weston has been roped in to be Treasurer for the Hunterville Huntaway Festival. The secretary, Kerin Ratima, meets us at the organising office across the road.
The 20th anniversary is this year and there are now three races along the main street and up a hill at its end - a kids, teens and the "shemozzle" shepherds' race.
The latter will have a field of about 125. Photos on the office walls show past contestants struggling through a series of obstacles with their dogs - including one where each shepherd has to hold a bull testicle in their mouth.
Ratima was working in Wellington after university when a clerical job came up at the Hunterville Veterinary Club. She still works there part-time managing the office, and is on the board of the school, squash club, sports club, and does the books for the shearing contract business she owns with her husband. There are also four kids in that mix - aged 21 to 9.
Despite wool prices being low, her family's shearing business is doing well. Ratima says they work hard to employ a reliable base gang, who are locals with families in the area and get work year-round. However, getting extra staff can be challenging.
"It's really hard to get staff who are drug-free, who are interested in working, reliable and turn up. We often try to get people in from overseas. But work visas - all the red tape around it is huge."
She too has noticed how quickly houses are being snapped up by out-of-towners.
"There was a time there were quite a few houses for sale and nothing was selling. Now, you are struggling to find a place to rent."
If that's slightly perplexing to Ratima, the appeal of Hunterville isn't.
"I do love Hunterville. It's a great town, great people. It's far enough away to be rural but not too far to be isolated.
"We are still really lucky in that we still have two pubs, two garages. Both the banks are gone. I think retail is pretty hard. But not just in our area, I think all rural areas are the same."