Two houses have been evacuated in Wellington after two slips in the capital.
Four students are being told to leave their Evans Bay Pde home immediately in the second of two slips as bad weather continues in the city.
And a house in Aro Valley was evacuated after a landslide came down across Devon St last night.
Wellington City Council spokesman Richard MacLean said engineers had assessed the Evans Bay Pde home, which sits about 40m above the road.
"A slip has obviously undermined a deck, which is poking out from the house so that looks risky."
MacLean said it was believed up to five students were living in the home.
He said the council's welfare team was helping them in case they would be out of their home for longer than today.
Roads are blocked by debris from the collapsed cliffs directly beneath the at-risk homes.
Meanwhile, snow is expected to affect two key North Island roads today and ice is making southern roads hazardous as a polar blast heads up the country.
And five trucks and cars have slid off a road north of Invercargill as ice creates havoc.
Police say the cold snap has left southern roads in a dangerous condition and asking motorists to drive carefully.
South Island weather is set to improve ahead of the weekend, but the north is bearing the brunt of heavy rain and snow set to lash southern and eastern districts.
A stormy day is in store for Wellington, Wairarapa, Hawke's Bay and Gisborne, which will be pounded by southerly gales and rain throughout the morning.
MetService says snow showers are due to fall on the Rimutaka Hill Rd from the middle of the afternoon through to early tomorrow morning. Up to 4cm is expected.
And up to 6cm of snow is expected on the Desert Rd today and more is possible tomorrow.
Devon St in Aro Valley remains closed after a slip that forced residents out of their home last night.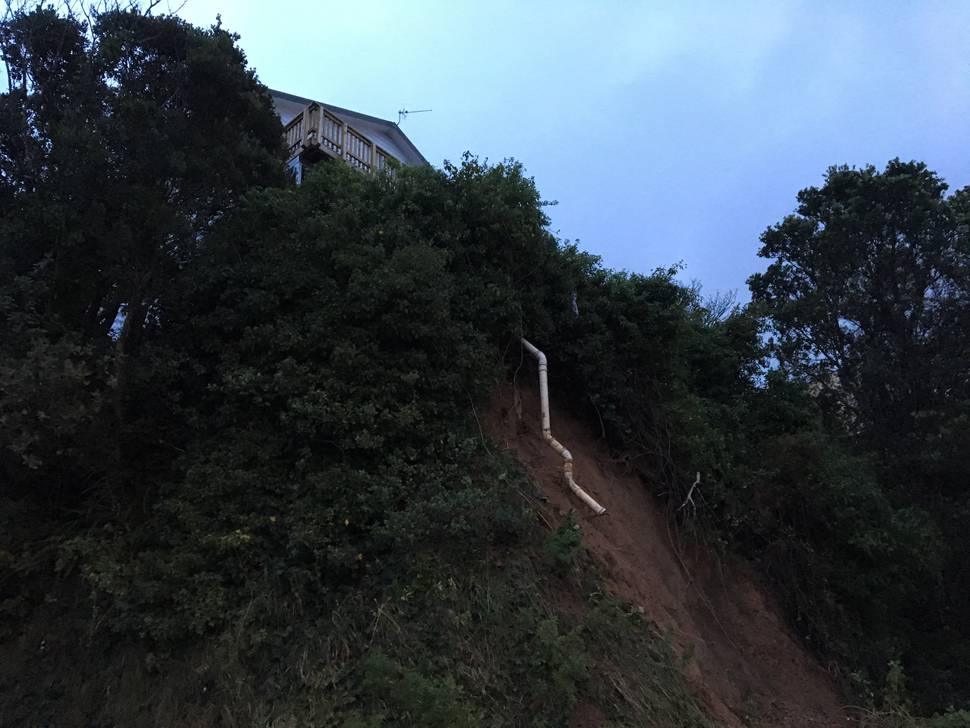 A contractor guarding the road this morning at the intersection of Landcross St and Fairlie Tce said he was called to the slip about 8.30pm.
He expected engineers and heavy machinery would move in soon to assess the damage.
The evacuated home can be seen uncomfortably close to where the slip has fallen away, above a scrambled mess of trees, rocks and dirt on the road.
Wellington City Council said a second sizeable slip also came down across Evans Bay Parade near Pt Jerningham, blocking a lane heading into the city.
Commuters were warned there would be delays while the dirt and rocks was cleared.
Some ferry sailings across Wellington harbour have started to be cancelled due to the blustery conditions.
This morning inland areas of the South Island remain under a fresh blanket of snow, which led to motorists abandoning vehicles on highways and cutting off at least one settlement.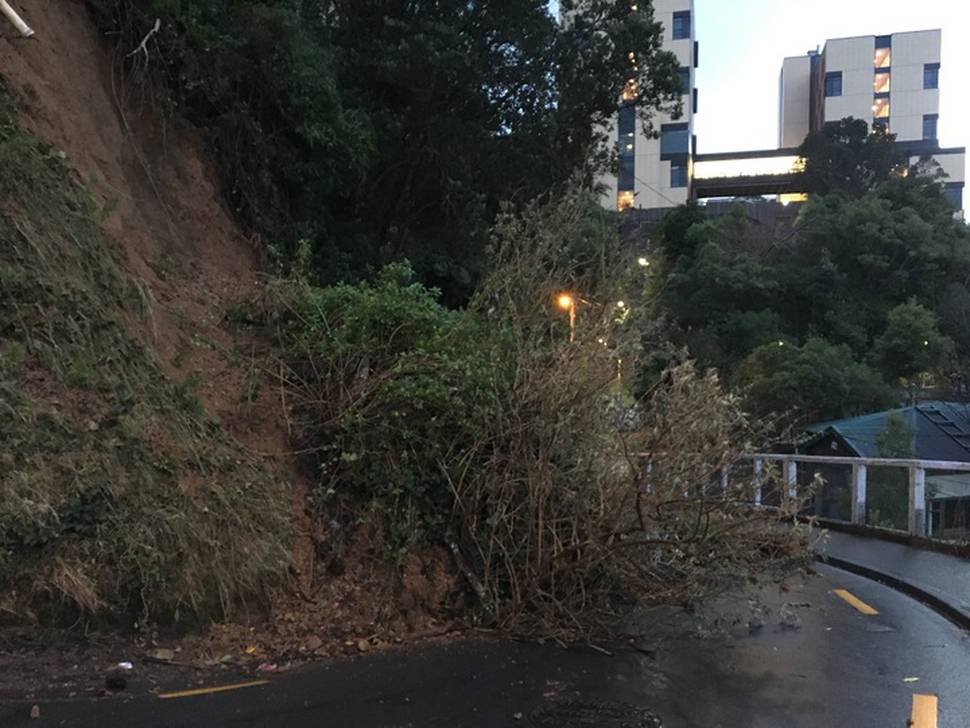 The rain has now eased in North Otago, which is still recovering from last week's floods, and a heavy snow warning for Canterbury has been lifted but snow flurries are forecast to fall on Dunedin foothills today.
The Inland Route between Mt Lyford and Kaikoura has been closed by snow this morning and flooding is affecting SH1 at Dunsandel south of Christchurch.
Transport authorities are warning motorists to be wary of black ice coating southern roads this morning.
Police say the conditions are causing issues for many drivers across the south, particularly in Invercargill area and on the Clinton Highway between Gore and Balclutha.
On one lethal patch five trucks and cars hit ice and slid off North Rd at Lorneville, Invercargill, about 6.50am.
Police said no one was injured but the crashes showed how treacherous road conditions were in the south and asked drivers to take extra care.
Today's forecast
Auckland:
Rain turning to showers and clearing. Southerlies developing. 14C
Showers. Strong or gale cold southerlies. Fog clearing to fine weather. Southerlies developing. 13C
Wellington:
Showers. Strong or gale cold southerlies. 9C
Christchurch:
Showers. Snow to 400m. Southwesterlies. 6C
Dunedin:
Fine spells. Snow flurries to 300m. Southwesterlies. 7C