Rescuers had to battle their way across the rising Mokihinui River on the West Coast today to rescue a seriously injured man who lay outside all night after falling 4m from a ladder.
The 85-year-old had been up a ladder using a chainsaw to cut trees at a remote part of his farm yesterday afternoon when he fell.
His wife discovered him this morning but had to leave him and dash 3km in pouring rain through muddy fields to raise the alarm.
Granity police constable Greg Sherie said he was sitting down to breakfast on his day off when he heard an ambulance race past his house.
He checked his phone to see what emergency calls were under way and realised something was happening at Mokihinui.
When he arrived at the Mokihinui River he found it flooded and ambulance staff unable to get to the injured man.
"I walked out into the middle of the river to judge how deep it was first and it was between my knees and my waist."
Sherie then drove across with the Ngakawau rural nurse as water lapped at the bottom of the doors of the vehicle.
The man was a further 2km away along a farm track. Sherie said when they arrived he was covered with a raincoat and the chainsaw lay nearby. However, he thought his injuries were from the fall not the chainsaw.
An advanced paramedic from Karamea arrived along with the injured man's son, Sherie said.
"The river was rising so we had to get him out."
The man's son was in a 4WD ute so his father was put on the back as there was more space than the police vehicle. Sherie brought ambulance staff across the river.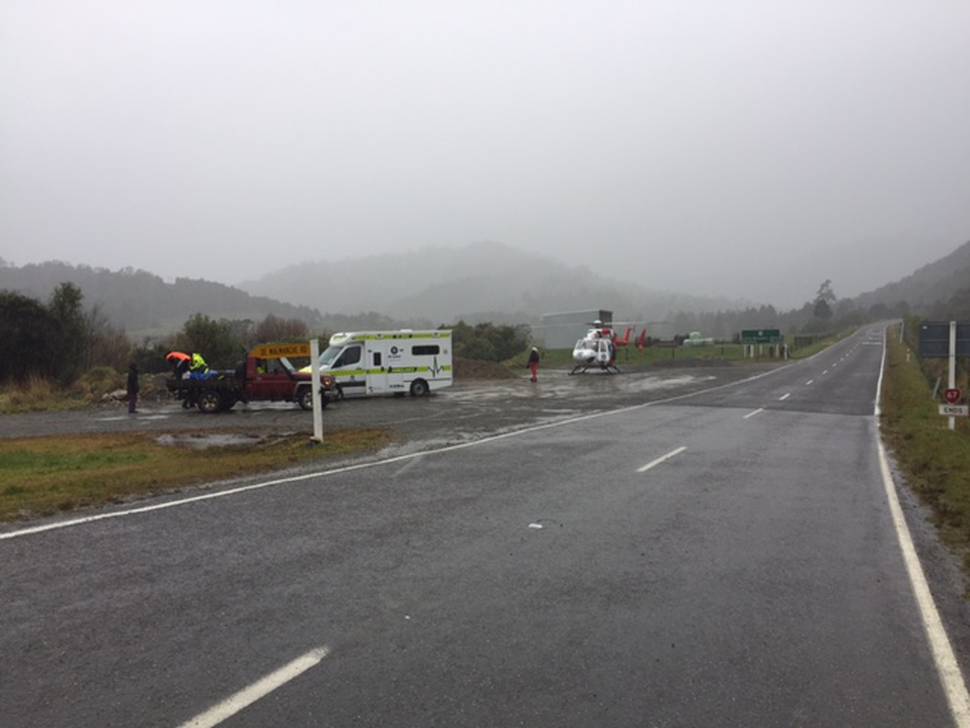 The waiting rescue helicopter flew the injured man to Greymouth Hospital.
A St John spokesman said man's injuries from the fall were serious.
He was unable to confirm whether the man was also hypothermic after his night in the open.
Sherie said the rescue was in pouring rain. The bad weather had affected the Nelson rescue helicopter's arrival.
"They had to fly up to Farewell Spit first then had to hug the coast all the way round, they couldn't just go over the hills."
Senior Sergeant Brent Cook, West Coast area response manager, said Sherie displayed "tremendous skill" navigating the swollen river to get the man to safety.
Cook commended everyone involved in the tricky rescue.
He described it as "outstanding work" by rural community services staff.
Westport LandSAR chairman Ross Cocker said police also called him for help just before 9am.
"They were looking at a stretcher carry because they couldn't get a helicopter in and at that stage also they couldn't get the 4WD across."
Mr Cocker mobilised local volunteers to help but before they left town they were notified that the police vehicle had made it across so they weren't needed.
- Westport News