By Gabrielle Stuart

Already there has been a death, a robbery, burglaries, family violence and a breach of a protection order - and it's only 9am.
Outside, it's still cold, and the city is still sleepy: Footpaths empty, shopkeepers just putting out their open signs.
But step through the double doors into the Christchurch Central police station, and the place is abuzz with activity.
The Canterbury District Command Centre sits at the back of the station, past the ringing phones in the call centre, past the network of desks and departments, past the officers heading out or returning from patrol.
There, Senior Sergeant Roy Appley is watching it all happen.
The district command centre is laid out like a mini version of the NASA control-room, or the bridge of a sci-fi spaceship.
Desks are set up facing a wall lined with television screens.
To the left are the camera feeds, streaming live from security and traffic cameras across the city. Right now, camera feeds from the Riccarton bus lounge are on screen: Several angles from the waiting room, the cafe, and the street outside.
To the right, a list of active police incidents scroll across a screen: What's happening, where it is happening, and who is responding. Each screen is constantly changing and updating.
If the command centre resembles a spaceship, Senior Sergeant Appley is in the captain's chair.
Some of the officers working in the DCC are in jeans and sneakers, but he is fully uniformed: Both with crisp police blues and a serious attitude.
He makes the time to talk, but is constantly aware of what is happening around him, and several times takes time out to check on his screens. There are two parts to the job, he said: Prioritising calls, and getting as much information as possible to the officers on the ground.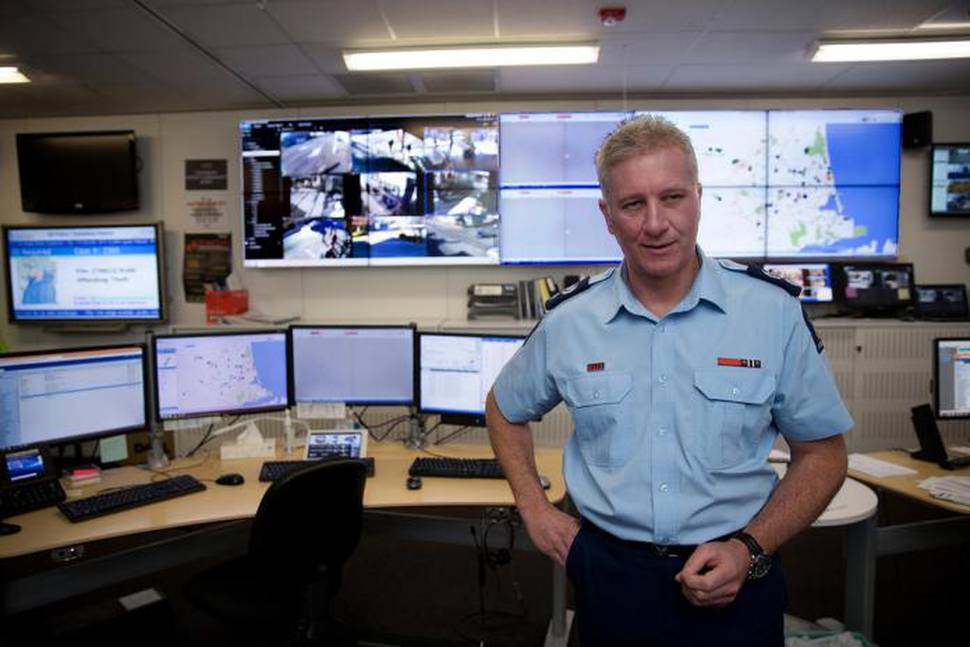 "It's quite demanding in here, because there's a lot you have to know and keep your head over. Often you're in here all day, because it's so fast-paced you can't leave. If you drop the ball, someone could be harmed," he said.
This morning there are 164 police "units" available across Canterbury, and it is his job to direct them.
By about 9.30am, there have already been 51 active events.
That includes the death - a body found, but not believed to be suspicious. There are officers at crashes, knocking on doors after burglaries or family harm episodes, and tracking down people who haven't turned up in court.
Covering everything was more challenging that morning, he said, as about 20 staff were busy searching the Kate Valley Landfill for clues to the disappearance of Halswell builder Michael McGrath.
The computers pinged as events - each call or crime - arrived on the list.
Each was labelled from one, most urgent, to four.
With each, Senior Sergeant Appley, or one of his officers, would scan the details to see if there was anything useful they could provide from cameras in the area or police files.
Last week, they were notified that someone had been robbed by a group of people at the Washington Way Skate Park on Moorhouse Ave.
Instantly they were able to bring up and rewind the camera recording from the area, and saw the robbers getting into a fairly distinctive silver European car.
With a description of the car and the direction it was heading, police in the area were able to pull it over and arrest the criminals within minutes.
Midway through the morning, Senior Constable Craig Newman stopped by. He spent nine months working in the district command centre, before going back to the beat.
He said the information the DCC was able to give was invaluable. It had made car chases safer, he said, as police were able to watch through traffic cameras where criminals were heading and circle ahead to intercept them, rather than having to always give chase.
Even during more routine work, like a door knock after a burglary, it made a huge difference, Senior Constable Newman said.
"That person may have been a victim of three burglaries, or their husband may have died in a car crash recently. That information can now be given instantly to the police officer who is going to be knocking on their door," Senior Constable Newman said.
On Friday and Saturday nights, a lot of problems started outside bars.
"Along St Asaph St, where the road is narrow, there is limited space and taxis often double or triple-parked. It's a recipe for disaster when intoxicated people are around," Senior Sergeant Appley said.
By regularly checking the cameras, police could see where lines were starting to form outside bars, or where people were starting to gather.
They could then send a patrol there before anything escalated and prevent problems before they started.
He said many countries in the world were installing a lot of police cameras and doing a lot of monitoring off them, using them to watch criminals and gather evidence of crimes.
Although there was a lot of potential to do that, he said New Zealand police were instead focused on helping victims and preventing crime, and the cameras were just another tool.
"The most rewarding thing is when you make a difference for someone, and that happens almost daily here," Senior Sergeant Appley said.
That is something which had held true through all the changes he had seen over 32 years as a police officer. He doesn't mention it, but four years ago he was made a Member of the New Zealand Order of Merit for his work in New Brighton after the February 22, 2011, earthquake, doing exactly that - serving people and the community.
"No matter how flash the technology gets, it all comes down to our interactions with people. High trust and confidence doesn't come because you look good in the uniform when you're out and about. It comes when you handle every dealing well and treat people with respect."
- Star.Kiwi