In the watery depths around Kapiti Island lies a marine habitat that has scientists scratching their heads.
What may be New Zealand's largest known anemone bed has researchers wondering: "Where is the food coming from?"
There are hopes the "nationally significant" discovery will raise interest for locals in their "watery back yard" and get them to care about protecting the marine habitats in their area, Victoria University marine biology professor Jonathan Gardner said.
Kapiti Island has a partial marine reserve around it, and the island is a nature reserve.
The group of researchers, made up of members of Victoria University, Niwa, the Department of Conservation, and Land Information New Zealand, spent 11-12 days mapping the area around Kapiti Island, and 18 months later were finally presenting their findings to the Greater Wellington Regional Council environment committee.
Gardner told the Herald the anemone bed they discovered was at least 100 square metres.
"We're not aware of anything like this anywhere else in the country," he said.
"We don't know where their energy's coming from."
He said anemones are "voracious feeders" and would eat zooplankton out of the water column, so researchers were questioning how such a large and densely packed anemone bed was finding all the food it needed to survive.
"You don't normally see anemones of that size in beds of that size . . . that's why that bed is nationally significant."
Only about five or six of the country's 44 marine reserves have been properly mapped, so Gardner said there could well be other beds of this size, but they simply hadn't been discovered yet.
It's ours, it's special, and we need to protect it because if we don't protect it, nobody else can, nobody else will.
Other exciting finds included a large rhodolith bed. Rhodoliths are plants which need clear, clean water and sunlight for photosynthesis.
Often rhodolith beds are found "badly degraded" these days as sediment from construction, forestry and agriculture slips into the water, but the bed discovered around Kapiti Island is in surprisingly good nick, Gardner said.
The group also continues to search for an area of black coral known to be around the island in previous years. All corals are protected in New Zealand.
"I think we need to be really, really clear that there is no plan right now, at least as far as I'm aware, of extending the marine reserve. If that was to happen it would probably need to be led by the community."
What the research gave them was a good baseline so they could know what marine life was there, and be able to compare it in later years. Mapping of this extent has not been done in the area before.
For the people, the information "means everything and it means nothing".
"It depends on how you relate to what's going on in the sea. As a minimum, this work we're doing is a really valuable baseline."
He wanted to create a "sense of ownership" among locals.
"There's this sense of 'what we have in our watery back yard is different from what other people have got. It's ours, it's special, and we need to protect it because if we don't protect it, nobody else can, nobody else will."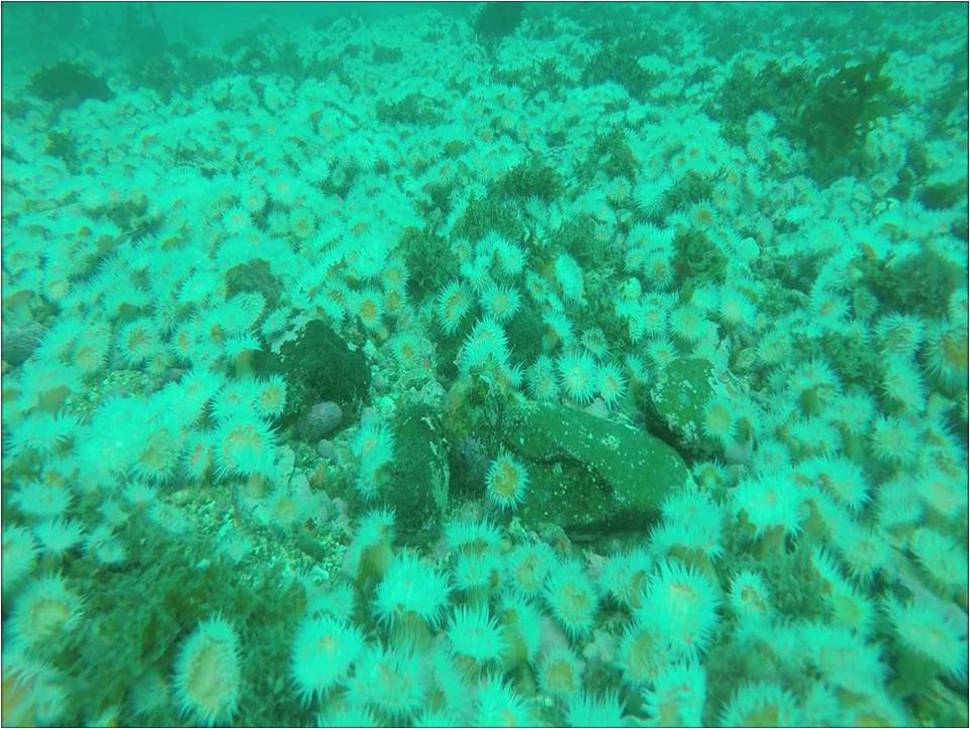 He said the mapping cost about $120,000 but the information still needed to be converted into a digital format, a six-month job which would cost about $250,000.
Greater Wellington Regional Council aquatic ecosystems and quality team leader Megan Oliver said the information was "incredibly valuable".
"Half our battle is knowing what we've got," she said.
The news of the anemone beds was "just so exciting" and could prompt council to sit down with other involved agencies and look at possible restrictions that could be put in place to protect the marine life.
For an example, the Ministry for Primary Industries or Maritime NZ could look into putting in an anchor exclusion zone to prevent damage to any of the habitats.
Council could address the information in its next regional plan, and restrictions might involve requiring special processes for consents for land-based activities that could affect the marine environment.