A climate scientist has given a 25 per cent chance of Tropical Cyclone Donna - currently hammering northern Vanuatu with gusts of up to 240km/h - brushing Northland next week.
But a MetService forecaster says the probability of the system causing trouble to New Zealand is still too low to bet on.
Australia-based Kiwi climate scientist Dr Jim Salinger has reviewed UK, US and Australian weather prediction models, the latter including a scenario of what remained of Donna cruising near Northland in the early hours of Friday morning.
"At stage I'd give a 25 per cent chance: so that's only a slight possibility, but you can't rule it out," said Salinger, currently an honorary research fellow with Otago University and a visiting fellow at Griffith University's National Climate Adaptation Research Facility.
Salinger said there was a chance the system could move towards New Zealand if it tracked across New Caledonia and then veered south.
"Anything that hits New Caledonia always brings a possibility of getting near New Zealand - it's in the right position."
Salinger said a low pressure system moving across the Tasman Sea could also help transport it down toward the north of the North Island.
Any system that did arrive could be larger than last month's Cyclone Cook, but not as significant as Debbie, whose remnants caused widespread havoc a fortnight before.
However, MetService meteorologist Ravi Kandula said the odds were still well against that occurrence.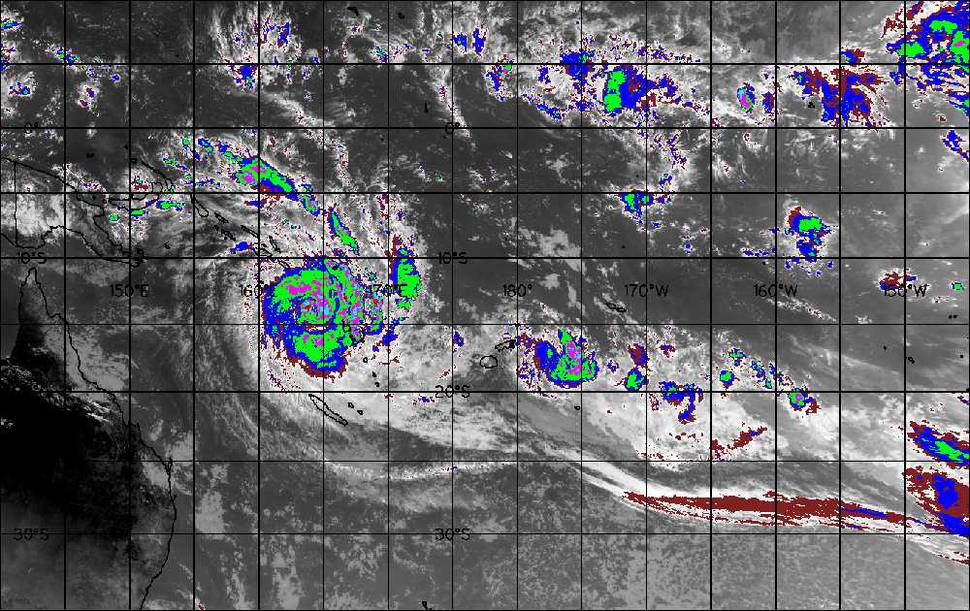 "I wouldn't be putting a bet on that system: yes, there probably is a 25 per cent or less chance of one moving toward New Zealand, but there is also a 75 per cent chance that it's going to stay to the east of the country on Friday," Kandula said.
"There is the chance of a low coming from the west of the Tasman, and that brings a period of rain from late Thursday and early Friday, and it's in the early stages at the moment.
"But if the ensemble numbers are correct, then the only impact of the system is a low that is coming to the west of New Zealand on late Wednesday and early Thursday."
While it may seem we've had more than our usual share of tropical cyclones this season, meteorologists say, on the whole, it's been close to normal.
It's simply that our season has been back-loaded with big events, following a quieter-than-usual start to the official November to April period.
Niwa meteorologist Ben Noll earlier told the Herald the late pattern had boiled down to La Nina-like patterns in the equatorial Pacific that had made for a wet March to April period.
"Even though we don't have a very strong ENSO event - that means either La Nina or El Nino - going on right now, when we have these neutral phases, you can still get periods of time when the weather pattern is either reflecting La Nina-like or El Nino-like conditions.
"They undulate and oscillate over time, and we just so happen to have had such a pattern in March and April."
The other part of the equation was the Madden-Julian oscillation (MJO), the largest element of the intra-seasonal variability in the tropical atmosphere.
When it's in certain phases, the MJO can lead to certain weather patterns and the tendency for certain weather patterns to exist.
Noll described it as a "spark plug" that could help activate tropical cyclones.
"So you have this La Nina-like state sitting in the background, and then you have these MJO pulses - areas of thunder storms in the atmosphere that track across the equatorial region - and they've been in favourable phases that help spark these tropical cyclones."
Noll expected that another just-begun MJO was a big reason for the formation of Donna.