A hefty tropical cyclone that formed near Vanuatu last night brings a fresh threat of flooding rains to New Zealand next week.
Tropical Cyclone Donna is likely to reach Severe Category 3 today or tomorrow, WeatherWatch reported.
Donna has formed outside the cyclone season, which ended on April 30.
WeatherWatch head forecaster Philip Duncan said that the remnants of the tropical storm could bring heavy rain to New Zealand midway through next week.
MetService meteorologist April Clark said they would be able to tell on Sunday whether the cyclone will hit New Zealand.
"It's expected to affect Vanuatu in the coming days. It looks like it's going to veer left as it goes down.
"At the moment it is very unlikely it'll head over New Zealand. But there's a chance."
​​Despite the cyclone, May is meant to be drier than usual.
Relatively fine weather is forecast for all regions this month. The cool start as night-time temperatures dropped into low, single digits will be followed by unseasonal warmth.
Last night most places got a little sprinkling of rain, MetService meteorologist Ravi Kandula said.
Today scattered showers will touch the lion's share of the country before easing for a weekend of settled, sunny weather. But it's time to get the electric blanket out as frosts are expected in central North Island and overnight temperatures below 3C.
"Friday is really good across most of the country," Kandula told the Herald.
"Into Saturday I expect the ridge is going to hang on.
"It's going to get nippier during the night but nice sunshine during the day to get those temperatures into the late teens."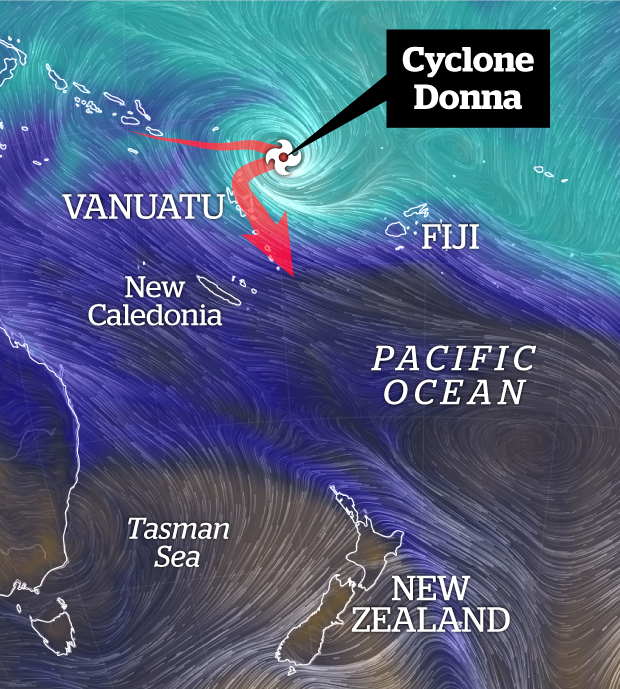 ​​
Kandula said high pressure should prevail over New Zealand for much of May.
Sea temperatures around the New Zealand coastline continue above average, excluding the Cook Strait.
May rainfall is forecast to be near normal for Wairarapa, Hawke's Bay and Gisborne. Elsewhere would be drier than usual, Kandula said.
"There could be areas of evening and morning cloud. But there will be more sunshine hours during the day.
"During the afternoons you can expect sunshine in most places."
This is a welcome change from what was a sopping wet April for much of the country, when rainfall was up to 350 per cent of normal over the North Island and the north and east of the South Island.
It was the wettest March-April on record for Auckland (439mm), Tauranga (569mm), Hamilton (427mm), and Whakatane (482mm). It was the second wettest March-April for Christchurch (234mm), and the third wettest for Kerikeri (624mm) and Wellington (360mm).