The life of iconic New Zealand cartoonist Murray Ball was celebrated in Gisborne today.
Ball was the creator of the famous Footrot Flats cartoon strip, which was made into a movie in 1986. Footrot Flats: The Dog's Tale was New Zealand's first feature-length animated film.
He died aged 78, after a long battle with Alzheimer's, at his home at Gisborne on Sunday.
Funeral celebrant Norman Maclean said the family, wider community in New Zealand and abroad were hopeful Ball's death was a long way off.
"But it was not to be. The severe limitations of ill health imposed on Murray for such a long time have now gone. He has been released from all that has hampered him from being the man he was."
But the departure was still a major blow.
"He was a man larger than life itself."
For Ball, the sun rose and set on his wife Pam.
She was a wonderful partner and Mason, Gareth and Tania (their children) and seven grandchildren were privileged to have a husband, father and grandfather of such calibre, said Maclean.
More than an expression of sympathy, the funeral at the Bushmere Arms this afternoon was a celebration of Ball's extraordinary life.
All walks of life from the Gisborne community were represented at the funeral.
"Your fundamental decency and kindness touched us all."
Murray Ball was the antithesis of the party animal.
"He would shy away from crowds and publicity. Interviews he did not enjoy at all but, to avoid disappointing his fans, he did them."
Gisborne Mayor Meng Foon said Murray was a legend who lives on in his work.
"I thank you for your marvellousness, from our community."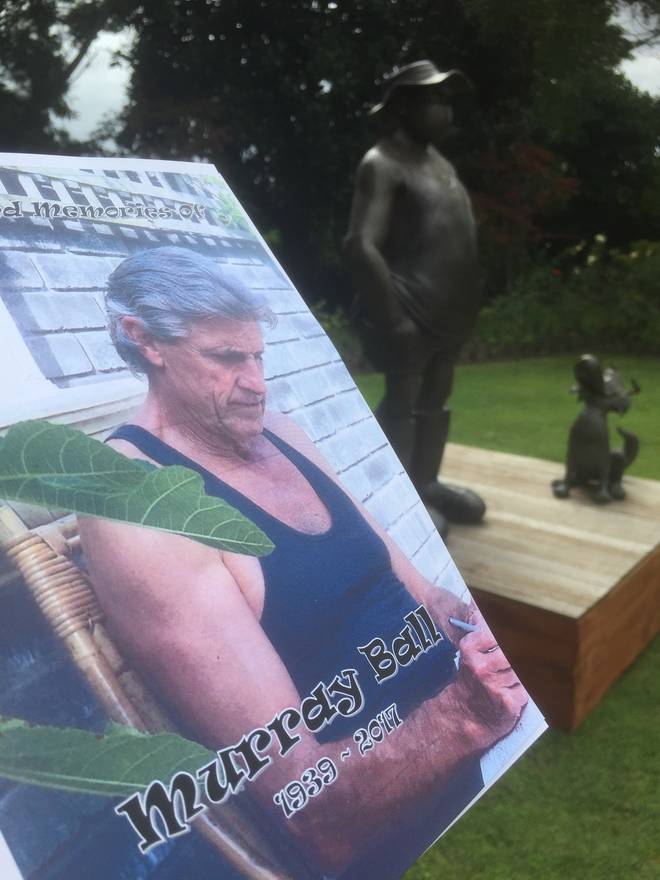 He loved travelling and music, rugby and cricket.
His daughter Tania Fowell thanked all the health workers involved in caring for Ball on his difficult journey.
"Without these people helping, dad would not have been able to stay at home."
She thanked her mother Pam.
"Dad's rock, best friend and fierce protector of dad's privacy."
Fowell said her dad had strong beliefs and principles.
"And he was the enforcer. We soon learned to do what he said. He was hardworking and up before anyone. That was his favourite part of the day. He had a strict daily schedule and I always knew where he was at any time.
"Sometimes the boogie man came out in the form of dad dressed in a sheet and he would jump out and frighten us. He would walk around in his undies . . . freely . . . was known to pour a bucket of water over his head in the court yard . . . often. And he sneezed so loud he would scare the sheep and it echoed around the valley ."
He did not show much emotion, but she remembers sadness when the cat Horse died.
"He was really sad - Horse was real, he was our cat. He really used to drag eels across the road from the creek."
Her husband James Fowell said Ball was "like a father" to him and loved the All Blacks.
"Once I remember watching him being interviewed and up came this probing question - 'if you could change something what would that be?' He quickly answered "that the All Blacks would keep winning all the time."
Fowell said he found solace in the Ball household.
"I loved the structure. There were right and wrong ways to do things and no one stepped out of line."
Eldest son Mason said even though his dad was not comfortable with crowds, he would have appreciated the large crowd at the service.
Family members had travelled long distances, including from Tokyo, Australia , England and from around New Zealand.
He said Ball's dad Pop Kelly was very important to him.
"He was monumental in dad's eye. He financed dad in his early writing and cartooning days - without this support at the start he might have got nowhere."
Mason said his dad was not funny "at all - in fact he was always very serious at home" - he had one standard joke he reeled out now and then, and did not get into chatting.
"His idea of a chat was 'so what are you going to do with your life? Where do you see yourself in the next seven years?' - well that was the end of the chat."
Ball's wife Pam said it had been a devastating, sad week.
She is English and Murray a New Zealander. They met in the middle in South Africa in September 1963 and married in under a year.
"Some people, including our parents, thought it was a bit quick but we proved them wrong and recently celebrated 53 years of marriage."
She said her children had been amazing support but it had been a hard journey.
"He has not talked for the past two years. I found that hard. It is time to rest now Murray - you have given us all wonderful lives. We miss you. We are so lucky to have had you in our lives - rest now darling."
- Gisborne Herald