Dozens forced to evacuate as flash floods inundate homes.
Auckland residents have begun the task of cleaning up drenched homes and filing insurance claims after a massive storm saturated the region again yesterday.
More than 320 properties were flooded, 225 of which were in West Auckland, with some inundated by waist-deep water.
Heavy rainfall between 10am and 1pm caused flash flooding around Auckland with New Lynn the worst affected.
The downpour cut power to nearly 3000 homes. Civil Defence issued a warning to stay out of floodwaters which could be contaminated by sewage.
MetService meteorologist April Clark said around 80mm fell in Auckland over a 24 hour period but the effects were exacerbated because up to 50mm fell in a single hour across West Auckland.
"How the rain pools in different areas can affect things a lot. In that area they got large amounts for at least one hour."
Suburbs affected by flooding included: Kaukapakapa, Devonport, Parnell, Remuera, Eden Terrace, Blockhouse Bay, Morningside, Massey, Westgate, Whenuapai, New Lynn, Avondale, Titirangi, Henderson, Te Atatu, West Harbour, Glendene and Glen Eden
The Fire Service responded to 582 emergency 111 calls yesterday. At its peak they picked up one call every 24 seconds.
Emergency services were stretched pumping water from saturated homes and attending slips. A massive gum tree also crashed down over a footpath at Auckland Domain.
New Lynn was one of the worst hit areas after flooding submerged cars, poured into properties and a footpath was pushed into six businesses.
Water wooshed through the ground floor of a block of flats and a commercial building causing at least 12 people to be evacuated.
Labour New Lynn MP David Cunliffe spent his afternoon bailing out water from the flats which he said were "completely munted".
A culvert could not cope with the volume of water which had risen 2m up the wall of the building, he said.
"Lucky no one was hurt. A bunch of cars were written off. Everyone has had to come out of the ground floor of that block, there are about a dozen different units totalled and they are in emergency accommodation tonight."
Cunliffe said a good proportion of the 300 houses which had flooded were in New Lynn and Kelston and included Parker Ave, Great North Rd, Atkinson Rd and Daffodil St.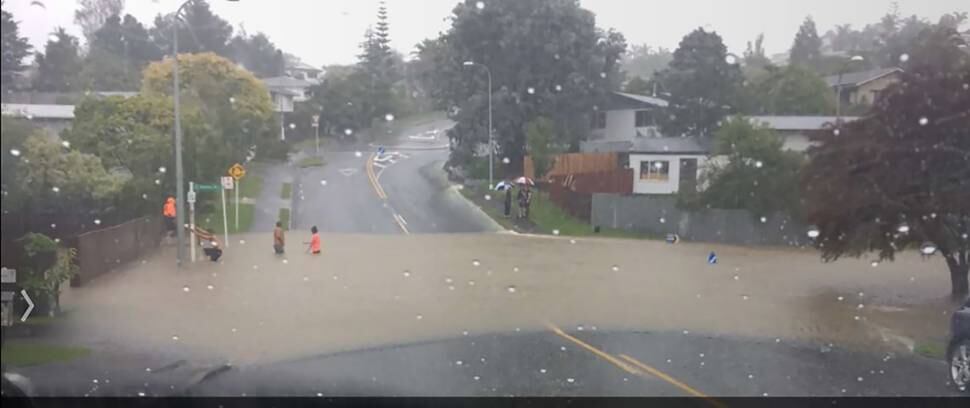 "It's a human tragedy. You can imagine the flats that are the lowest lying and most vulnerable are the cheapest and therefore they often have some of the most vulnerable people in them so there is a lot of tragedy for people who might be new migrants, uninsured, who aren't that robust anyway. So there is a lot of suffering going on in our community tonight."
Clark said the foul weather that has drenched parts of the North Island for most of the week should start to dry up. Aucklanders can expect showers in the morning that will ease for a sunny week with temperatures reaching the mid-20s.
Homes have been flooded in Auckland, with some in waist-deep water.
"There's an improving trend. Things should be looking much more fine."
Despite the bad weather there was only one major road closure on SH27 between SH26 and No 4 Rd at Tatuanui. It is now open.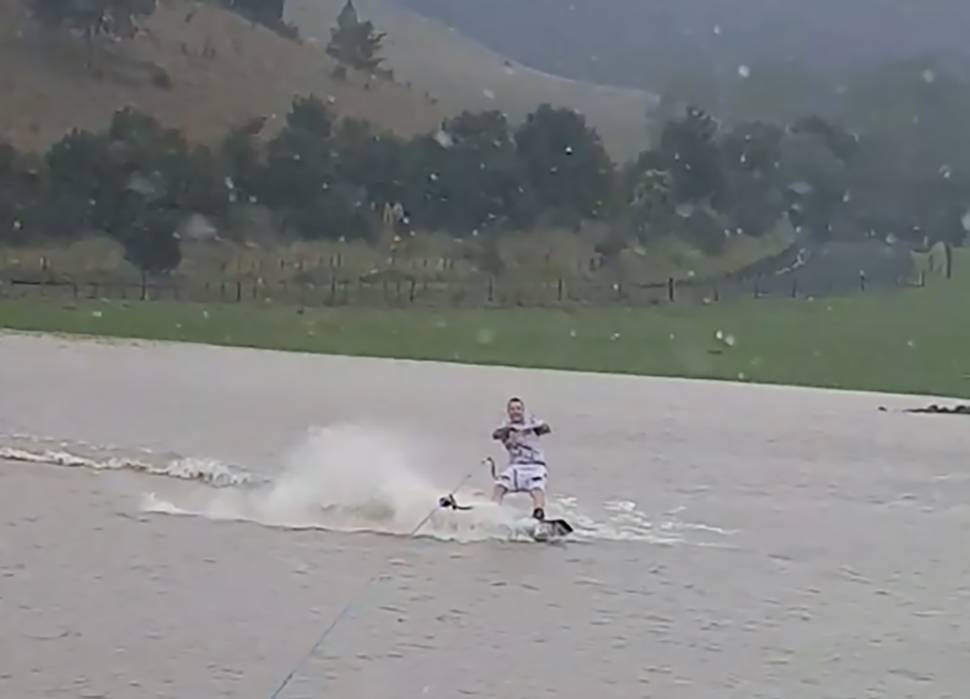 Close call in torrent for Weenie
Josh Parbery laughed when he first noticed the rising floodwaters outside his ground-level flat in central New Lynn today.
His humour soon turned to terror when the power of the water - which turned a section of Clark St, near the intersection of Great North Rd, into a fast-flowing river - burst through the exterior wall.
"My place just burst open and water started pouring through. I just panicked."
As the water rose to knee height he started moving valuables to higher ground, before remembering his pet rabbit, Weenie.
Rescue came just in time for the jersey woolly.
"She was literally drowning."
The pair made their way out the back of the flat, with the power of the mid-thigh deep water almost sweeping him off his feet, Parbery said.
He and Weenie were now homeless but would stay with his parents in the meantime.
Neighbours race to beat rising water
Brigitte Price went from an ordinary morning watching kids' soccer to a frantic race to save her Glendene home from flooding during the latest dumping of rain to strike sodden Auckland.
The mum of three lives in Barnfield Pl, where dramatic footage posted online showed water pouring down properties and into the street during today's downpours.
Price lives in a rental on a rear section near the end of the cul-de-sac and watched in shock as water flooded through her lounge and kitchen.
"One minute we were out for soccer then we were home and ... all hell broke loose. I was frantically moving things and yelling at the kids.
"It was like a tidal wave, it just kept creeping up."
Outside, a neighbour was digging trenches as the rain pelted down, efforts that prevented more serious flooding.
"It looked like we had a moat."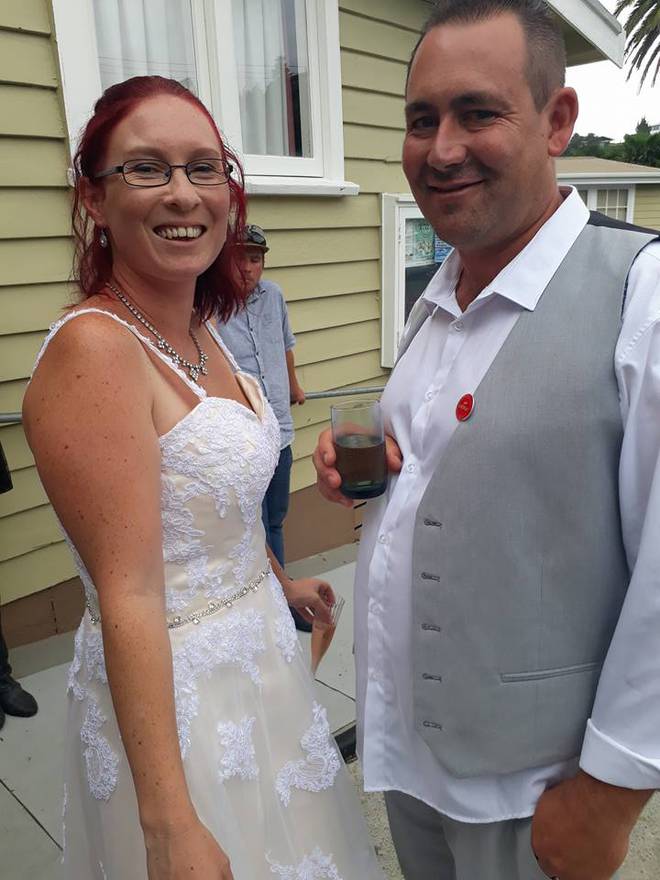 Vineyard wedding gets corked
It was supposed to be a picture perfect wedding - the venue a vineyard nestled at the end of Ohui Road in Opoutere, between the iconic summer towns of Tairua and Whangamata.

Instead, they tied the knot inside the local community hall, marooned by flooded farmland.

Nathaniel Blomfield, who recently announced he's running for Labour in this year's election, was due to marry his fiancee Mel Holmes on Saturday, after two years of planning.

"It was quite a big debate within our little household - which we couldn't leave for flooding - with my fiancee wanting to postpone and me saying we had to forge ahead," he said. "I had to get a few of her friends to help convince her."

It wasn't easy to get the wedding organised despite the floods, but with the help of everyone chipping in, the happy couple were able to pull together a wedding in three days.