An Auckland homeware store appears to have been hit by a "mini tornado" which ripped its enormous shop front sign clean off and warped its front windows overnight.
When Stephen Smith arrived for his shift at Kitchen Things on Constellation Drive in Rosedale this morning he was greeted by a "pretty horrific" scene.
The store's sign, which Smith reckoned must weigh hundreds of kilos, had come off the building's front and smashed to the road below in wild weather.
"Glass was everywhere across the car park, inside, outside, Pink Batts everywhere," he said.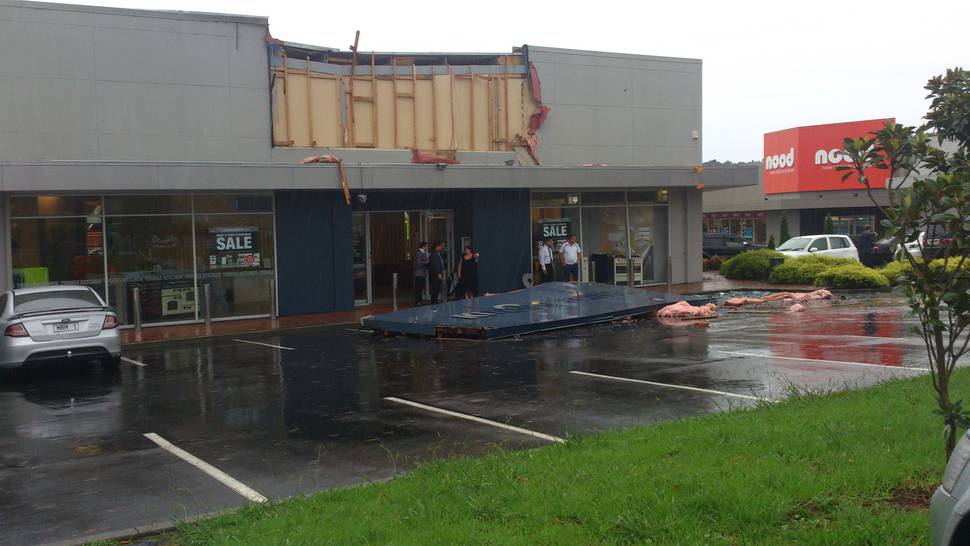 It was very lucky the sign had fallen before the shop was open, Smith said.
"It would have crushed a car."
While no one was completely certain about what had happened, Smith said there was talk the shop had been hit by a "mini tornado".
He didn't think a vehicle hit the shop, because the glass windows and their frames were warped outward, as if they'd been somehow sucked out, rather than caved into the shop.
"The sign is literally hundreds and hundreds of kilos and the windows underneath it, the frame is like it was sucked outward.
"Nothing could have hit it. The sign fell maybe 15 feet away from the window."
After helping clean up the mess, the day had gone back to business as usual he said, although customers had obviously noticed the enormous sign was not where it was supposed to be.
"Everything's been cleaned up outside now and the windows are hopefully going in already today.
"Part of the wall was actually warped forward as well, where the sign came from, but that's been mostly fixed."
Civil Defence issues high-wind warning
Aucklanders are being warned to prepare for high winds and potential tornadoes in the next 24 hours, bringing further disruption.
"There will be some breaks in the weather this afternoon so it's a good idea to use these to check your property, clear gutters and secure outdoor furniture and items," said Auckland Civil Defence operations manager Aaron Davis.
"High winds may bring trees and powerlines down. Power companies are already managing some outages and are on standby for tomorrow.
"Make sure you've got a torch handy and perhaps consider staying in tonight and avoiding roads — which may get a bit messy with debris or could be prone to flooding."
MetService meteorologist Georgina Griffiths said a small low will pass over Auckland about midday tomorrow, accompanied by potentially damaging winds and yet another burst of heavy rain.
"There is also a low risk of small tornadoes in coastal locations.
"Heavy rain and strong winds are forecast to return to the region between about 7am and 2pm, give or take.
"The worst of the wind and rain should occur around noon or in the early afternoon and localised gusts of 120 km/hr are possible."
Prepare for the worst
•
Secure outdoor furniture and items
•
Have a torch and battery-operated radio handy in case of power outages
•
Avoid travel if possible. If you must go out, drive to the conditions — look out for debris and never drive through floodwater
•
Bring pets inside overnight
•
Consider closing curtains if windows may be broken by trees or debris
•
Look out for neighbours and check on any that need help.