KEY POINTS

• A month's worth of rain fell overnight in many places — 130mm in the Coromandel, 97mm in Rotorua and 91mm in Auckland
• Auckland Cup Day races at Ellerslie have been postponed until Thursday, and the Blues curtainraiser is also off.
• Landslip on Waiheke takes out a garage
• Civil Defences asks people to avoid calling for help if your situation isn't urgent, people warned to stay off the roads
• Bay of Plenty Regional Council has opened the Okere Gates
The worst of the torrential rain is gone, but there's more wild weather to come for the upper North Island this weekend.
The main rain band which brought the downpours that lashed Northland, Auckland, Waikato, Coromandel and Bay of Plenty is now moving south to Gisborne, where it will bear down until about 4pm, MetService meteorologist Tuporo Marsters said.
MetService has issued a severe thunderstorm watch from Kaitaia to Tararua this afternoon and evening. Lightning had already struck East Tamaki in Auckland about 1pm.
Tornados may pummel coastal parts of Northland during the wee hours tomorrow, Marsters said.
"Then we go for strong winds for the top of the country from Sunday morning — into the afternoon [there's] possible severe northerlies."
Localised downpours bringing up to 40mm of rainfall per hour were also possible around the central North Island later this afternoon.
The next bout of wild weather follows a rain bomb which drenched the top of the country on Friday, continuing into this morning.
Hundreds of Aucklanders and Northlanders were without power and homes and streets flooded as emergency services scrambled to cope with the aftermath of last night's torrential downpour.
Many areas of the upper North Island were pelted with a month's worth of rain in 24 hours last night — around 130mm in Coromandel, 97mm in Rotorua and 91mm in Auckland. It comes after 240mm of rain fell in the Hunuas earlier in the week.
"It's the high country — the Taranaki to Taupo region — which will still go thorough [the big wet] to this evening. There's a watch out for them," Marsters said.
Then another band of the big wet will sweep over Tararua, Manawatu, Nelson and Marlborough tomorrow morning, triggering a heavy rain watch from MetService.
"There's possibly some thunderstorms through the middle of the North Island as well tomorrow," Marsters said.
Property damage and power outages
This morning's deluge caused landslides in Auckland and the Coromandel, with one slip taking out the garage of a Waiheke Island house.
The fire service is at the scene on Hill Rd in Palm Beach surveying the damage. The occupants are okay.
Between 60mm and 90mm of rain pelted down over the Auckland region in the first six hours of today, Civil Defence says.
A seawall on Aramoana Ave in Devonport has collapsed and authorities have laid sandbags on the shoreline to prevent more damage.
Firefighters are removing sodden and heavy ceiling which is on the verge of collapsing inside a Hargest Tce home in Mt Albert.
In the Bay of Plenty, fire crews are battling a blaze which has engulfed a caravan parked near a Papamoa house, while their colleagues mop up flooding in houses in Hairini, Omokoroa and Parkvale.
Northern fire communications manager Jaron Phillips said firefighters weren't sure how the campervan caught fire and couldn't confirm whether it was weather-related, but told the Herald no one was at the Welcome Bay Rd property when the fire service arrived.
Power has been reconnected to the hundreds of Western Springs homes affected by an outage this morning, but Vector crews are still working to restore electricity at six other outage points around the Auckland region.
Power should be back on about 2pm for the eight Northcote properties affected by a power cut in the small hours of today.
The power to 30 Warkworth homes was cut off by trees falling onto power lines caused about 8.45am. Power was expected to be back once the trees were cleared about 2pm.
Two localised outages are affecting four houses each in Avondale and Herne Bay, Vector said.
The company turned off the electricity to parts of Titirangi just before 10am so crews could repair damage to lines.
Kawakawa Bay residents will have to wait until about 10pm for their power to be turned back on after an outage which has lasted more than two days.
The rain may be easing around Auckland and Northland for now, but more wild weather is on the way.
"As the rain goes the wind comes in," MetService meteorologist Tuporo Marsters said.
MetService has lifted Northland's heavy rain warning, but has put a wind watch in place for tomorrow morning.
Auckland Councillor Sharon Stewart, who chairs the Civil Defence and Emergency Management Committee, asked residents to be patient and avoid taking any unnecessary risks.
"Be sensible, look out for neighbours and stay off the roads unless you need to. People have endured a lot already this week so I want to encourage them to hang in there for a bit longer while this weather system moves through."
Meanwhile on State Highway 25 near Whangamata, traffic is being diverted through the township because a slip is blocking the road.
Other small slips are falling onto the road between Thames and Coromandel town. Although this section of the highway remains open, NZTA said the falling debris was dangerous so road users should avoid the area.
The agency's regional performance manage, Karen Boyt, said drivers needed to take extra care as contractors clean up the slips.
"Everybody in the Coromandel should avoid getting on the roads if they can especially on the road that runs up the coast from Thames to Coromandel town."
The Bay of Plenty Regional Council has opened the Okere Gates in an effort to keep the water levels of Lake Rotoiti and the Kaituna River under control.
The river has already risen enough for the Council to issue a low level warning. But a council spokesperson said there was currently no risk of the water overflowing.
The gates are likely to stay open all weekend and commercial rafting won't go ahead.
Most of the 100mm of rain that has fallen in the last 24 hours was west of Whakatāne and into the Rotorua Catchments.
Council duty flood manager Roger Waugh said staff will continue to monitor pump stations and waterways throughout the weekend, providing Civil Defence Emergency Management and local councils with updates.
Metservice has forecast the rain to ease around midday today, but because further falls are expected tomorrow a weather warning remains in place.
Auckland's emergency services are scrambling to keep up as more and more residents call in about house floods and blocked roads.
Civil Defence duty officer Dion Anderson said crews were bracing themselves, with even more call outs expected over the next few hours.
"Emergency services are experiencing high call volumes, so if your need isn't urgent, please be patient or perhaps call a little later in the day. If you are in danger or life is threatened, call 111."
Auckland Council contractors have been working through the night to unblock storm water drains and redirect deluges away from people's homes, a Civil Defence spokeswoman said.
Crews have received 185 calls since 1pm yesterday.
About 200 weather-related calls have come in to the fire service since midnight.
The south-east Auckland suburbs of Maraetai. Beachlands and Clevedon are partically cut off as serveral main roads in the area have flooded, including Twilight Rd, West Rd, the section of All East Coast Rd from Kawakawa-Orere Rd to Waikato border.
Maraetai Coast Road is closed near Duders Beach.
Anderson urged all Aucklanders to stay home if they could and take extreme care on the roads if they had to travel.
"Never drive through floodwaters," he said
The Cup Day races at Ellerslie have been postponed until Thursday, and hundreds of people have been evacuated from a music festival in Waihi.
Tonight's Blues v Highlanders curtainraiser, which was to be played at 5pm between Aorere College and Otahuhu College at Eden Park, has been called off, but the Super Rugby clash is set to be on at this stage. If it is called off, an announcement will be made around 5pm.
Fire crews in Northland, Auckland, Waikato and the Bay of Plenty were kept busy overnight, with the fire service receiving more than 200 weather-related calls.
They've been dealing with flooded houses, basements and garages.
More than 100 of the pleas for help came from the Auckland region.
Several days of heavy rain has left the Hunua Falls a raging torrent
Problems first started cropping up in east Auckland, with flooding in Howick and Beachlands and then moving to Otara, Otahuhu, Manurewa and Papatoetoe.
In most cases firefighters have diverted water away from people's homes and garages by unblocking drains, and they've sucked water from carpets in some homes.
The east Auckland suburb of Clevedon is practically cut off as three main roads — Alfriston-Ardmore, Twilight and Tourist — are flooded.
About the only bright spot currently is that the Kumeu show is going ahead, with free entry.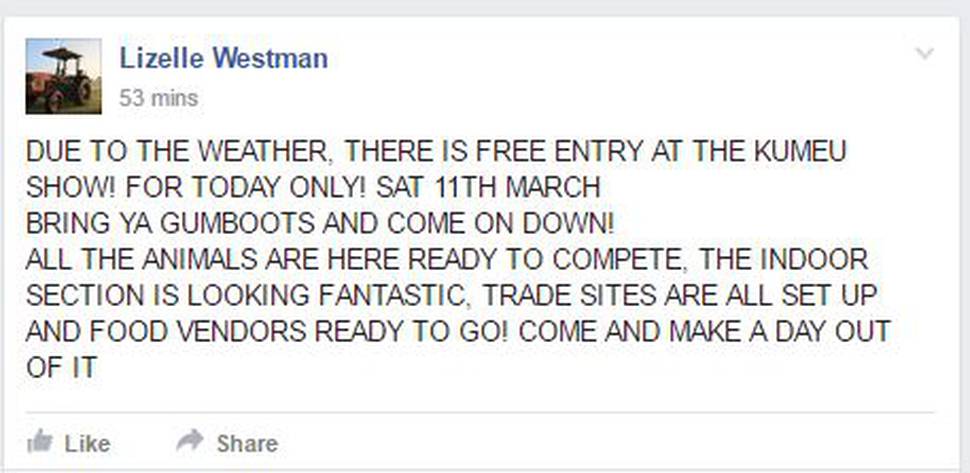 Police urged residents to stay home and avoid driving unless it was an emergency.
A person has been rescued from a car filling with water on Alfriston-Ardmore Rd in south Auckland.
They were trapped inside the vehicle, which was filling with water.
Firefighters managed to get the person out just in time — the flood is now lapping at the tops of the car doors.
The person wasn't hurt, a fire service spokesman said.
The road is completely flooded near the Brookby Rd intersection and council contracters were headed there this morning to set up cordons.
Two sections of State Highway 25, between Whangamata and Tairua and 309 Rd and Wade Rd — have also been cordoned off.
One lane is open on East Coast Rd between Kaiaua and Miranda, but Hikuai Settlement Rd in Pauanui is closed.
Two main roads in Northland are closed.
State Highway 15 is blocked by flooding at Twin Bridges. NZTA said motorists should avoid the road and use State Highway 12 or State Highway 1 instead.
State Highway 1 has been cordoned off between Church and Clough roads in Kaitaia because of a large slip and detours are in place at Awanui and Pakaraka via State Highway 10.
NTZA's Northland state highway manager Brett Gliddon said crews are out checking highways and clearing slips, debris and drains.
Drivers should avoid travelling if possible or allow for extra time, Gliddon said.
All state highways across Auckland are currently open, but NZTA said motorists should still take extra care.
The New Zealand Defence Force has sent soldiers to evacuate at least 500 festival goers stranded by floodwaters in the Coromandel.

Major General Tim Gall from the Commander Joint Forces said 10 soldiers and two trucks were dispatched from Hamilton and Tauranga at midday to rescue the remaining concertgoers attending the Sundaise Festival who were caught out by rising floodwaters.

The campers were stranded at Dickey Flat Road and the campsite in the Karangahake Gorge.

"Our immediate priority is to bring the people and their vehicles to safer ground as heavy rain and flooding continues to be forecaste for the Coromandel. We are ready to provide further assistance to communities in all the affected regions if required," Gall said.

Amphibious sealift vessel HMNZS Canterbury has a scheduled port visit to Tauranga this weekend and crew members have been placed on standby in case local authorities request further assistance.
Cellphone coverage is poor and the Hauraki District Council said concerned families and friends should call after hours service on 07 862 8609 if they're worried about a loved one in the area.
Overnight, a mini tornado struck Stanmore Bay in Whangaparaoa, sending a trampoline flying and destroying an Albany shop-front.
Between 5pm and 6pm yesterday, Auckland tied its wettest March hour on record with 27.6mm of rain.
Sunday's forecast
Whangarei:
Rain and chance of heavy or ​thundery falls until evening, strong northwesterly. High of 26C
Auckland:
Rain easing afternoon, possible thunder. Strong northwesterly, 24C high
Hamilton:
Rain, chance of heavy​ or thundery falls, eases evening. Northwesterly and 24C high
Tauranga:
Rain, chance heavy or ​thundery falls, eases evening. Strong northwesterly, 24C high.
Wellington:
Periods of rain, heavy late morning. Strong southerly and 18C high
Christchurch:
A rainy day with brisk southwesterlies and a high of 15C
Dunedin:
A rainy day with southeasterlies and a 13C high​