The truck driver who ploughed into a motorway overpass, bringing Auckland to a standstill, has been forbidden to drive for six months and ordered to pay $750.
Graham John Kennett, 66, was found guilty last week of dangerous driving when he crashed into the Southern Motorway's Penrose overpass on May 9 last year because his load was too high.
The 15-tonne digger he was transporting struck the bridge, damaging it. It came off the truck, rolled onto its side and blocked two lanes, causing widespread gridlock across the city.
At the Auckland District Court this morning, Judge Grant Powell accepted Kennett was in unfamiliar territory and that a temporary warning system at the time gave him a "very brief" opportunity to react.
But it was "almost miraculous" no one was injured.
"You simply made a bad decision."
Kennett, from Taupo, pleaded not guilty to the charge and during his judge-alone trial said because he'd been under other bridges that day, he thought his load was fine.
During the trial it was revealed Kennett had never driven further north than the airport.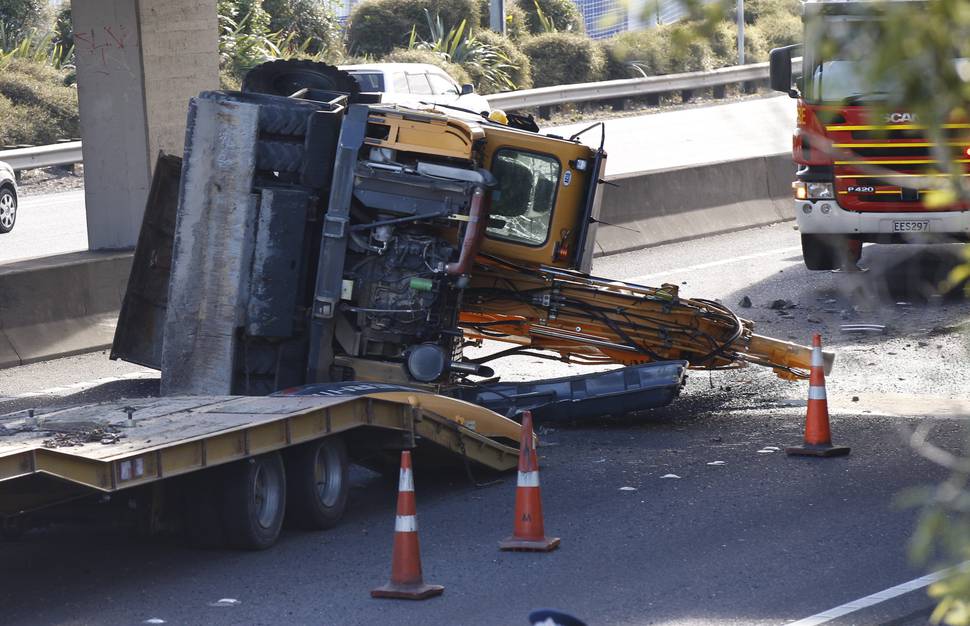 Before Judge Powell delivered his sentence this morning, Kennett's lawyer, Simon Stokes, said his client was "truly sorry" for what happened and the inconvenience caused to a large number of motorists.
"He's professional driver so he's quite frankly embarrassed for what happened."
Kennett accepted his actions and didn't try to apportion blame.
Stokes asked him to consider Kennett's unfamiliarity with the roads and that he was driving in "new territory" as a mitigating factor.
"I think it's fair to say he was outside his comfort zone."
But police prosecutor Sam McErlean said because Kennett was a professional driver he should have brought "an extra element of caution".
Stokes also asked the judge to consider that the temporary warning system in place at the time of the crash was "significantly inferior" to those before and after the crash.
There was a "certain irony" that Kennett faced a more serious charge than the other 21 drivers who had collided with the same bridge when an inferior warning system was in place.
Judge Powell said it was "no exaggeration" to say he brought a large part of the city to a standstill.
"Almost miraculously no one was injured."
He acknowledged Kennett had taken responsibility for his actions, had no prior driving offences or convictions of any kind and was of good character.
Judge Powell disqualified Kennett from driving for six months and ordered him to pay a $750 fine and court costs of $130.
THE TRIAL
At the February 17 trial, the court heard how Kennett's flatbed truck passed through a sensor beam and set off a warning sign 288m before the bridge telling him to "pull over" because his load was too tall.
But Stokes said the temporary warning system at the time of the crash was inadequate.
McErlean alleged Kennett saw the warning sign but moved into the centre lane where the bridge was highest, instead of moving to the shoulder.
Kennett admitted he saw the message but said he didn't realise it was directed at him because other big trucks were travelling nearby.
He accepted it was his job to measure the height of his load before travelling, but he said he didn't do so when he put the digger on his truck in Avondale because he didn't have any equipment.
Instead, Kennett said, he estimated its height by comparing it to the height of his cab, which he knew was 3m.
The height limit for the motorway network at the time of the crash was 4.25m and the Penrose overpass - the lowest on the route - stands at 4.41m.
The height of Kennett's load that day remains unclear, Powell said in his judgment.
However, police officers who examined the scene estimated it was more than 4.53m tall.
A man who was driving in the right-hand lane next to Kennett when the smash happened told the court he remembered hearing "an almighty bang".
"I was thinking in my head straight away, do I stay or do I go. I just accelerated through everything," the witness, Hayden Bishop, said.
The court was shown videos of the overpass strike from different angles.
The bright yellow digger could be seen slamming into the overpass in a cloud of dust as the machine tumbles onto the road, narrowly missing Bishop's car.