When Charlotte Hamilton came off her bike, she instantly knew it was bad.
The combination of the way she landed, the tingling in her arms and the fact she couldn't feel her legs set alarm bells ringing.
Miss Hamilton said doctors have commented the quick action of the first response unit, based in the Whakarewarewa Forest, that could have saved her from more serious injury — or being paralysed.
Miss Hamilton is sharing her story in support of the unit — which is looking for funding after the initial trial funding from ACC has almost run out.
Following her accident in mid January Miss Hamilton spent three weeks in hospital, underwent surgery to have two rods and five screws placed in her back, and had three vertebrae fused together.
She said doctors have told her if she hadn't been treated so quickly by qualified staff, and if someone had tried to move her, she could have been paralysed.
She is one of the dozens of people the new patrol has treated.
Miss Hamilton's accident happened in the Whakarewarewa Forest on the grade three track, Old Chevy. She came over a nasty grade five jump without realising the level of the jump — and "hit the other side head first".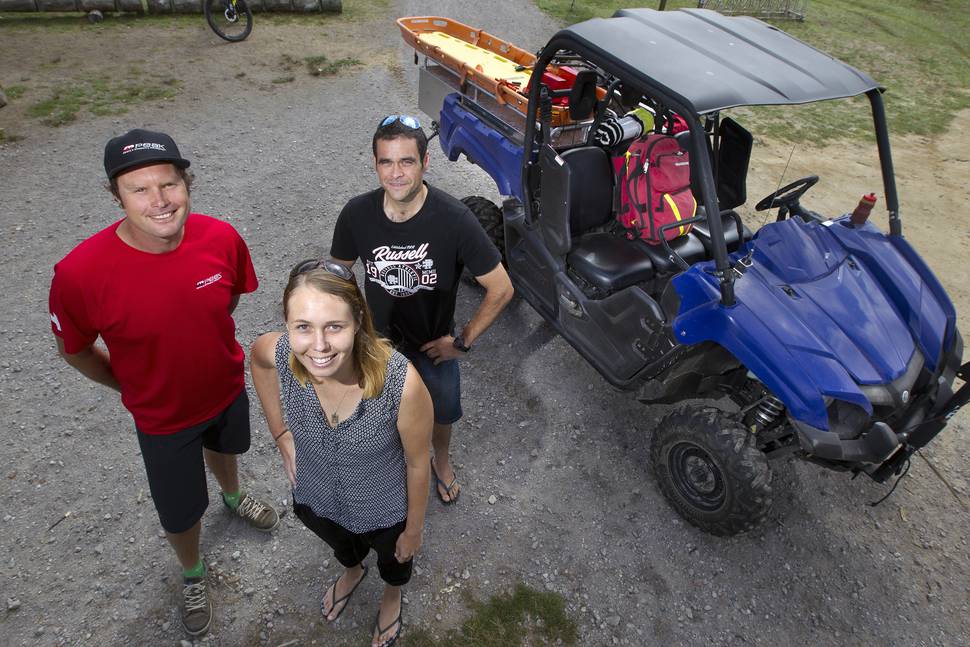 "I knew straight away it was bad."
Riding partner Todd Scanlon called 111 but said he found it difficult when it was clear operators had no idea where the pair were — and asked him to leave Miss Hamilton to find GPS markers at the start of the track.
"I was screaming ' don't leave me'," Miss Hamilton said.
Mr Scanlon said he remembered the first patrol unit — and rang through to them via Mountain Bike Rotorua.
He said they had found the pair extremely quickly.
Patroller Nick Morrison said from the call they knew Miss Hamilton's injuries were serious and were able to grab another person on the way in to help.
After a quick assessment Mr Morrison said it was obvious they were dealing with a serious spinal injury — and they were able to get her on to a backboard and to Waipa to meet a rescue helicopter — which then flew her to Rotorua Hospital.
The recovery since the January 18 accident has been long, and in the beginning even getting up and walking around was a major task, but Miss Hamilton said she knew the outcome could have been much different.
Erin Eggleston from the Rotorua Mountain Bike Club said the patrol had been called out to help a range of people varying in ages with as many Australians treated as Rotorua locals.
He said the majority of incidents were on mid-grade tracks and there hadn't been the expected rate of crashes on "gnarly" tracks.
"It has been intermediate riders on intermediate tracks."
Miss Hamilton's crash happened on a feature that was "out of character' with the grade of the track and there had since been signage upgrades because of it.
Me Eggleston said it wasn't a cheap service to run, and they'd almost used all of the initial funding ACC had given them for the pilot programme.
He said they were now looking for more providers to come on board.
The Mountain Bike Club had raised nearly $80,000 to provide the first response including the purchase of a vehicle that can carry a stretcher, as well as $12,000 worth of first-aid
The first response service had previously been provided by Mountain Bike Rotorua on a voluntary basis but the funding was used for professional responders.
Since Waitangi weekend it has been operating on weekends and school holidays. Mr Eggleston said they had made attempts to save money by having one patroller with Mountain Bike Rotorua providing a trained staff member on site at all times to help out.
"We are a club trying to provide a professional service."