A Tauranga woman who has battled for justice for more than six years finally saw her attacker admit guilt in court today.
Tamsin Trainor, who took a private prosecution against the man who attacked and tried to strangle her, was in the Tauranga District Court when Neihana Rangitonga pleaded guilty to a charge of injuring with intent to injure.
On the day of the attack in July 2010 the pair struck up a conversation on a bus.
After getting off the bus the pair walked the short distance to Willow St where they went their separate ways.
However they bumped into each other twice over the course of the evening and later agreed to walk to Wharepai Domain to share cigarettes, wine and drugs.
While they were talking, smoking cigarettes and drinking wine, Rangitonga punched the victim several times in the head and put his other hand around her throat. Ms Trainor tried to fight back but eventually blacked out.
By the time she came around he had left.
She sustained multiple abrasions and bruises to her face and head, severe bruising to her neck and throat area, and had burst blood vessels in both eyes and ears.
After the attack the Crown charged Rangitonga with wounding with intent to cause grievous bodily harm and one count of rape, but dropped the wounding charge to enable the jury "to focus" on the rape allegation.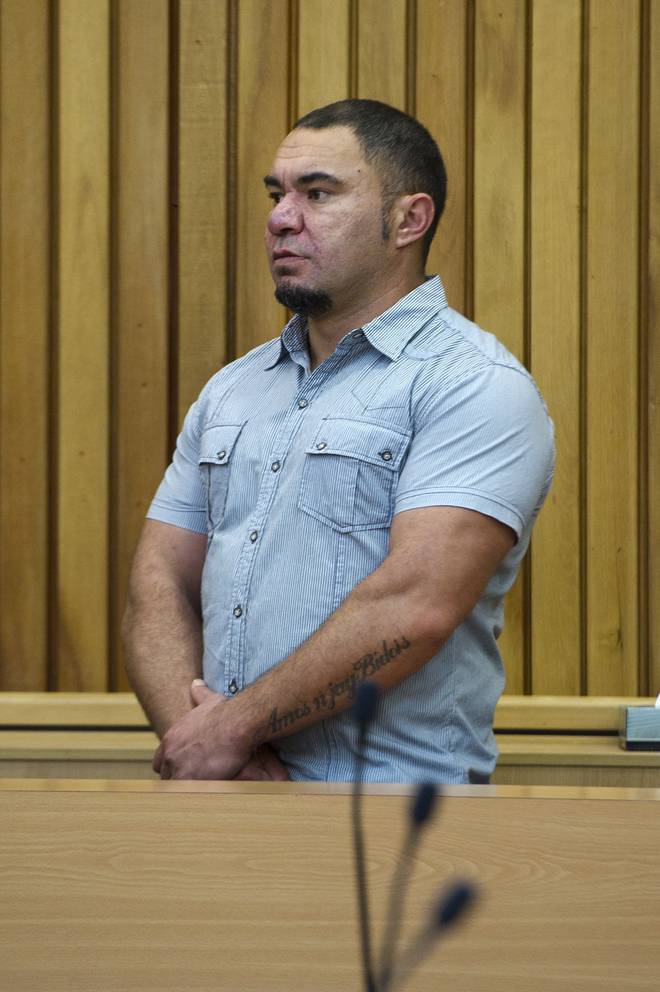 Rangitonga was acquitted and the Crown refused to re-litigate the wounding charge after seeking legal advice from the Crown Law office, which left some police officers outraged.
In a leaked internal memo officer-in-charge Detective Senior Sergeant Darryl Brazier, wrote: "I believe it was clearly the wrong decision ... This has resulted in a violent [offender] walking free from the court."
In 2014 Rangitonga went on to abduct an intoxicated woman from the Mount Maunganui Burger King drive-thru, tried to force her to have sex and threatened to kill her.
This victim managed to escape by jumping from his car. Rangitonga pleaded guilty to the attack and was jailed for four years in June 2014.
Soon after the initial court case Ms Trainor began her fight for justice and wrote to the Solicitor-General asking for a new wounding charge to be laid.
The Deputy Solicitor-General declined her request saying although it was technically possible, Rangitonga could use several legal avenues to get the charge dismissed.
But in 2014 the Tauranga mum finally won the right to take a private prosecution against Rangitonga.
Yesterday she got justice.
"It's been a bloody nightmare and other people would possibly have given up a long, long time ago," she told the Bay of Plenty Timesafter the guilty plea.
The emotional toll on her and her four children aged 3, 5, 7 and 8 years had been "enormous". She suffered from post-traumatic stress disorder and turned to alcohol to try to cope.
When asked whether she could move on from this, Ms Trainor, who is due to give birth to her fifth child today, said it was far too early to say.
"This has consumed my life for so long, almost seven years out of your life.
"I will really have to see what happens to him when he is sentenced, but I think this will always be with me for the rest of my life," she said.
Shannon Parker, who runs the New Zealand Police Complaints Association and lodged the private prosecution on behalf of Ms Trainor, said they would not have been successful if it were not for the "thorough and flawless" police investigation.
"I feel huge relief for Tamsin, but we have all fought long and hard to get to this point," she said.
Judge David Cameron yesterday convicted Rangitonga and remanded him in custody for sentencing on April 10.
A police communications spokesman said it was not appropriate to comment on a private prosecution matter.
The Bay of Plenty Times also sought comment from the Solicitor-General but a spokesman from his office said it was not appropriate to comment as Crown Law did not have any involvement in the case.