A woman said she heard people fighting and a man crying in a nearby house before five people were shot in a gang-related incident in Whangarei last night.
Police were called to a rental property on Clark St, Kamo, believed to be occupied by a gang member, about 10.30pm after five people were shot.
Area Commander for Whangarei/Kaipara Inspector Justin Rogers confirmed those involved in the incident were linked to gangs.
Northern Advocate reporter Mikaela Collins said police had cordoned off a house at 53 Clark Rd and the driveway of the neighbouring 55.
A woman said she heard people shouting, fighting and a man crying last night so she called the police. She said the occupants had not been at the address long.
Four of the injured people were found on the property and the fifth on a neighbouring property. Other neighbours said they heard a commotion last night, but didn't think too much of it as there was often plenty of noise coming from the house.
An employee at a Mobil petrol station that backs on to Clark Rd said his colleagues saw people shooting at each other from cars yesterday evening.

He said the group were on an empty section behind the Kamo Rd shops where the petrol station is.
A resident, who did not want to be named, said she did not hear any gunshots, but plenty of noise coming from the house. She said the house was known to have loud parties and the occupants or their friends often did burnouts on the street.
Another Clark Rd resident said he believed the shooting started near the Kamo Vets on the corner of Carlton Crescent and Kamo Rd.
He said the Kamo Rd end of Clark Rd was blocked off by police this morning.
One resident, who was not at home last night, said as soon as he heard there had been a shooting in the street he said he ''knew straight away" where it had happened.
He said the street was normally fairly quiet, but the house where the shooting happened was the exception with people coming and going throughout the day.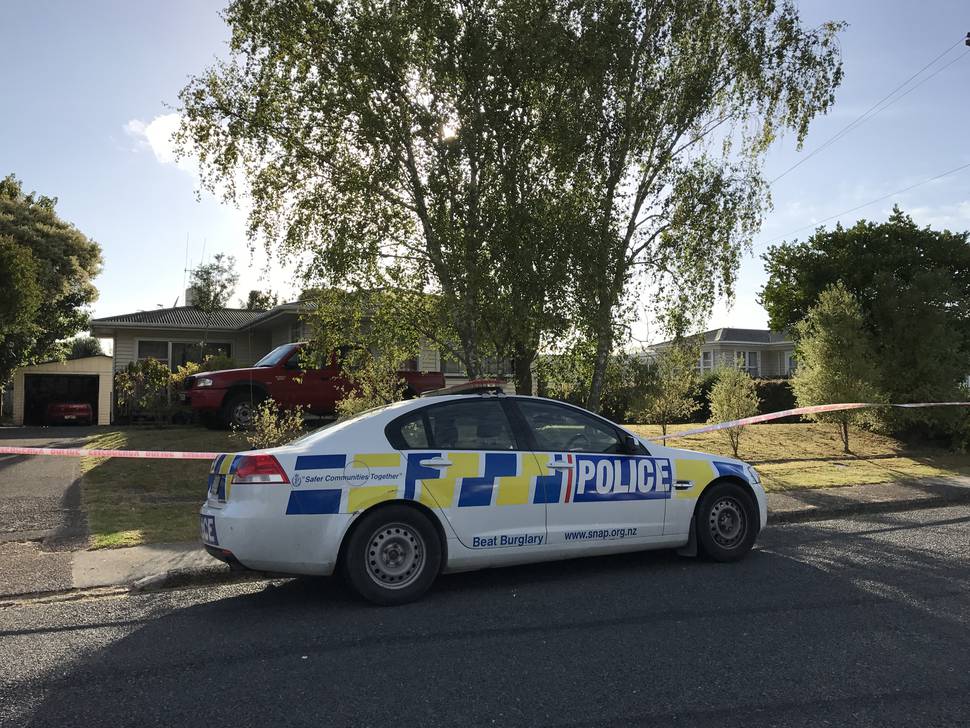 Four men, aged between 21 and 33, were taken to Whangarei Hospital with serious injuries and underwent surgery. They are all now in a stable condition and one man is likely to be discharged today.
The fifth person has since been flown to Auckland Hospital in serious condition and is undergoing surgery today.
Whangarei Police are continuing to maintain a presence at the hospital, said inspector Rogers.
"Whangarei Hospital functioned as normal in response to this incident, with no risk to patients or staff. The hospital was not required to call in extra staff to respond to this incident.
"From the time police were alerted to this incident there has been an increased police presence in Kamo and at Whangarei Hospital. This will continue throughout the course of this investigation.
"We acknowledge that incidents like this are alarming to the community, however we are confident that this was not a random incident. We want members of our community to continue to go about their business and to know that they can call us at any time."
Detective Senior Sergeant Dene Begbie said police are speaking to people involved.
"A scene guard has been in place overnight and an examination will be carried out today."
Whangarei Mayor Sheryl Mai said she was dismayed to hear about the shooting.

"We feel for the families, friends and community of the people caught up in this. The police are managing the situation and I don't expect to have any information until later today."
Sally Wilson, principal of Kamo Primary School, which is near Clark Rd, said she was aware of the shootings but there was no immediate concern.
"At this stage all children are at school, safe and present. It's a very safe and happy day."
Anyone who witnessed anything of interest is asked to contact Whangarei police on (09) 430 4500, or give information anonymously via Crimestoppers on 0800 555 111.
Whangarei shootings:
• John Henry Harris, known as John Boy, died after being shot in the chest, north of Whangarei last October. The 37-year-old was a patched member of the Tribesman Motorcycle Club.
• Moses Noor Mahanga, 25, a Head Hunter gang member, was fatally shot in Otangarei, also last October.
•A man shot at Whangarei police on August 26 last year.