A simmering internal gang dispute over a vehicle may have been the catalyst for a shooting that saw a Northland man die from a gunshot wound to the chest.
Police yesterday released the name of the 37-year-old Far North man who died in an ambulance after being rushed to the St John station on Western Hills Dr by two others about 6.40am on Tuesday.
John Henry Harris, known as John Boy, from Horeke, was a patched member of the Tribesman Motorcycle Club. A post mortem completed in Auckland showed Mr Harris died of a gunshot to the chest.
Head of the investigation Detective Inspector Kevin Burke said based on police inquiries so far they believed the shooting was gang-related and for that reason did not believe there was any ongoing risk to members of the public.
"Identifying and locating the person or persons involved in this incident remains our number one priority," he said.
"We have persons of interest we are seeking to locate. This is an investigation clearly involving gang members and co-operation is not immediately at hand."
It is the fourth gang-related death in Northland this year.
Mr Burke said Northland like any other region in New Zealand had gang issues and police in the area were having ongoing talks with the gangs concerned.
He said two people who were present when the latest shooting happened had taken Mr Harris to get medical attention and they stopped at the St John station. Mr Harris was loaded into an ambulance but died.
Mr Burke confirmed the latest gang shooting was not related to the fatal shooting of 25-year-old Moses Noor Mahanga, a Head Hunter gang member, in Otangarei two weeks ago. No arrest have been made in that investigation.
"They are totally different incidents," he said.
As a team of specialist police staff and forensic scientists focused on two properties police called for public help on sightings of two vehicles on Tuesday morning.
The first is a red 2007 Holden Commodore, registration JCS248, that police believe was towed from an address on Hassard Street, between 3am and 6am on Tuesday.
"The vehicle was resting on two wheels of its own as it was being towed along."
The second vehicle that was involved was a black 2011 Holden Commodore, registration FZC162.
It was found on fire at Lovell Rd in Ruatangata just after midday on Tuesday.
"These vehicles have been in and around Whangarei and we want any sightings to be reported to us."
Police renewed calls for any members of the public who may have witnessed a group of men gathered in the Whangarei or Kamo areas in the early hours of Tuesday morning to contact police.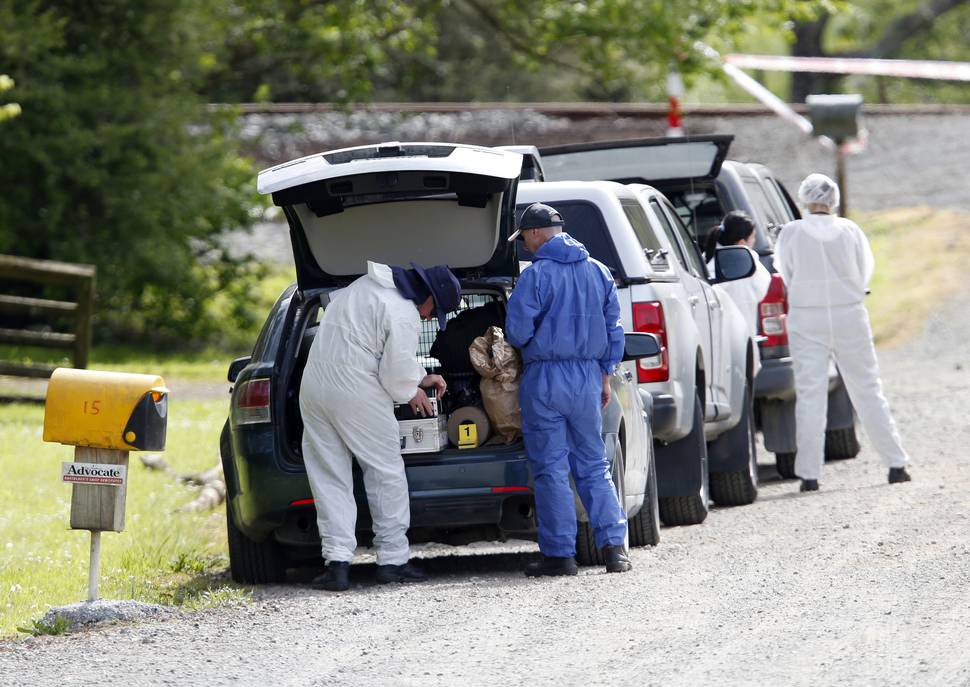 Both properties undergoing police scrutiny remained under close watch yesterday. A house and vehicles in Mower Rd, near Piano Hill, were undergoing forensic examination with another property at Hassard St also to be examined.
Anyone with information can contact Whangarei Police on 09 430 4500 or Crimestoppers anonymously on 0800 555 111.