After three days of worry and waiting, Port Hills homeowners have this afternoon been allowed to return to their smouldering homes that have burned to the ground.
Distraught residents of fire-ravaged Worsleys Rd are allowed back to visit their destroyed homes. Tristram Clayton was there with them when they discovered the extent of the damage.
"Our family home for 20 years, it's all just gone," Simon Grace told the Herald today as firefighters used hoses to dampen hot spots in the destroyed Worsleys Rd home.
The Grace property overlooking Christchurch has been reduced to charcoaled rubble, twisted burnt metal and shards of glass.
Nothing is salvageable.
All around it, Cecile Grace's tendered garden remains a puzzling oasis of green.
Yet, their house is gone. Along with all of their possessions including cars and motorbikes.
But Simon said it's the things you can't replace - photos, sporting trophies, family "treasures" - that hurts the most.
"It's not easy. It's not till you see the extent of it with your own eyes that it really hits you."
Simon, 27, said it's been a tough five years for the family. Father Russell passed away in 2011 and their home was damaged in the 2010/11 earthquakes.
Today he felt frustrated that their three-storey home couldn't be saved.
"It was too late by the time firefighters got there."
Several other homes have also been lost on Worsleys Spur.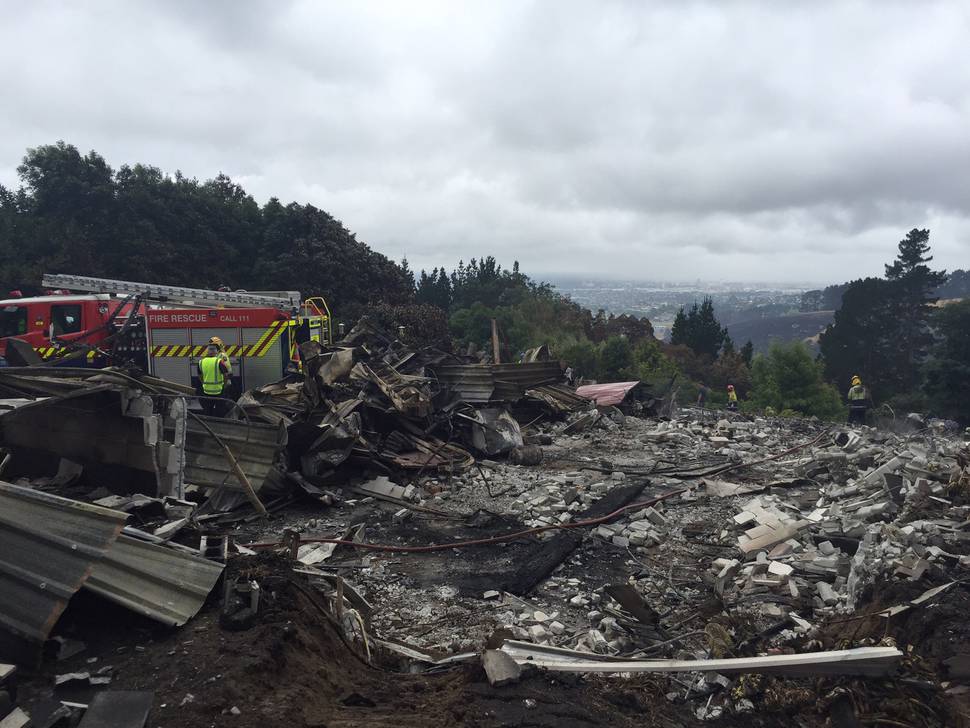 However, firefighters did remarkable work to save many more from succumbing to the ferocious inferno, which suddenly became more vicious and unpredictable after a wind change on Wednesday afternoon.
Christchurch city senior station officer Mark Elstone firefighters were battling the blaze on one front, when it raced up a valley behind them, nearly cutting them off.
"It just roared up here, it was like a train," Elstone said.
Using hoses, they somehow managed to save a sprawling mansion property downhill from the Graces.
Flames engulfed a forest plantation just 20m from the property.
Today, the white walls of the house had scorch marks from flames.
It enveloped a glasshouse just 1m from the house. All around it was scorched earth, which was still smouldering, smoking and being dampened down by firefighters.
Elstone said a tennis court at the front of the property acted as a firebreak and probably helped save it.
"It was very fast moving and unpredictable, but it's great that we could help save some of these properties," he said.