When Albert Pita discovered 170 "freshly dumped" flounder in a Northland stream used as a drinking water supply he was "disgusted".
The Whangaruru local was going on his usual 5km walk early last week when he looked over the bridge, on the saddle at Russell Rd, and saw 170 flounder in the stream.
"I was walking along breathing in the fresh air, and then to look over and see that, I was disgusted.
"They were freshly dumped there. There was a whole lot of guts in there too. They've obviously cleaned them. They're just to lazy to dig a hole," he said.
Mr Pita said the fish were in a fresh-water stream about 2km to 3km from the coast.
"They had to be dumped, they can't wash up that far."
Mr Pita said he alerted the Ministry for Primary Industries (MPI) to the fishy find.
Stephen Rudsdale, MPI fisheries compliance team manager for the upper North Island, said whether the fish were dumped or discarded was still being investigated.
A person found guilty of dumping could face fines of up to $250,000 whether recreational or commercial. However, there were various levels of offending and a variety of penalties for lesser charges.
It was difficult to comment on this particular case as inquiries were still ongoing, said Mr Rudsdale.
"There is nothing to suggest the fish are from a commercial source. We don't believe it is a commercial fish dumping incident, given the location of the fish," he said.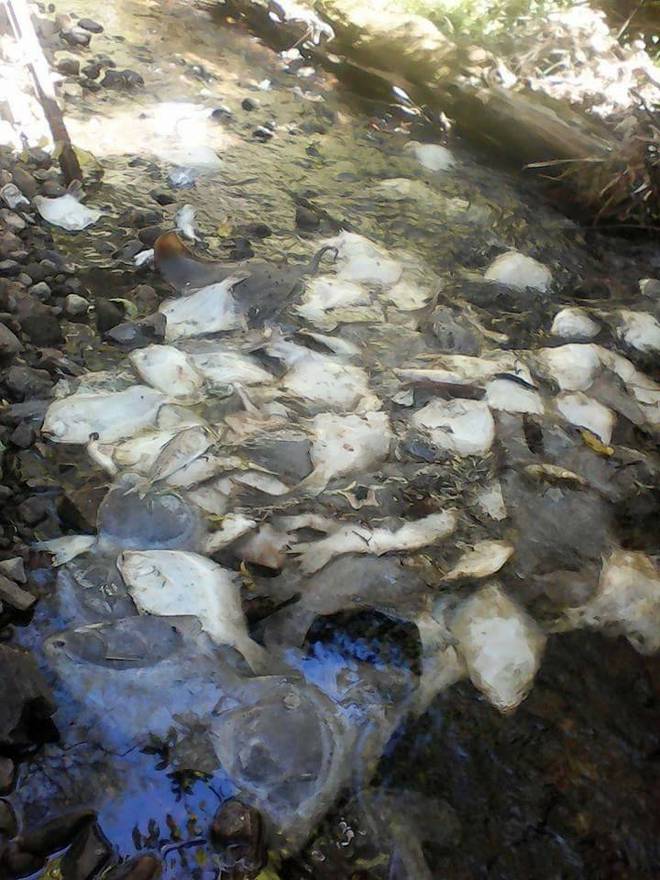 Shane Housham, co-owner of Northland Dive, which is based on Russell Rd, said that after Mr Pita alerted him to the fish, a group moved the flounder on to the bank.
He said Northland Dive sometimes used water from the stream to clean boats, and used it as drinking water on odd occasions. Other residents also use the stream water for drinking water.
"There was 170 flounder that we pulled out of the stream. We're pretty annoyed. The Whangaruru Harbour is not a big harbour and taking that much is not good for resources."
Mr Housham said it's not the first time marine life had been left there. A few weeks ago sharks and stingrays were found in the same location, he said.
Northland Regional Council (NRC) waste and monitoring manager Joey McKenzie said the council had only recently been made aware of the dumping.
He said any impact on water quality resulting from the dumping may no longer be present because the fish were removed from the water more than a week ago. However, the council would be inspecting the site.
He said disposing of waste (including plant and animal waste) to, or close to, fresh water could be an offence and asked people to report these finds to the NRC's 24/7 environmental hotline on 0800 504 639.