A helicopter pilot has died while fighting wild fires in Christchurch's Port Hills, while helicopter crews will continue to fight two fires until nightfall tonight.
Superintendent Lane Todd, Canterbury Metro Commander, said the helicopter crashed just after 2.30pm in the area above the Sugar Loaf carpark, while battling fires which have a combined area of approximately 580 hectares.
"The helicopter involved in the crash was involved in the emergency response to the fires in the Port Hills area.
"Police are not in a position at this time to release details of the victim as the process to inform next of kin is still ongoing."
He said police and the Civil Aviation Authority will be investigating the circumstances surrounding the crash.
A CAA spokeswoman confirmed the pilot of the helicopter was the sole occupant on board.
The authority had earlier suspended all flights in the area - including all flights that were helping fight the Port Hills fire.
The identity of the pilot has not been revealed by authorities.
Christchurch mayor Lianne Dalziel said in a statement: "There really is no greater sacrifice than to risk your life in the service of others.
"I know I speak for the whole Council when I express sincere gratitude to everyone who is doing their best to get these fires under control. Our thoughts are with you all.''
A man who saw the wreckage told the Herald the helicopter "looks pretty damaged" and upside down.
He said there were fire trucks, police cars and rescue helicopters at the scene.
He saw a stretcher being carried, but there was no body on it.
Members of the public are paying tribute to the deceased pilot, calling him a hero who was just out there doing his job.
Many are expressing their thoughts and prayers for his family, on social media sites.
One man wrote: "Rest in peace to this hero who literally put his life on the line to help our city and our people put this fire out. So sad.''
Another said: "RIP to the amazing man helping to fight the Christchurch fires [whose] helicopter sadly went down. Thoughts are with your family at this time.''
Douglas Marshall, principal rural fire authority officer at the Selwyn District Council, said the accident was a tragedy.
"Firefighting is difficult and dangerous work ... our thoughts are with the deceased [person's] family at this time.''
He said it was possible a number of pilots involved in helping to douse flames would want to stand down following the accident, and authorities were respecting that decision.
In a statement, Selwyn District Emergency Management said the Marley Hill fire remains contained, although ground crews are monitoring activity along the Summit Rd.
The other fire at Early Valley is also contained, but there are some spots of fire burning downhill from the ridgeline above Governors Bay and Allandale.
Helicopters will continue to operate until nightfall tonight and from first light tomorrow.
The area of both fires combined as estimated at about 580ha.
Three ground crews will patrol the Early Valley fire, and a fourth crew will patrol the Summit Rd area. People are advised to stay well away from the area.
St John spokesman Ian Henderson said they sent an ambulance and Westpac Rescue Helicopter to the crash site but the person was dead at the scene.
Former All Black captain Richie McCaw has been involved in the fire-fighting operation, transporting fire service personnel.
He is not involved in the crash, his agent Dean Hegan confirmed.
Through tears, a woman who answered the phone at Christchurch Helicopters, where McCaw is a shareholder and worked for the past two years, said it was not one of their choppers.
However, she referred all calls to police.
Up to 15 helicopters, a plane, rural tankers, a Defence Force tanker and 100 firefighters have today been battling two massive wildfires on the edge of Christchurch.
The destructive blazes have raced over 700ha since erupting yesterday evening in the Port Hills.
Firefighters have focused on preserving the historically significant Kennedy's Bush nature reserve and an adventure park.
The Selwyn District Council said the Early Valley Rd fire had crossed Summit Rd overnight and was being fought from the air. Crews on the ground were focusing on trying to bring the fire under control and protect buildings and land.
The Marley Hill fire was threatening buildings and the Christchurch Adventure Park, which boasts the country's longest chairlift.
The council said a drop in humidity levels could worsen the fire risk, giving rise to fresh fears for those fighting the fires. A forecast wind change early this afternoon was also causing concern.
One home had been destroyed and another slightly damaged, but residents from two dozen homes were evacuated to Tai Tapu School overnight.
Fire Service Canterbury area commander Dave Berry said a strong wind meant all resources were focused on attacking the fire from the air.
Port Hills resident Peter Darling said he only had enough time to grab important belongings and shift his herd to safety before flames forced him out of his property.
"We've been on tenterhooks all night. Our house is still surrounded by fire but it's still standing.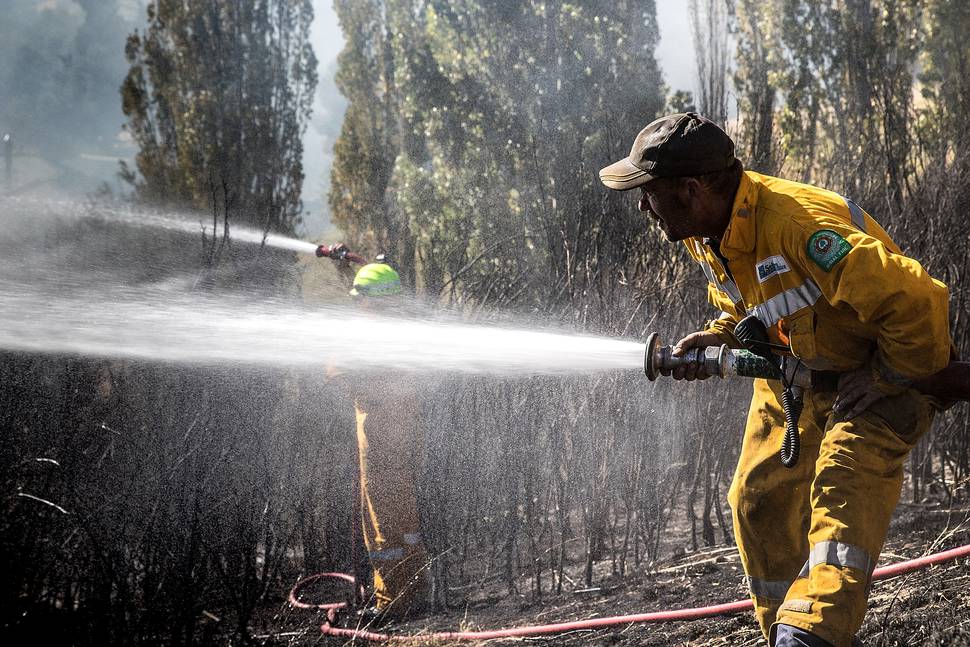 "I had 130 cattle up there as well. I was given a little bit of time to move [them] down to lower grounds, which we managed to do and they're all safe."
Darling spent the night at a friend's home.
"We were back here at 4.30am so I didn't get much sleep."
He said there were initial concerns for people still in the fire path but once everyone had been evacuated it was a waiting game while firefighters battled the blaze.
Meanwhile in Hawkes Bay, firefighters have controlled all five fires burning in the region.
The Hastings district was in a state of emergency yesterday as fires, fuelled by strong winds, burned across the region.
Eight helicopters and more firefighters joined the fight this morning and the biggest blaze at Waimarama Rd, which destroyed at least one home and forced 10 households on Craggy Range Rd to evacuate, is now largely contained.
The Waimarama fire came terrifyingly close to a home.
By lunchtime the council said there was now a limited threat of the fire spreading any further. It was now travelling very slowly and the threat to homes was "significantly reduced".
Fires in Colin White Rd and Endsleigh Rd were also contained but being monitored.
- Additional reporting Christchurch Star