''Krazy Kerris'' Browne felt fine when she crossed the finish line of the 102km Tarawera Ultra after nearly 20 hours' running. Shortly after, she collapsed and stopped breathing.
The well-known local runner, who formed the group Jogging the Power Poles to get beginners running, told the Rotorua Daily Post she felt prepared for Saturday's race.
"It was very hot out there; people got pulled out with kidney issues, dehydration," she said.
"But I knew it would be tough, so I hydrated very well going into it."
Around the 70km mark Mrs Browne changed her shoes and picked up the pace.
"In my new shoes I felt like I was running on a cloud and did a little dance as I went," she said.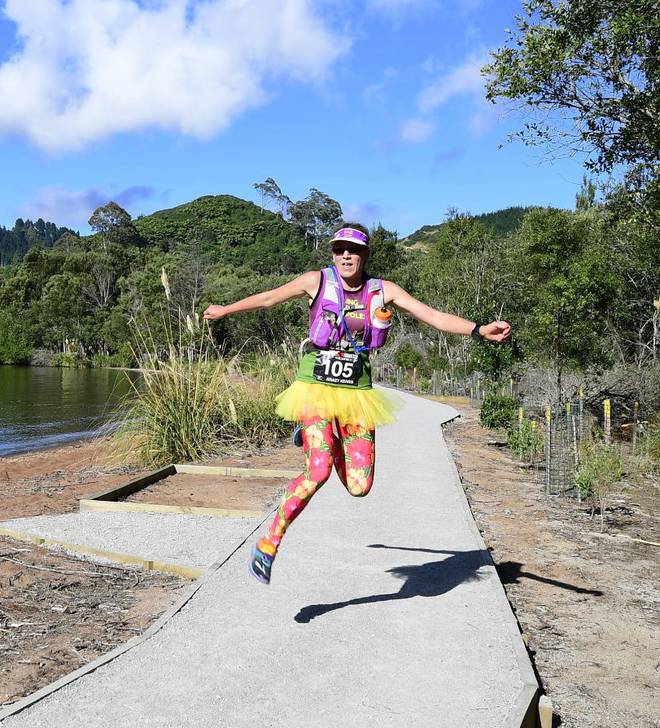 However, about 5km down the trail her feet began to tingle.
"I loosened my shoes thinking they were just too tight, and got through the next 20km with lots of Panadol," she said.
Telling herself to "harden up, cupcake" she enjoyed the last part of the race in the dark.
"We found weta and sang with the owls," she said.
She finished about 2am, in a time of 19 hours, 44 minutes.
"I felt fine at the end, but when we got to the car I nearly fainted."
Suspecting it was blood pooling, Mrs Browne made the drive home with her "excruciatingly painful" feet elevated in the back of the car.
"When I got home, I collapsed in my driveway and apparently I wasn't breathing," she said.
"Luckily my friend Angela, who is a nurse and was a medic at the event, was there.
"She resuscitated me and I toddled off to hospital."
With no idea yet what caused the incident Mrs Browne is now home and feeling incredibly lucky.
The 102km race was the furthest she has run, and looking back on it she said "everything went to plan".
"I was so well-hydrated; the rest of my team smashed it, it just wasn't my day."
Pleased to have a medal which says 102km, Mrs Browne now wants to figure out the cause of her collapse and how she can prevent it next time.
Paul Charteris, founder and organiser of the event, said he was pleased with how the event went.
Despite not yet having the statistics, Mr Charteris said he thought the completion rates this year were much higher than previous years.
"What I've heard from the medical team is there were fewer accidents," he said.
"People came better prepared."
Mr Charteris said medical incidents were usually low for an event like this, but doctors, nurses and medics were all on-site should anything happen.
"It's all about being prepared. The important thing is to look out for yourself, and for your fellow runners."
Rotorua Hospital was unable to provide details of the number of people seeking medical treatment during or after the ultramarathon.