New Zealand's new Prime Minister has attended his first Big Gay Out - but made a much quieter appearance than his predecessor.
Bill English - who in 2012 voted against legalising gay marriage - arrived at Coyle Park in Pt Chevalier this afternoon for the event which celebrates the lesbian, gay, bi-sexual and transgender communities.
He was dressed in a light blue casual shirt - in contrast to John Key's bright pink number last February.
He spent about half an hour taking selfies with the crowd, and visiting stands including one for a HIV drug prep, before doing a media stand-up to answer questions on issues from today.
But he didn't follow in Key's footsteps with the obligatory photo with a drag queen.
And he stayed clear of the stage, unlike Key who appeared to cut short his speech at last year's event as he was drowned out by a group of about 30 protesters yelling anti-TPP slogans.
Pink glitter was also thrown at Key.
When asked by reporters why he chose not to speak today, he said: "If I go to community events, I don't speak if I don't need to. It's a Sunday, people are enjoying themselves, there's plenty of opportunity for political discussion and also the technical discussion around the health issues related to the community.
"I was at an event before this . . . I didn't speak there. People want a day off politics."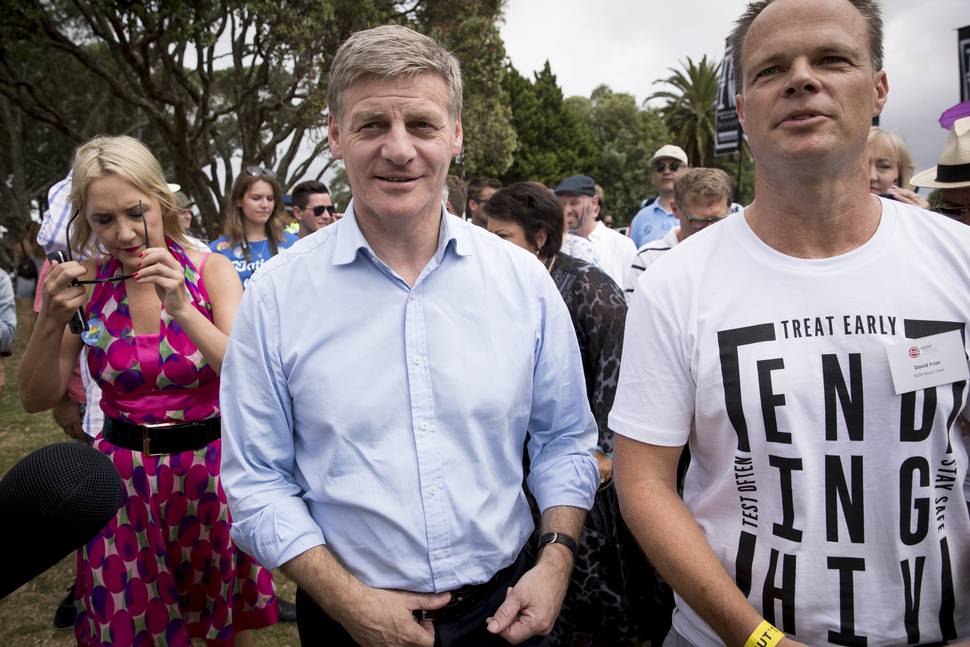 When told his predecessor had spoken at the event previously, he said: "I'm a new Prime Minister and I do it a bit differently."
He was asked if he expected to get a mixed reception given he voted against the legalisation of same-sex marriage in New Zealand in 2012.
"No, I think it's a broad-minded, broad-based community with a whole range of political views but you'd expect some criticism, just like I would going to any part of the community," English said.
"There are people who don't like the Government or don't like the Prime Minister or whatever. Actually today, everyone's been very polite and welcoming."
In December, during his first press conference after being selected as National Party leader, the "active Catholic" said he would vote in favour of same-sex marriage if another vote was held, saying he has witnessed the positive impact it has had on gay couples in New Zealand.
"The law has passed, people are getting on with their lives," he said today.
"Everyone seems pretty happy about it. There is no particular reason to try and change what's a working arrangement that New Zealand has gone along with."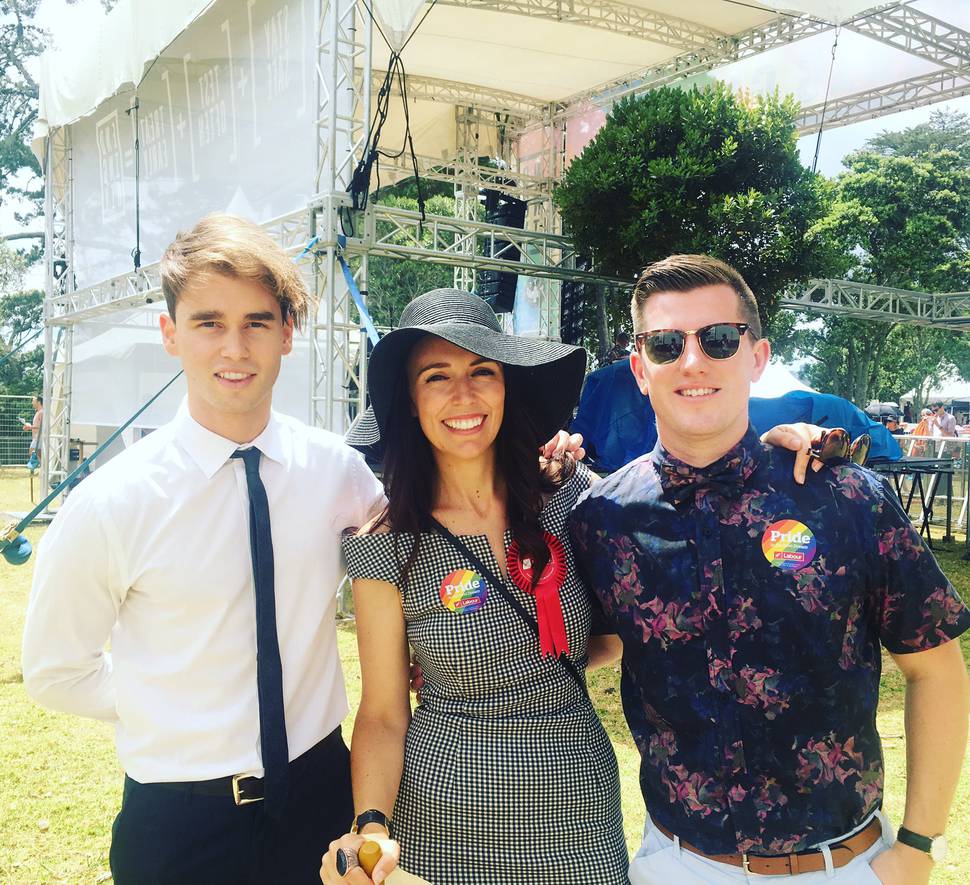 When asked why he was so opposed to gay marriage, he replied: "We could go into a long, complicated argument about that. The law's operating and it's working.
"I don't see it as a moral U-turn. As I say, we could have a long complicated argument about that."
He was also quizzed over the lack of funding for prevention and research of HIV.
"If we saw some significant uplift in some of these debilitating health problems, then I would expect that the Minister of Health and the Ministry are answering the questions about what action can be taken."
English was also asked if he was "tempted to have a boogie" during a concert.
"No I'm not actually," he said.
"I don't think I've quite got the moves that some of them would have.
"This is a large group of people enjoying themselves and politics isn't always the best way to make them happier."
English was flanked by several National MPs, including Paula Bennett, Nikki Kaye, Alfred Ngaro, Paul Goldsmith, Amy Adams and Paul Foster Bell.
The sun shone at Coyle Park after dark clouds threatened to spoil the day.
Dozens of stalls offered food and clothing and a number of political parties had set up shop.
Labour leader Andrew Little was also at the event and said he backed the New Zealand AIDS Foundation's campaign to end HIV in New Zealand.
He congratulated the Government on the expunging of convictions related to homosexuality.
"When the Crown historically gets it wrong . . . It shouldn't be above us to say we got it wrong and say sorry.
"Labour has always been there for the gay community," he said.
He was joined on stage by a number of Labour Party MPs, including Louisa Wall and Jacinda Ardern.
ACT leader David Seymour was also in attendance, as was Auckland mayor Phil Goff.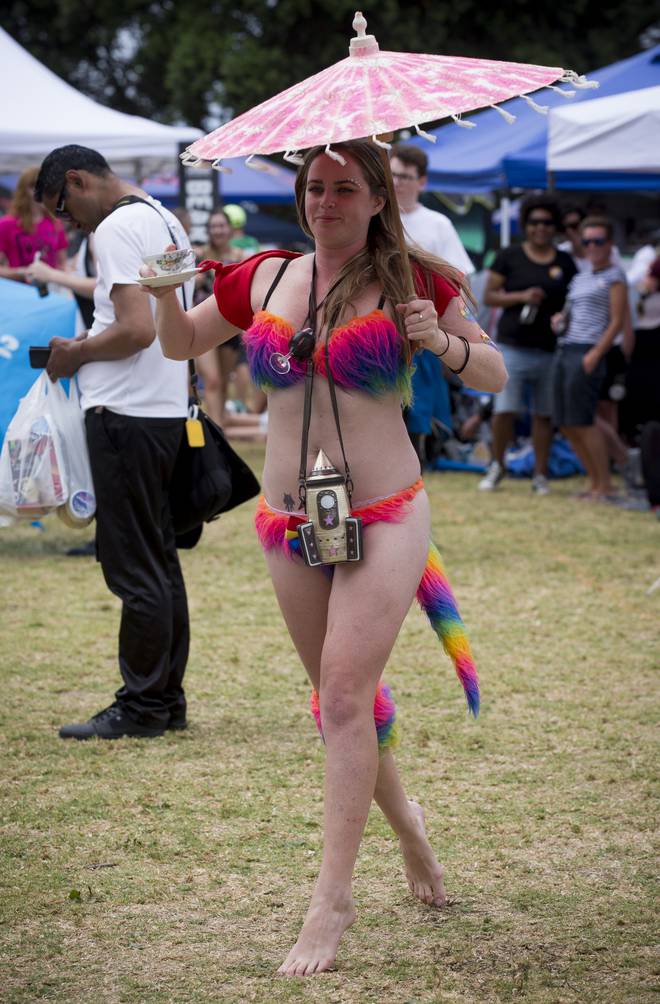 Green Party leader James Shaw was also at the vent. He said his party had a "pretty clear track record" of standing with the LGBT community.
He also said the Greens were committed to eradicating HIV from New Zealand by 2025.
"There's a tonne of work that still needs to happen for this community, particularly in public health."
Rosie and Sylvia, surnames withheld, said they were enjoying the event, which they had attended many times before.
"It's getting bigger every year, and it's sunny but it's not too hot," Rosie said.