Waitangi was its cheerful and relaxed best on a day blessed with blazing sunshine and happy crowds.
From the dawn service through to the sweltering afternoon, everybody here seemed to be happy to take from the day what they wanted.
For those willing to voice a protest, there was space to do so. Those wanting to register support also had room - there were a number of political parties signing up members.
Those with alternative theories about our history presented their alternative facts. Those who love our Maori culture found a day in which it had all the room to breathe that it might need.
The politicians made their speeches and, as is usual on Waitangi Day, held their tongues from anything too political.
The dawn service was held, as always, at Te Whare Rūnanga - the House of Assembly. There were about 1200 people milling about by the time the sun came up, most of whom had arrived in time to hear the messages of thanks and calls for unity that came across in speeches.
From Deputy Prime Minister Paula Bennett to Labour leader Andrew Little, High Court Justice Joe Willliams and Chief Justice Sian Elias, there messages upon messages in the speeches given to the dawn crowd.
Bennett offered a prayer for courage and love, Little one of overcoming differences for unity, Elias asking for prayer to be aimed at those marginalised in society, particularly "those in our prisons".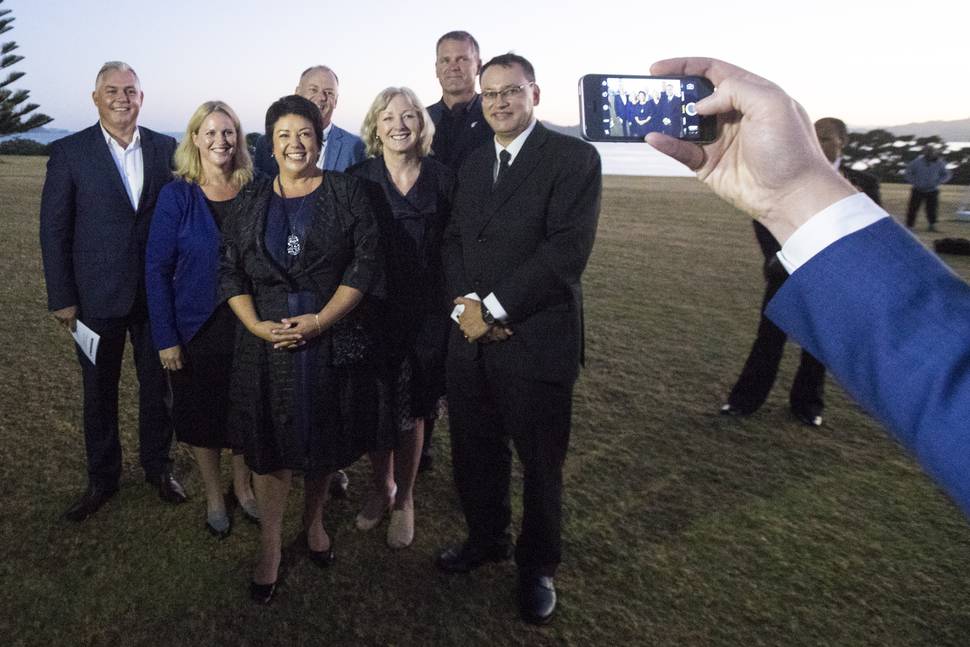 Williams nodded to history then called it straight - "Hobson was wrong to say we are one people". But, Williams added, we are "one country".
It was a comment which regarded the famous words of Governor William Hobson as the Treaty of Waitangi was signed: "He iwi tahi tatou (We are all one people)."
There were many peoples at Waitangi - record numbers according to many who had been coming for years. Maori who had come from iwi across New Zealand to celebrate the day, and non-Maori too. All spread picnic blankets across the beautiful lawns, shaded if possible, and watched their children run among and play with others.
There were Wellington bureaucrats looking pasty and uncomfortable, with shorts pulled a little too high and t-shirts clinging to puku as they wandered the grounds, incognito.
Politicians popped up here and there - trying to sign up new members, or chatting excitedly to family who came along for the day. There was even, after the dawn service, the deputy prime minister herself waiting, waiting, waiting in line to order coffee for herself and her staff.
There were the curious tourists who posed for photographs with obligingly fearsome waka paddlers, obliging with pukana and whetero.
There were stalls everywhere, selling food or crafts - sometimes housing performers.
There were even protesters, but few. The day that Waitangi doesn't hear protest will be the day Governor Hobson is right.
Annalisse Shefford and partner Jeremy Liddington had come with kids from nearby Pakaraka. It was a journey they had made each year since moving north from Auckland four years ago.
"Our first time," said Shefford, "I couldn't believe how many people were here."
Why do you come? Well, said Liddington: "It's everyone getting together."