A 10-year-old Auckland student's tragic death may be one of at least eight such deaths during the past two years.
The Massey Primary School pupil died on Friday last week, and the tragedy is one of two deaths of young girls being investigated by the Coroner.
Police said there were no suspicious circumstances in the 10-year-old's death, but said it was "an absolute tragedy".
A 9-year-old girl, understood to be from Kaitaia, died in similar circumstances early last month at Auckland's Starship Children's Hospital.
Towards the end of last year the Far North town endured a spate of youth suicides.
Five young males aged between 17 and 25 died during a 12-week period, with six in total under 25 since mid-May.
Ministry of Education head of sector enablement and support Katrina Casey said the ministry has been supporting Massey Primary School after the death during the school holidays.
"A traumatic incident team met the school's management team on Monday," she said.
"A counsellor and the principal of Massey High also attended. A plan has been developed and students and staff who may need extra support identified.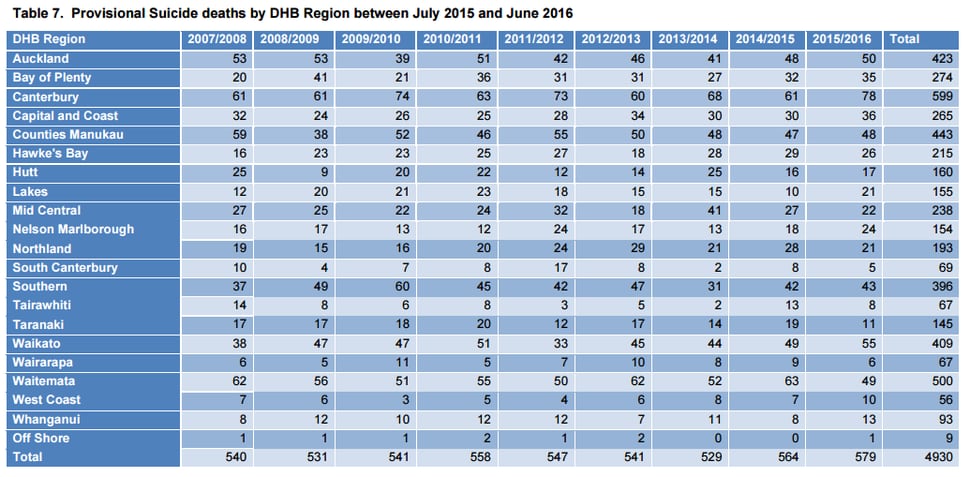 "Massey High staff will support the primary school this week before high school students start on Thursday.
She said the ministry is also working with Child Youth and Family and others to ensure the right support is in place for the schools and community.
According to the latest Coroner's figures on suicide, released last year, there were eight provisional suicide deaths for people aged 10 to 14 between July 2014 and June 2016.
The number included five males and three females, but accounted for the lowest rate (2.72) of suicide per 100,000 people for any age group during the time period, statistics show.
Figures released in September 2012 by the Coroner showed a child aged between 5 and 9 had committed suicide.
The child was the youngest recorded suicide since the Coronial Services Unit started collecting data in 2007.
This week, clinical child and adolescent psychologist Dr Sarah Watson advised parents to listen if their child was in distress and to take their concerns seriously.
"Take the time to really listen ... [and for harmful thoughts or behaviour] that arise out of distress. You want to be talking about the reasons for the distress and what to do about it.
"Help them find hope,'' she said.
Where to get help:
• Lifeline: 0800 543 354 (available 24/7)
• Suicide Crisis Helpline: 0508 828 865 (0508 TAUTOKO) (available 24/7)
• Youthline: 0800 376 633
• Kidsline: 0800 543 754 (available 24/7)
• Whatsup: 0800 942 8787 (1pm to 11pm)
• Depression helpline: 0800 111 757 (available 24/7)
• Rainbow Youth: (09) 376 4155
• Samaritans: 0800 726 666
• If it is an emergency and you feel like you or someone else is at risk, call 111