An Auckland beneficiary is protesting this morning as she fights eviction from the two-bedroom state home she's lived in for 21 years.
But the redevelopment company evicting her say she has been offered five homes but she isn't cooperating.
Ioela Ana Rauti, 62, also known as Niki, has gained hundreds of supporters during her spat with the Tāmaki Redevelopment Company, which want to replace the Glen Innes house as part of a development of 7500 new homes over 15 years.
It is one of 2500 state houses in the suburbs of Glen Innes, Point England and Panmure in which ownership was transferred to the TRC from Housing New Zealand.
A march held last week at Rauti's Taniwha Street home drew hundreds and #NikisEviction was last night and this morning trending on Twitter.
This morning, she has staged a sit-in at the home. Fencing has been erected around the house so "they can't evict her".
On October 12, the TRC, which is owned by the Government and Auckland Council, handed Rauti a 90-day eviction notice. That expired last Wednesday.
Rauti is a former truck driver and chef and originally moved into the former state house to care for her sick mother.
She says she has a heart condition.
She claims the new homes won't be social or affordable houses.
"These will be mansions, they are not for the ordinary person."
Offered five homes
TRC housing general manager Neil Porteous said it had been in discussions with Rauti about moving to an alternative home in Tamaki since July last year.
She had been offered five properties over the past four months and a "new warm, dry home" nearby was being held for her.
"We have not received any feedback from Ms Rauti on the houses we have offered her. We are hoping she will contact us so that we can discuss her specific needs and assist her in moving to the property we are holding for her. In the meantime, we will be following the legal process. "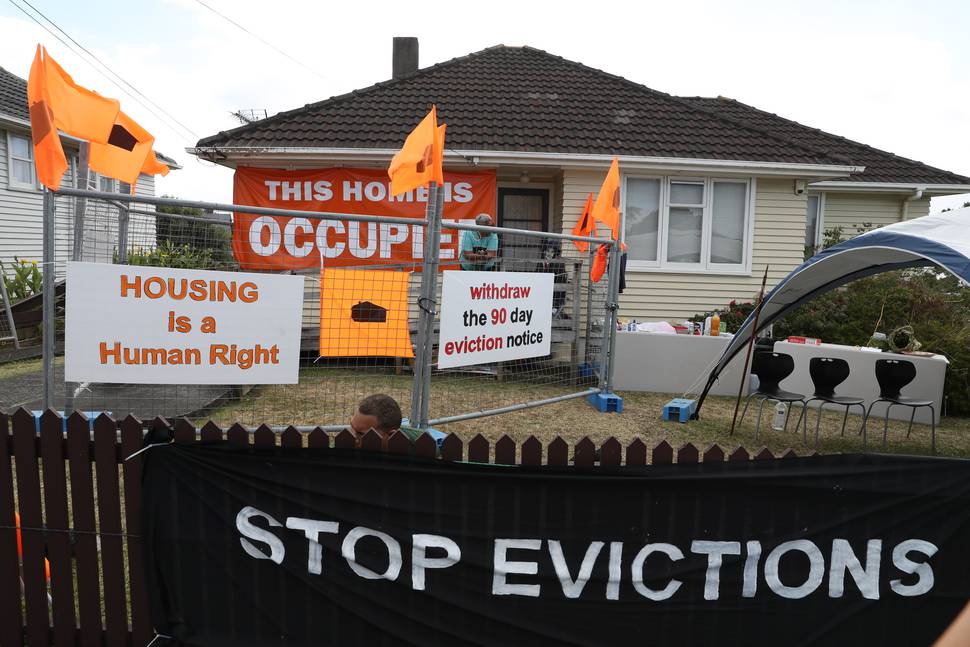 A hearing for the possession order application was taking place this morning.
"We understand this is a difficult time for Ms Rauti but TRC has been transparent with her about the redevelopment plans and tried to communicate with her at every opportunity."
Her house was one of six properties to be demolished and replaced with 12 four-bedroom homes. The new houses were expected to be completed by April 2018.
Porteous said the new homes in the wider redevelopment would be a mix of social, affordable and private market houses.
"This will result in more and better housing options for families across Tāmaki.
"TRC works with families and individuals affected by redevelopment to find them a home. This means that people who wish to remain in Tāmaki will have the opportunity to stay in the area."
A police spokeswoman said the case was a civil matter and police had no involvement.
Gaining support
Rauti is supported by the Tamaki Housing Group and No Pride in Prisons.
"No Pride in Prisons is proud to join our friends and whānau in protecting Niki's right to a home," Spokeswoman Emilie Rākete said.
"We will be joining dozens of others in occupying Niki's land and refusing to move until she is guaranteed the right to stay in her home."
"We intend to put our bodies on the line to stop this eviction.
"One of the most frustrating things about this whole process is that it never used to be like this. State housing tenants, including Niki, were told for decades that their houses were for life."
She said house prices would not be brought down with the development.
"While the government and the council say these evictions are necessary to keep house prices down, we've seen a huge increase in house prices in the area since the redevelopments began.
"The government is effectively kicking out old and poor people and making room for the rich. Niki's eviction is just one part of a broader plan to undermine state housing and transfer land to the wealthy."
The organisation is worried about how the move might impact Niki's health and well-being.
"Niki is an elderly woman who has a heart condition," said Rākete.
"One of the saddest parts of the Tāmaki redevelopment has been the effect on the elderly. Often, following eviction from life-long homes, elderly tenants have passed away shortly after being relocated.
"We believe that Niki and all other tenants deserve healthy, warm and affordable homes, and the stability of knowing they won't be evicted every time the government wants to make a buck."
Reader feedback
Herald
readers have shared their views on Rauti's plight.
• "Niki begins her speech, that no doubt has attracted a lot of media attention, with "this is my place" - correction, that house is owned by the ratepayers of NZ. She has been fortunate enough to live in that house for a long period of time, but that does not mean it belongs to her. I suggest her supporters club together and buy her a house, as owner she can then be in control. As long as you "rent" a house whether it be from Housing NZ or from a private person, you cannot call the shots. In NZ we have fostered an attitude of entitlement over generations, and this poor lady clearly thinks she has all the rights." - Mary Glanfield
• Chuck her out. It is not her house - John Clutterbuck
• "THAT LADY MUST GO! And she has been offered 5 other houses !! She should be taken away." - pyntebar
• "About time she moved. tax dollars have supported her accomodation for 20 plus years. At a time of crisis where one home occupis the space where three or more could stand she needs to say thank you to the people of NZ not thumb her nose at them." - John
• "This person is lucky to be housed and living off the government. If she does not like the deal the government is offering her she should move on under her own resources instead of thinking the government owes her. 21 years in a state house is disgusting while genuine people are homeless." - hawknet