As rescuers scoured the Kaipara Harbour shore for survivors of November's fishing charter tragedy, conservationists were performing a rescue operation of their own nearby.
A fairy tern - one of world's rarest birds - had laid two eggs in a shelly spot on the Papakanui Spit, close to the area being searched after the Francie went down, claiming eight lives.
Fearing the eggs would be crushed under search and rescue personnel's feet or damaged by poor weather DoC staff moved the eggs to a safer place - a special incubator at Auckland Zoo.
Zookeepers kept a close eye on the eggs for a few days until DoC staff could relocate the eggs to another nest, New Zealand Fairy Tern Charitable Trust spokeswoman Heather Rogan said.
"They turn them slowly everyday just to make sure and keep a check on them, keep them at a constant temperature.
"[The rescuers] then needed to make sure that they were under sitting birds when they hatched, because the birds only eat very small, live fish."
They placed the eggs under two infertile fairy tern eggs in nests at the mouth of Te Arai stream and Mangawhai.
One of the rescued chicks hatched just before Christmas and was tended to by its "foster parents". The other chick died while still in its shell.
The pair were among only six fairy tern chicks to hatch this summer.
Three more had hatched at Mangawhai and another at Waipu.
"That's probably going to be it for the year," Rogan said.
Native to New Zealand, the species is endangered, with a population of between 35 and 40 birds including 11 or 12 breeding pairs.
Fairy tern are found at a "few protected areas" at Waipu, Papakanui and Mangawhai spits, Te Arai stream mouth and Pakiri.
About three weeks later, the surviving hatchling rescued from Papakanui is now learning to fly.
"Once they start flying [the adult birds] will take them off and teach them how to fish for themselves," Rogan said.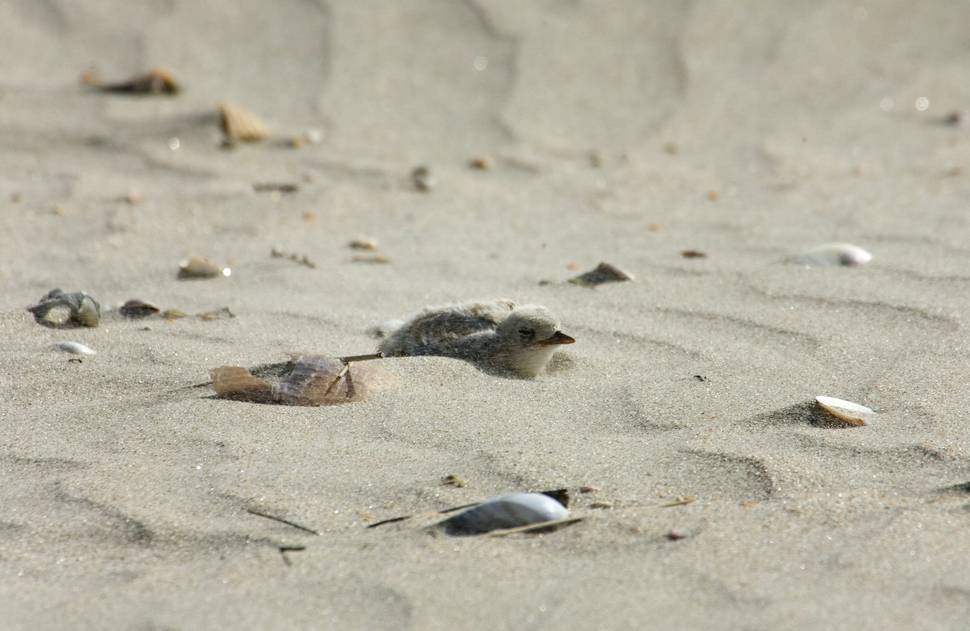 The chicks' grey feathers help them blend into their shelly habitat, protecting them predators from that might swoop down from above.
But land-based mammalian predators - including rats, cats, stoats and even hedgehogs - could endanger them, Rogan said.
"They have really no defence against predators such as those that hunt by smell at night.
"Their defence is camouflage because they have evolved to cope with aerial predators, such as black-backed gulls, but camouflage just doesn't really work against predators that can hunt by smell."
Another threat facing the species was habitat loss "because of people's settlement".
"They used to be at Ruakaka, they used to be at Omaha beach. There are no longer fairy terns nesting there."